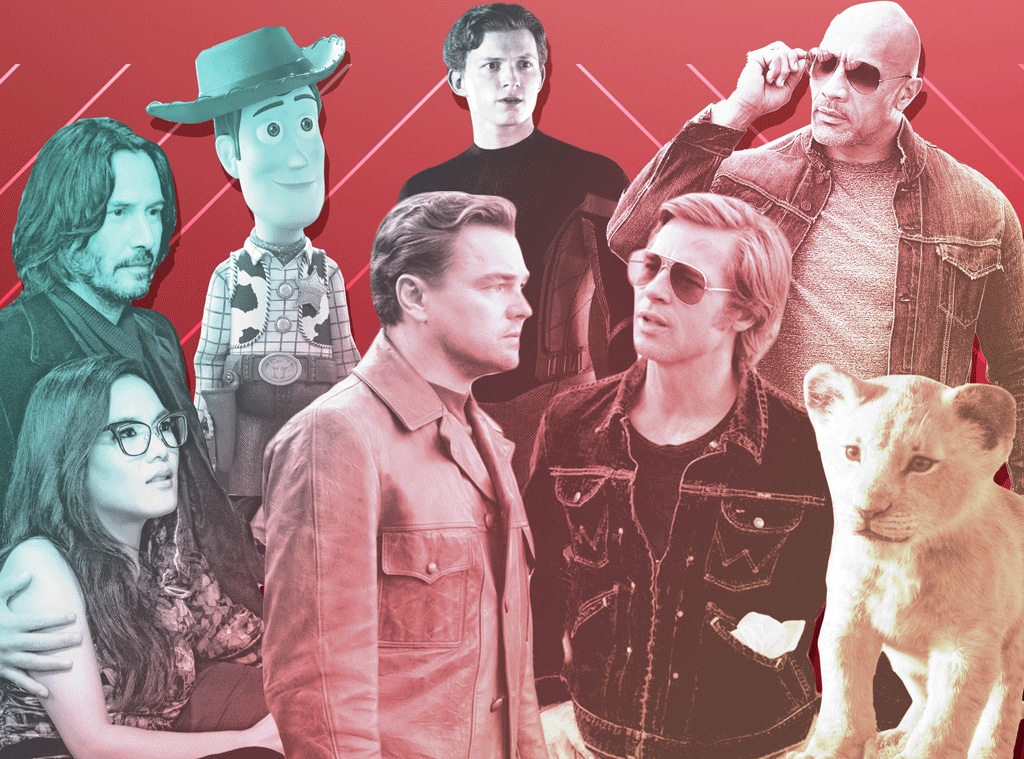 E! Illustration
WINNER: That was a close one! By less than one percent of the vote, Once Upon a Time...in Hollywood edged out the competition and is the winner of this category!
________
Another day, another Best of Summer tournament round! 
Today, we're all about the movies and boy did this summer bring it! Some of the year's most anticipated films finally came out during the summer months and we couldn't get enough of seeing the A-list talent on the screen.
As has been the trend in cinema, many of our favorite films were part of franchises that brought back beloved characters in a spin-off, continuation or reboot. However, a few standalone films stood out from the pack and made it on our list, too!
A couple features that made the cut were even produced by a streaming service. While getting out of the heat and into an air-conditioned theater with popcorn will always be a summer staple, Netflix's original movies make it just as relaxing to stay at home.
Let's take a look at the eight films that are vying for the title. Spanning from animated family flicks to high-octane blockbusters, there is something for everyone, but only one can win!
Can you feel the love tonight? You probably did at some point this summer with the reboot of The Lion King! Disney's retelling of the 1994 animated classic was praised for its stunning visuals and obviously for starring Beyoncé! 
The premiere's red carpet alone made it clear this was a must-see, with talent like Donald Glover, Billy Eichner, John Oliver and more as a part of the cast. 
Another animated feature that tapped into our nostalgia was Toy Story 4. We went to infinity and beyond again with Woody and Buzz as they go on a mission to try to get Forky, a homemade toy created out of a spork, to come home. This film also had an impressive roster of actors, including Tom Hanks, Tim Allen, Keanu Reeves, Tony Hale and more!
Fans even were even treated to hearing the late Don Rickles as Mr. Potato Head thanks to the film being able to construct his lines from prior, unreleased audio.
We also traveled back in time to the late '60s this summer, thanks to Quentin Tarantino's Once Upon a Time...in Hollywood. The director's ninth film centers around an aging Western actor and his stunt double (Leonardo DiCaprio and Brad Pitt, respectively) who live next to the late Sharon Tate, portrayed beautifully by Margot Robbie. The threat of Charles Manson looms over the characters but also an existential threat of a changing film industry during the last days of Hollywood's Golden Era.
Tarantino's love letter to Hollywood was full of recognizable faces, with a cast that included additional A-listers like Al Pacino, Lena Dunham, Dakota Fanning, and the late Luke Perry. 
It also wouldn't be summer without at least a few superhero flicks! Just months after the mega-success of Avengers: Endgame, we saw Tom Holland return to the screen as Peter Parker in Spider-Man: Far From Home. The film also co-stars Zendaya as MJ, Parker's love interest, and we were cheering for their characters to get together just as much as we were for Parker to save the world!
There was also Dark Phoenix, another installment in the X-Men series, which starred Sophie Turner. The star plays telekinetic Jean Grey who fights to control her powers before she destroys everyone she cares about. 
While technically not a superhero film, Fast & Furious Presents: Hobbs & Shaw sure felt like one with larger-than-life stunts and a genetically modified villain, played by Idris Elba. To stop him, Dwayne "The Rock" Johnson and Jason Statham's characters team up in this action-packed flick full of fight sequences and car chases.
If you're more into solving mysteries, the hilarious whodunnit Murder Mystery, starring Adam Sandler and Jennifer Aniston, may have been what you kept replaying all summer long! Aniston and Sandler's characters are the prime suspects of a murder but the twists and turns kept viewers wondering who was truly behind the crime.
Finally, another Netflix film that kept getting bumped to the top of our queue was the romantic-comedy Always Be My Maybe. The hilarious Ali Wong and Randall Park, who also wrote the feature, star as former high school lovers that reconnect in this film that is the perfect mix of funny and sweet. 
Which movie do you think rocked the summer? Sound off in our poll below!
The winner of this category will go off to face against summer's best couple, musical artist, TV show and viral moment to battle it out for who or what won the whole season.
Be sure to check back on Thursday for another round of competition!
2019 Best of Summer: Movies