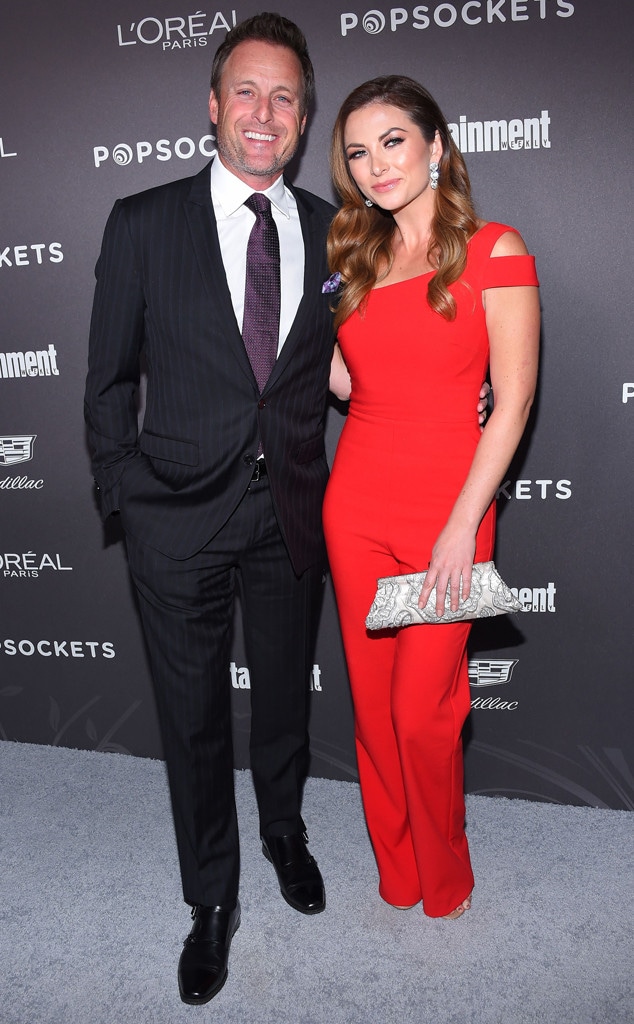 AFF-USA/Shutterstock
Chris Harrison is opening up about his love life.
The Bachelor host, who oversees the relationships between contestants on the reality series, appears to have handed out a rose of his own. Earlier this year, Harrison, 48, made his red carpet debut with girlfriend Lauren Zima at a pre-SAG Awards party. Now, about seven months later, the couple is still going strong.
While Harrison and Zima, a correspondent for Entertainment Tonight, had worked together in a professional setting over the years, things took a turn when she slid into his DMs after a run-in at a Tell All taping.
In a new interview for Nick Viall's Viall Files podcast, released this week, Harrison dishes about his relationship, saying, "I'm a lucky son of a gun."
Since Harrison and Zima, who reports on Bachelor Nation content, have jobs that often intertwine, they had a conversation before moving forward with their relationship.
"At the very beginning we did have the conversation of, do we wanna do this?" Harrison tells Viall. "When we met and when we actually went on a date and we could tell there was chemistry and we really liked each other and there was something there, then there was the conversation of, do we really wanna do this?"
"And, I'll be honest, I was a little selfish because, I don't really care," the Emmy nominee admits. "I've been doing The Bachelor long enough that I don't really care whose feathers I ruffle and how many waves I cause, because my personal life is much more important to me than my professional life now."
In that early conversation, Harrison told Zima that he understood the "conflict of interest" and respected that, so, did they really want to explore their relationship further? In response, Harrison says, Zima "laid a big kiss" on him.
"And I said, 'OK, we're doing this,'" Harrison recalls.
He goes on to tell Viall that his interviews with Zima "haven't changed" now that they're an item.
"I'll be honest, I'm scared to death of Lauren," Harrison jokes. "She's, and this is one of the things I love and respect about her—before I dated her—she's good. She's one of the best interviewers I ever face, and when I go into an interview with her, I have to have my head on straight because she is so good at just finding the crack and then going in."
"I like the way she pushes me," he says. "And that's one of the things that I was really attracted to before we ever started dating is, I really looked forward to our interviews. This is when she was still married, I was married even. I just really loved her interviews, just 'cause she was good."
Harrison says he still looks forward to his interviews with Zima now, but he gets "performance anxiety."