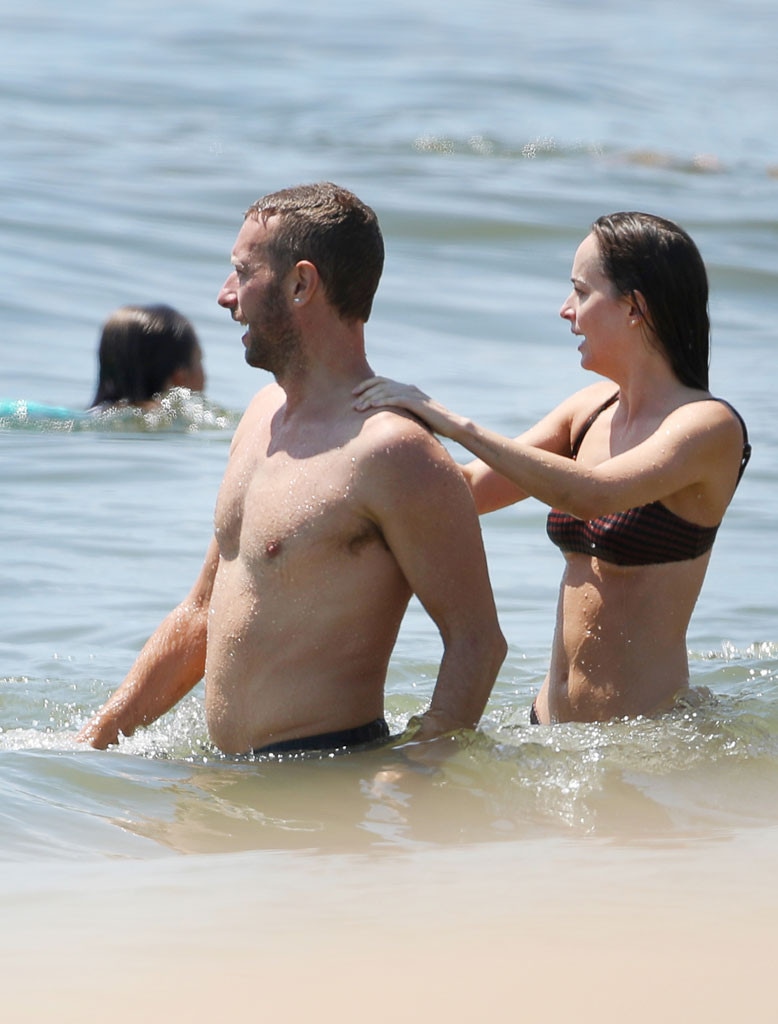 The Image Direct
Dakota Johnson and Chris Martin are putting rumors of a split to rest with their latest beach day.
Over the summer, speculation about their relationship ran rampant as the couple went into incognito mode. But now the couple is resurfacing to prove they—and their abs— are stronger than ever. 
On Monday, the A-list pair took their love to the shores of the Hamptons on New York's Long Island. A lean-looking Dakota and Chris frolicked in the ocean for all to see, with Dakota getting a piggy back ride from Chris at one point. Later they were spotted walking across the sand, allowing onlookers to catch a glimpse of Dakota's red and black striped two-piece. 
The multiple hugs, kisses and smiles from the artistic duo showed that they are very much still together, despite the gossip. Last week, a source confirmed to E! News, "They're planning to spend more time together later this summer."
Their infrequent sightings together seemed to simply be a result of their busy schedules, as is the case for most in-demand stars. Dakota just wrapped filming for the movie Covers and recently celebrated the premiere of the Shia LaBeouf movie The Peanut Butter Falcon. 
As for Chris, well, he has his hands full with his kids, Moses and Apple, who he shares with ex-wife Gwyneth Paltrow. But that doesn't interfere with Dakota and Chris having quality time. After all, Moses, Apple and Gwyneth are all good friends with the Fifty Shades of Grey star. 
With the kids, his ex and matching tattoos all going swimmingly, there is only one thing left to officially seal the deal on this relationship: marriage. A source previously told E! News that a wedding is a real possibility. "An engagement could definitely be in the cards," the insider shared. 
If Chris decides to pop the question, there's no doubt her parents Don Johnson and Melanie Griffith will wholeheartedly give their blessing. The source said, "Chris loves her parents and has them over for beach time and parties. Everyone gets along very well."