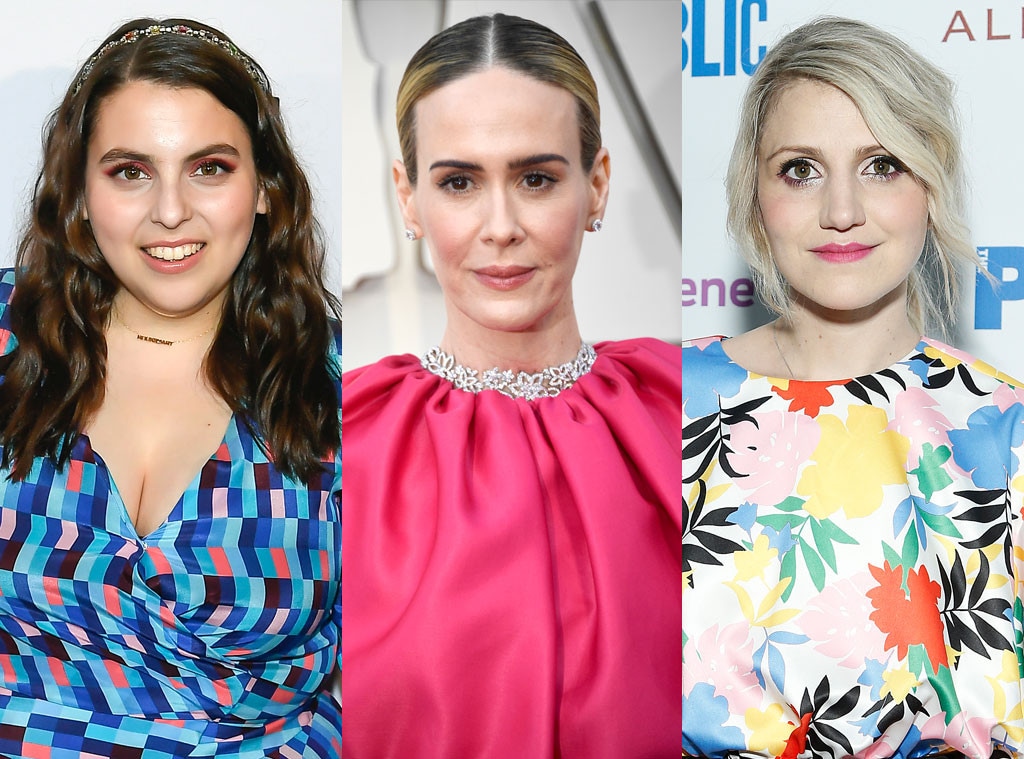 Getty Images
American Crime Story has officially found its next famous story to tackle. 
Two and a half years after it was first reported as a possibility, FX just announced that the next season of American Crime Story will be called Impeachment, and will follow the saga of the Clinton presidency and impeachment. 
Sarah Paulson will star as Linda Tripp, with Beanie Feldstein as Monica Lewinsky and Annaleigh Ashford as Paula Jones. 
Sarah Burgess will write and executive produce alongside Ryan Murphy, Nina Jacobson, Brad Simpson, Brad Falchuck, Larry Karaszewski, Scott Alexander, Alexis Martin Woodall, and Sarah Paulson, with Monica Lewinsky herself signed on as a producer. 
Unfortunately for everyone who just gasped at this news and casting, we'll have to wait until September 27, 2020 (election season!) for this installment of the series to premiere. 
FX chairman John Landgraf announced the news at the TV Critics Association press tour on Tuesday.
"FX's American Crime Story franchise has become a cultural touchstone, providing greater context for stories that deserve greater understanding like the O.J. Simpson trial and saga, and Andrew Cunanan's tragic crime spree which concluded with the assassination of Gianni Versace," he said. "This franchise re-examines some of the most complicated, polarizing stories in recent history in a way that is relevant, nuanced, and entertaining." 
Manny Carabel/WireImage/Harry Hamburg/NY Daily News Archive via Getty Images
"Impeachment: American Crime Story will likewise explore the overlooked dimensions of the women who found themselves caught up in the scandal and political war that cast a long shadow over the Clinton presidency," he continued. "We are grateful to Sarah Burgess for her brilliant adaptation, as well as Ryan Murphy, Nina Jacobson, Brad Simpson, Brad Falchuck, Larry Karaszewski, Scott Alexander, Alexis Martin Woodall, Sarah Paulson, and the rest of the creative team and cast." 
The limited series will be based on Jeffrey Toobin's book, A Vast Conspiracy: The Real Story of the Sex Scandal That Nearly Brought Down a President. Toobin also consulted on the first season of the series. 
Originally, there was also supposed to be a season of Crime Story about Hurricane Katrina, but as of February 2019, that was no longer "in the mix" at FX. Versace aired in early 2018, while People vs. O.J. aired in early 2016. 
Slaven Vlasic/Karin Cooper/Getty Images
Ryan Murphy spoke to E! News in early 2017 about the plans for the Clinton saga season. 
"It's a very interesting book," Murphy said back then of the Toobin book. "It's not really about Hillary Clinton. That book is about the rise of a certain segment of a right-wing group of people who despised the Clintons and used three women, Paula Jones, Monica Lewinsky and Linda Tripp to try and tear him down. The Toobin book is amazing. And there are a lot of bizarre crimes within that book that you can highlight. But the show isn't really about Hillary Clinton, it really is about the other women. In fact, we might be doing the Clintons with hand puppets [laughs], I don't know. We're more focused on the mechanizations behind the scenes to try and get [Bill Clinton] impeached."
Feldstein most recently starred in Booksmart and is new to the world of Ryan Murphy. Ashford also appeared in The Assassination of Gianni Versace, and Paulson played Marcia Clark in The People vs. O.J. 
Impeachment: American Crime Story will premiere Sunday, September 27, 2020 at 10 p.m. on FX.