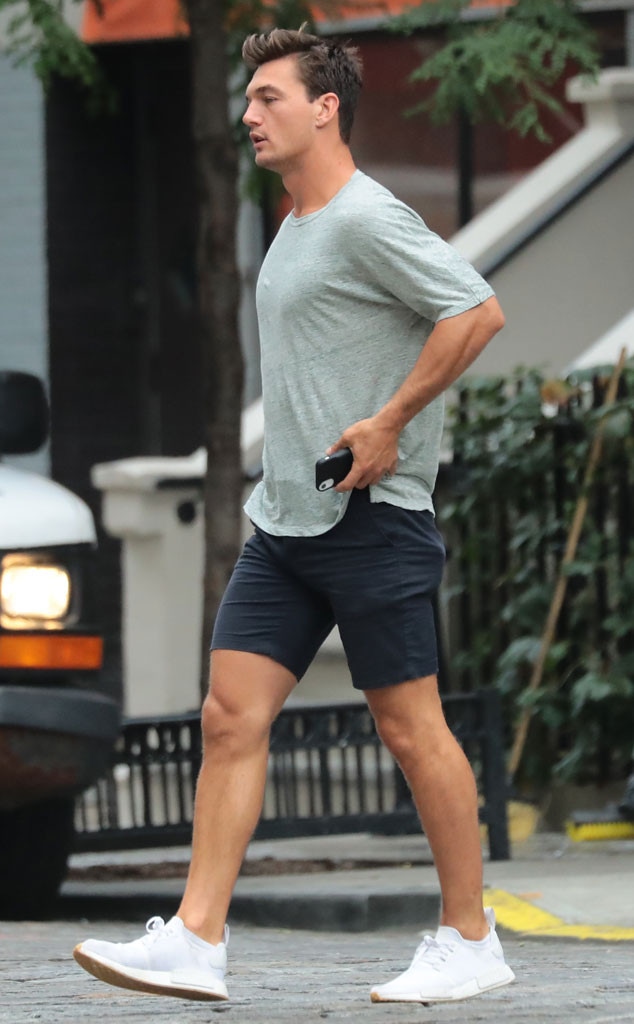 SplashNews.com
Tyler Cameron has an extra pep in his step this morning.
The Bachelorette contestant was spotted leaving Gigi Hadid's New York City apartment on Tuesday morning. Clad in a pair of navy blue shorts, t-shirt and white trainers, the Florida native walked through the streets after what seemed to be a fun date night. Hours later, a "calm, cool and collected" Gigi left her home to do some window shopping, an eyewitness shares. 
An eyewitness previously revealed to E! News that the two models enjoyed their Monday evening at the Frames Bowling Lounge. This second date was obviously a success since, according to another eyewitness, this is "the second night in a row" that Tyler stayed at her place.
While this new romance could prove to be short-lived, a source tells E! News that there is potential for something more between Gigi and Tyler. "He really likes Gigi, but it's just a fling for now. They are both gorgeous and single and they've had fun spending time together. He's living in the moment and not thinking too much past that," a source says. 
But, how does Hadid feel? "Gigi thinks Tyler is really cute and nice and liked that he was a good listener," an insider previously shared. "They are both taking things slow but have both made it clear they are interested in each other."
And, as fans have pointed out, the reality star and model have a lot more in common than originally thought. They both live in New York City, they're models and they even have mutual friends. 
These are seemingly the same factors that make it unlikely for him and Hannah Brown to become boyfriend and girlfriend. After their sleepover last week, a second source told E! News, "Tyler saw Hannah in LA and they had a good night and a good talk. But it's probably not going to amount to much right now. She moved to LA and he doesn't live there. They agreed to keep talking, but that's it for now. It's geographically challenging."
If this seems like a tough pill for a Bachelor fan to swallow, then it's likely more difficult for Hannah. Amid the continued press surrounding the Bachelorette finale, Hannah took to her Instagram Stories to share a cryptic post about "trusting yourself." 
"Your ability to let go & accept is a superpower," the quote continued. The Alabama native followed that up with a photo of herself posing to her "anthem," a.k.a. "Truth Hurts" by Lizzo.