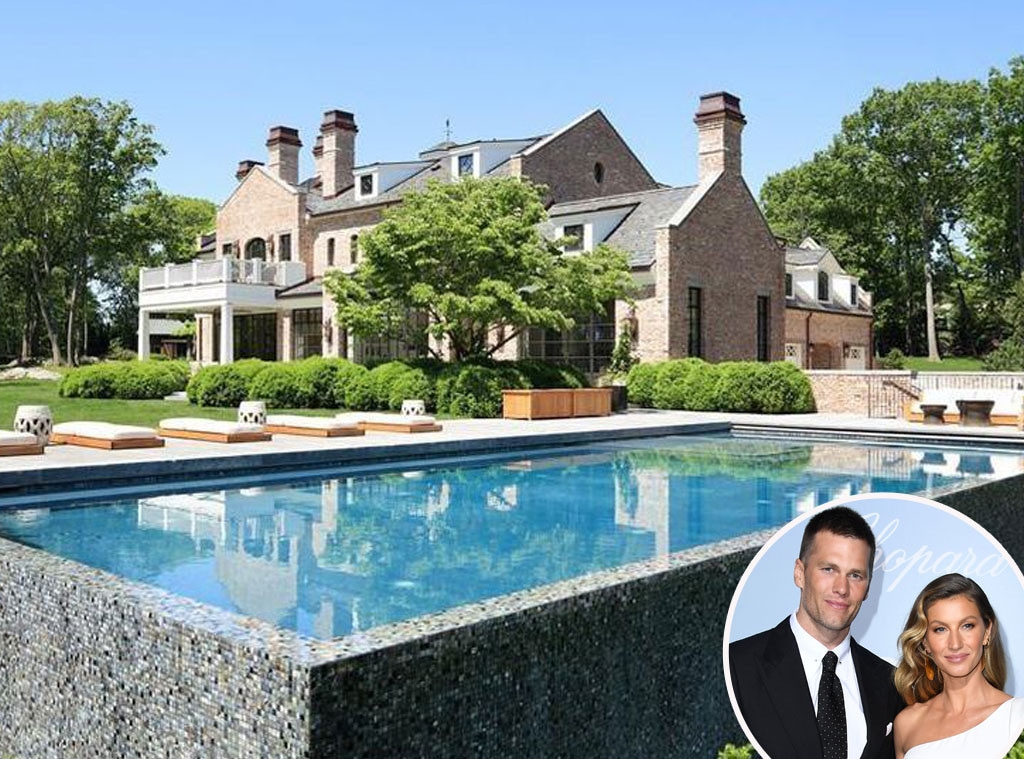 Getty Images, Realtor.com
Tom Brady and Gisele Bündchen are hoping to score a touchdown in the housing market.
The longtime couple just listed their larger-than-life Boston home and it could be yours for a whopping $39.5 million. No biggie!
Considering the Patriots quarterback just scooped up a sweet new deal with the NFL team—he recently signed a two-year contract extension for $41 million—it seems now is the perfect time for the pair to go house hunting. If anything, Page Six reports that Tom and Gisele are looking to buy a home in the suburbs of New York City.
As for the sprawling Boston mansion the couple is trying to sell? It features five bedrooms, five full bathrooms (and two half bathrooms), a three-car garage, a chef's kitchen, a kids play room and much more. Additionally, the house sits on 5-plus acres, which is adjacent to the 9th hole of nearby country club. Score!
Don't care to golf? According to the listing, which is on Barrett Sotheby's realty site, the Boston mansion also features a barn-inspired guest home that's complete with a yoga studio, full bath, sleeping loft and walls that open up. Perfect for a zen-like experience!
When it comes to the interior of the mid-century-styled home, it features a fabulous foyer that leads to the dining room, living room, home office, chef's kitchen and family room. The lower level also includes a recreation room (perfect for watching football; wink, wink!), a kids play room, a full bath, a wine room (perfect for those who don't care about watching football!), a gym, and spa.
The mansion's five bedrooms sit on the second floor, with a grand staircase that leads upstairs. As for the backyard? In addition to the guest house, it features a massive outdoor pool, gorgeous landscaping and an organic herb and vegetable garden. Most importantly, the listing touts that the home offers privacy and breathtaking views of its "plush landscaping."
If you want to see more of the couple's home, back in June, the Brazilian supermodel gave fans a glimpse into her residence for Vogue's "73 Questions" segment. She gave an impromptu tour of her mansion by answering questions inside her and Tom's home-office, backyard, kitchen and first-floor hallway.
So if you have about $40 million to spend, Tom and Gisele's Boston home could certainly be yours.