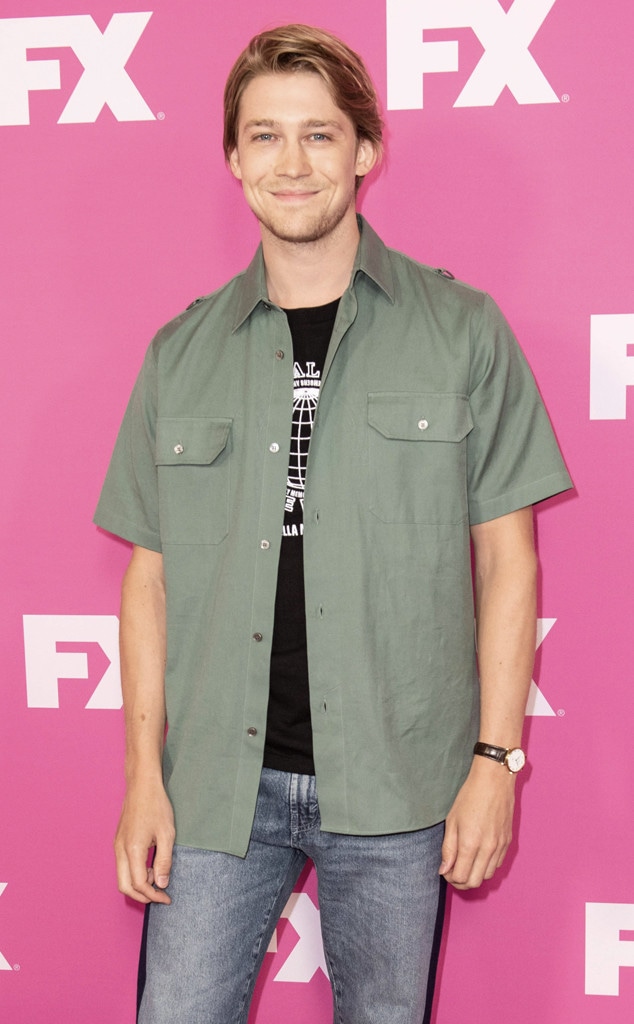 NICK AGRO/AFP/Getty Images
Joe Alwyn is living his dream.
While promoting A Christmas Carol, his new FX miniseries about the Charles Dickens classic, Alwyn was asked where he sees himself in 10 years. The answer?
"I've been very lucky, so far, to work with some very talented, great people who I've looked up to for a long, long time, that's both directors and cast and crew, so if I could just keep doing that, that'd be a dream," he told a small group of press after the 2019 Television Critics Association summer press tour panel.
On the panel, Alwyn said one of the best parts of acting was the catharsis it can provide.
"I find something cathartic about it in the sense that, depending on the role…you get to show all kinds of emotions, scream, shout and cry in a way that you don't in real life," he said. "I love seeing the magic of it all happen around you when you step on set. I'm still relatively new, in a relatively early stage in my career, so to step onto these sets with people who I've long admired and grown up watching, including Guy and [Andy Serkis], to see it all be created around you…and be a part of amazing stories like this…it's kind of a dream come true."
In A Christmas Carol, Alwyn plays Bob Cratchit, father of Tiny Tim, employee of Scrooge (Guy Pearce). In this version, the Bob Cratchit character has a new edge.
"He definitely shows some pluck, especially standing up to Scrooge that we haven't seen before. His way of fighting back is within the office and sarcasm and snide comments and a slight bitterness and resentment," Alwyn said. "Like with any human, there's darkness in him, but he obviously serves a purpose at his essence of being a loyal family man who sacrifices himself and his own sense of well-being to kind of toil for his family and provide for them."
FX's A Christmas Carol hails from Steven Knight and despite the time period, is more contemporary.
"It's not a kind of stuffy, Dickensian world in the way that maybe we've seen some times before," Alwyn said. "It's more colloquial and modern and people swear and there are themes in there that haven't been explored before. They're a lot darker, it feels a lot more human in that way I think."
As a proper British boy, Alwyn said he has a fondness for Christmas. "Yeah, I love Christmas. It's great. I'm a big fan of it. I'm not very good at Christmas shopping and getting that done early, that normally comes down to the last week, but it's great. I see family I haven't seen in a while, eat far too much food," he said.
A Christmas Carol premieres in December 2019 on FX.