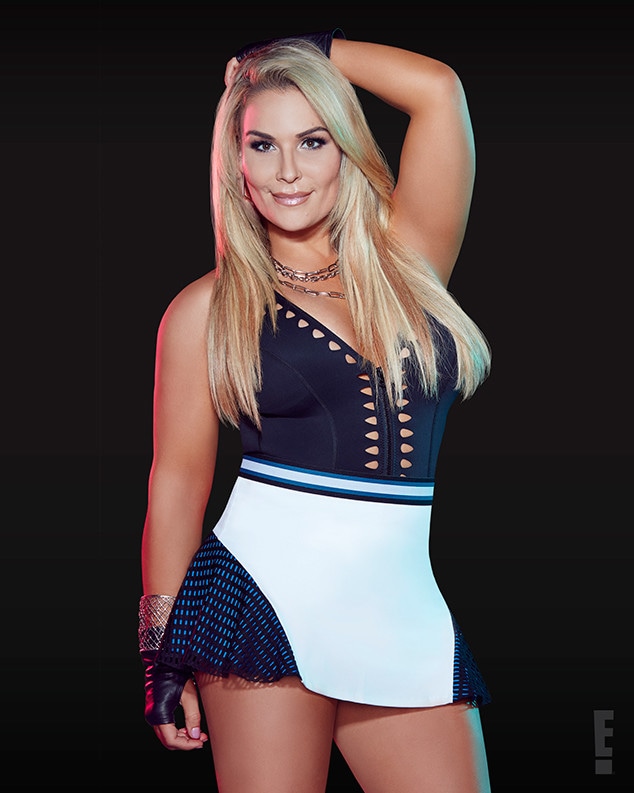 E!
The WWE is ready to turn up the heat. How? By bringing together wrestling's best and brightest for WWE SummerSlam 2019.
As many of you know, SummerSlam is professional wrestling's second largest pay-per-view of the year. Thus, the event will be chock-full of epic showdowns, jaw-dropping moments and so much more.
Still, we are particularly hyped for this year's event as Total Divas star Nattie Neidhart (known professionally as Natalya) is slated to face off against Becky Lynch in the Raw Women's Championship match.
Of course, this isn't the only match to look forward to—and we've got all the details you need ahead of the big day on Sunday, Aug. 11 at the Scotiabank Arena in Toronto, Canada.
Here's your breakdown of all the SummerSlam action you should be prepared for!
1. Kofi Kingston to Defend His WWE Championship Title
After his historic win against Daniel Bryan at WrestleMania 35, Kofi Kingston has fought hard to keep his title. It's clear that the current champion has a target on his back as notable Superstars Kevin Owens, Dolph Ziggler and Samoa Joe have all previously attempted to end his reign.
Will Randy Orton succeed where those wrestlers failed? Orton is scheduled to face off against Kingston in a title match (and if he wins he'll be a 14-time champion).
2. The Queen of Hearts to Take on The Man in Her Home Country
Friends turned enemies.
After winning a four-way elimination match on Raw, Natalya earned the right to fight for the Raw Women's Championship title at SummerSlam. This means the third-generation Superstar must face off in her home country against current champ and friend Lynch.
And it appears that this match has already tested their friendship! Case in point: Lynch recently called out Neidhart for secretly training her once rival Ronda Rousey.
3. A Hall of Famer vs. The Showoff
Dolph Ziggler really should've seen this one coming.
After taunting legend Goldberg on several occasions, the 39-year-old wrestler was tricked into agreeing to a match against the Hall of Famer. Specifically, when Ziggler thought he was signing a contract to fight The Miz, he was really agreeing to fight Goldberg.
Let's see if Dolph can live up to his words on Sunday.
4. Brock Lesnar and Seth Rollins to Collide Once More
Fans were worried about Seth Rollins' scheduled SummerSlam appearance after he suffered a rib injury at the hands of Brock Lesnar. Thankfully, WWE has since confirmed that Rollins will challenge The Beast in a rematch for the Universal Title this Sunday.
Will Rollins get another beat down or will he walk away victorious?
5. A-List Attendees
WWE's event of the summer is famous for attracting big name celebrities, athletes and performers. In years past, Jon Stewart, Anna Kendrick, Kellan Lutz, David Arquette and Maria Menounos have been caught enjoying or participating in the action.
So, we'll be keeping our eyes peeled for notable faces in the crowd at Scotiabank Arena.
Watch it all go down on Sunday, Aug. 11 at 7 p.m. ET/4 p.m. PT!