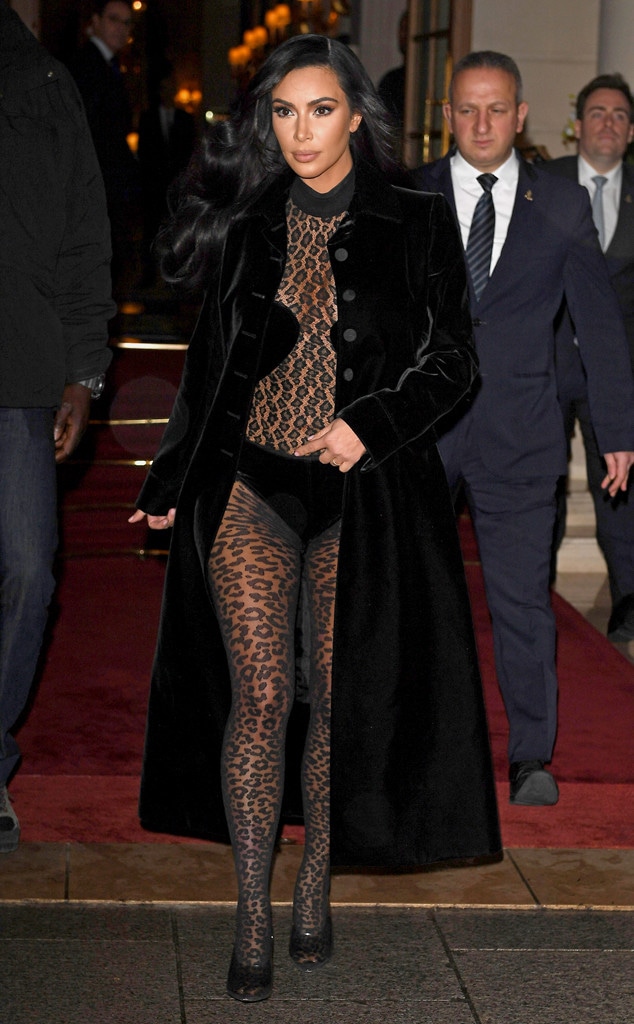 Beretta/Sims/REX/Shutterstock
'90s babies, rejoice!
Kim Kardashian is throwing it old-school and paying homage to all of the '90s queens with her upcoming KKW Beauty launch. From Aaliyah to Kate Moss to the Spice Girls and more, the Keeping Up With the Kardashians star is celebrating all of her fave celebs from her teenage years.
"I'm so excited to announce my new 90's inspired collection of all matte formulas-The Matte Smoke & Matte Cocoa Collections," the beauty mogul captioned her Instagram post. "I get a lot of my makeup inspiration from the 90's and love how nostalgic this entire collection is."
On Instagram Stories, she added, "I have been testing this for months and it is my favorite collection I've ever done. Seriously, I know I say that but this one is like for real, for real."
Making things even more nostalgic-inducing, the reality TV personality appeared to channel the late Aaliyah in her campaign photos for the Mattes Collection.
From her slick-straight hair to the blue-gray smoky eye, Kim's makeup was reminiscent of the late singer's beauty look from the "Try Again" video.
Moreover, many of the reality TV personality's followers also compared her campaign makeup to the late Lisa "Left Eye" Lopes from the "Scrubs" music video. While Kim didn't specify whether or not she was embodying a specific '90s celeb, it's clear she looks the part.
What's more? The Keeping Up With the Kardashians star slipped into a little black outfit that looked like the Versace dress she wore to the 2018 Met Gala after-party. If anything, that design was a tribute to Donatella Versace, who wore a similar number in 1993 with her brother Gianni (the founder of Versace). Years later, Beyoncé and Naomi Campbell also rocked the same dress, and they are undoubtedly '90s babes.
We see what you did there, Kim!
Luckily, beauty devotees and '90s lovers won't have to wait too long to shop the 38-year-old star's upcoming launch, which features the Matte Smoke and Matte Cocoa collection. Both feature two 10-pan eyeshadow palettes, six lipsticks (in a brand new formula), six lip liners and five eyeliners. Of course, both collections include "glam essentials" and product shades that would make any '90s outfit complete. There's a plethora of mauves, cool-toned blues, grays and more!
The new KKW Beauty goodies will be available on Aug. 16 at noon, PST on the brand's website. So go ahead and page your homegirls about this fly collection.