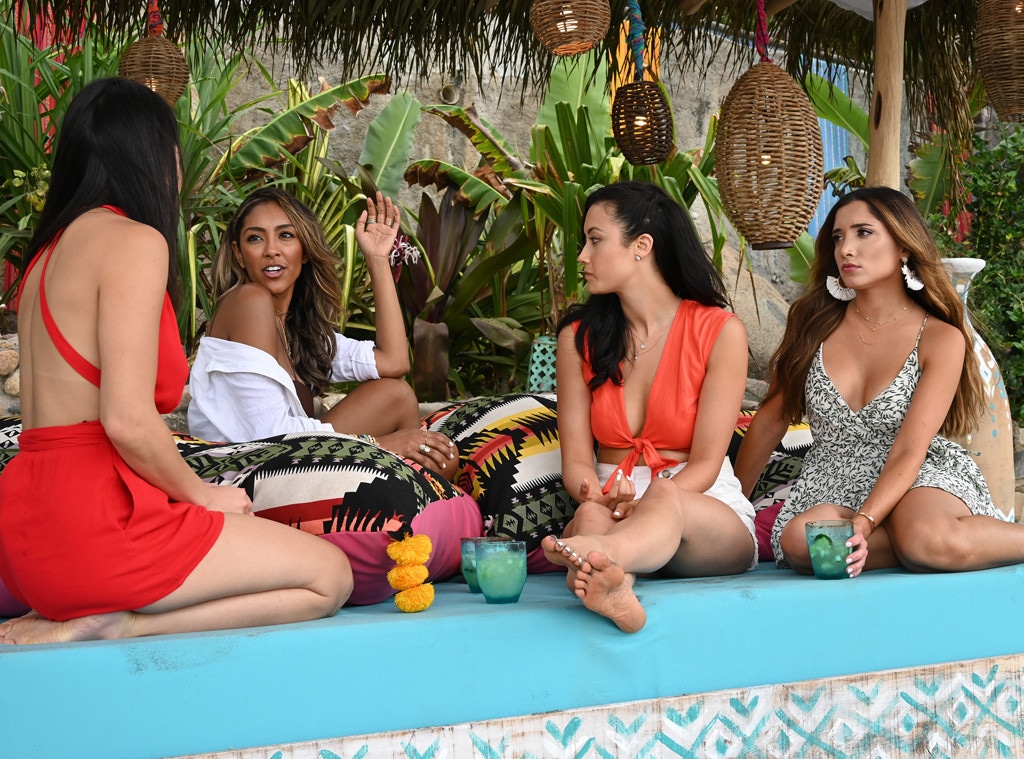 ABC
Well it didn't take long for Bachelor in Paradise to give us all that drama it's been promising.
Never before has this show leaned so far into the fact that these people don't exist only when the show is filming and might actually hook up with each other in the off season, and that fact has given this show its best starting note maybe ever. 
Basically, Blake Horstmann, runner-up from Becca Kufrin's season of The Bachelorette, arrived on the beach as a hot commodity. He even got the date card, and every woman couldn't wait to find out who he'd pick. It will probably be Hannah G, they all thought, and they were surprised when he chose Tayshia and they headed off together. 
But what the group didn't yet know was that Blake and Caelynn Miller-Keyes, of Colton Underwood's season, had dated for a couple months and hooked up after a date at the Stagecoach Music Festival in April, and then Caelynn learned that he had hooked up with Kristina Schulman literally the night before, and saw that he was texting other girls while Caelynn was still in his bed. 
Basically it ended terribly, and Blake made Caelynn promise to keep their ill-fated tryst a secret. Then, as Caelynn watched the other girls fawn over the guy she knew to be kinda awful, she realized she wasn't going to be keeping that secret. 
But before she could even do much with the info she had, Kristina arrived with her own date card, knowing about the Caelynn situation, and asked Blake out on a date. This completely confused Caelynn, and Kristina claimed to Blake that it was because she knew she had a good time with him, but then, to cameras, she revealed her true intentions. 
"I know what happened with him and Caelynn. I honestly thought he would have a little more respect for me, so knowing that he spent the night with her kinda hurt my feelings. That's a slap in the face to me, and I will not let myself be f--ked over again. So today, I'm going to make Blake my bitch." 
Cue an evil laugh, and the end of the episode, and the beginning of yet another season of this franchise where the women are here to hold men accountable for bad behavior. 
After we just watched Hannah Brown take down Luke Parker and her eventual fiancé and then former fiancé Jed Wyatt for the crappy ways they treated her, it's thrilling to see that this energy is still going as we roll into Bachelor in Paradise. 
Blake's behavior with Caelynn and Kristina may have happened off camera several months before BIP filming began, but the fallout is what we all deserve to see. 
Combine that with the fact that Demi's little intro package featured her coming out to Hannah Brown about the fact that she was recently dating a woman, and we might just be in for the most real, honest, and therefore riveting season season yet. 
Or it'll just end up exactly the same as it normally does, which is probably fine too. 
We'll find out on Mondays and Tuesdays at 8 p.m. on ABC.