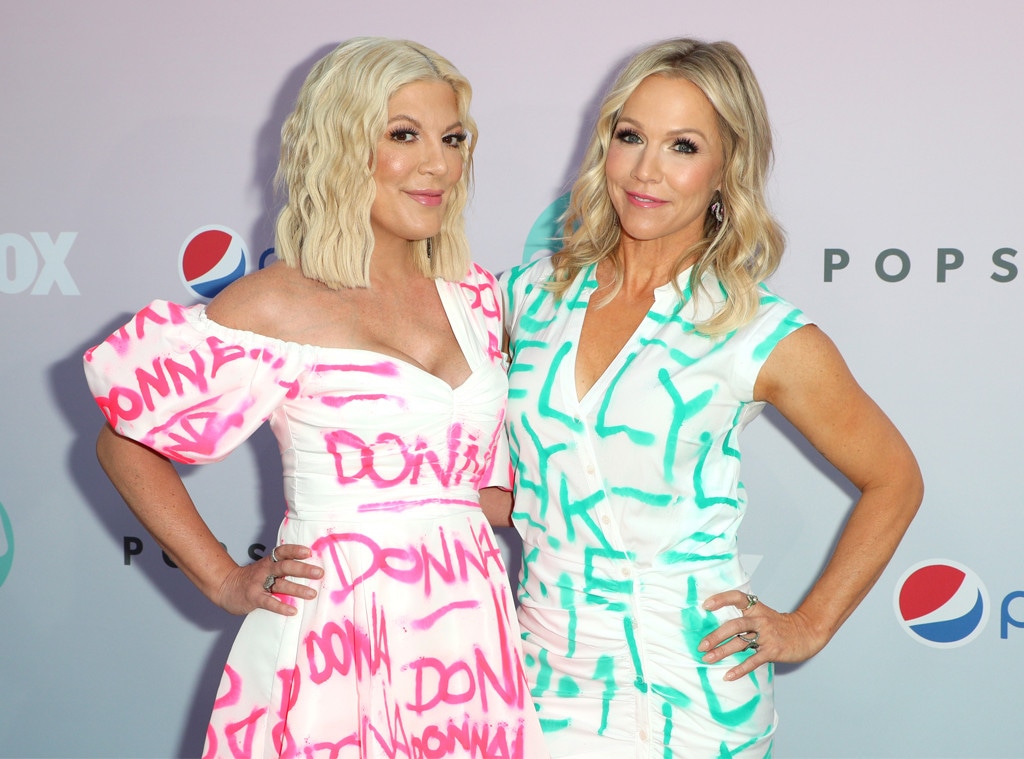 John Salangsang/Shutterstock
Donna and Kelly are back!
Celebrating the upcoming Beverly Hills, 90210 reboot on Fox, Tori Spelling and Jennie Garth enjoyed a fun night out at the Instagram-worthy (and deeply nostalgic) Peach Pit Pop Up in Los Angeles.
It's safe to say the two actresses were totally on-theme, too with their extremely fashionable outfits. Making everyone's '90s hearts explode at the Saturday event, both Spelling and Garth paid tribute to their 90210 characters. They donned white dresses that were spray painted with the words "Donna" and "Kelly" all over.
"MyBFF @jenniegarth and I were inspired to pay homage to our OG characters with a modern pop in iconic #bh90210 colors." Tori shared on Instagram, alongside a photo of her and Jennie. "Thx to @mandiline and @adeel_k for helping us execute our vision!"
Apparently, these uniquely printed gowns were made "down to the wire," according to costume designer Mandi Line.
"These dresses and styling were down to the wire," she revealed on the 'gram.
Luckily fans of the TV series don't have to wait too long to see the reboot. 90210 (as the series is now called) premieres on August 7 on Fox.
Along with Spelling and Garth, OG members Shannen Doherty, Brian Austin Green, Jason Priestley, Ian Ziering and Gabrielle Carteris are set to return. In fact, Denise Richards recently announced she's is also making a comeback to the drama series.
"Welcome to our @bh90210 family my friend @deniserichards," Tori wrote on Instagram.
The Real Housewives of Beverly Hills star quickly re-posted and shared the news herself. "Thank you for including me T," she captioned her post. "And having me part of the BH90210 journey. Talk about everything comes back full circle. One of my very first jobs was #beverlyhills90210. Love all of you guys."