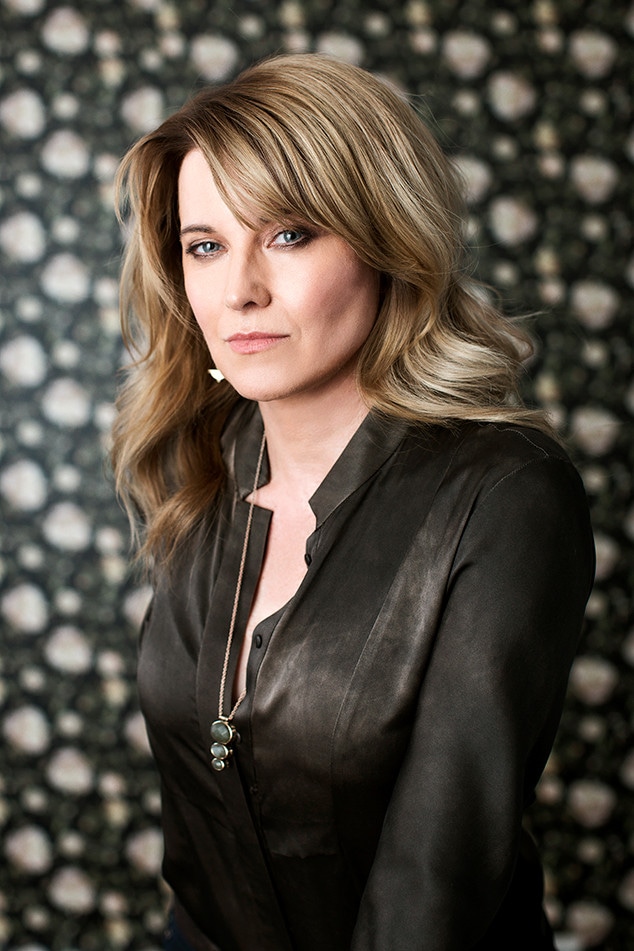 Acorn TV
At 51 years old, Lucy Lawless is finally taking charge behind the scenes. After years of playing formidable characters in everything from Battlestar Galactic and Parks and Recreation, the Xena: Warrior Princess star is back on TV in My Life Is Murder, both as the main character and executive producer. It's a first for the legendary Lawless.
"Usually when I develop a show, I'm with my husband [Xena co-creator Robert Tapert]. He's absolutely the boss of his world. He's the first creative force and the last one. He starts and finishes everything," Lawless told E! News. "And as he's moving out of the business and as I got older, my kids don't need me, I was like, 'Yup, I'm ready to step up and produce myself.'"
Lawless met My Life Is Murder writer Claire Tonkin on a lark and said she was instantly impressed. "I just met her, and I was so blown away by her as an entity that I just took a punt on her. I was like, 'Yeah, I'm going to get in the foxhole with you,'" she explained.
The series follows retired police detective and current private investigator Alexa Crowe as she assists her former colleagues in Melbourne. Each episode follows a mystery Alexa takes on with the help of her investigative sidekick Madison (Ebony Vagulans) and police counterpart Kieran Hussey (Bernard Curry).
When My Life Is Murder starts, it feels like Alexa Crowe is an established character. She bakes bread, has a cat that's not entirely hers and some heartache after the loss of her husband. Lawless, a self-described "lunatic for true crime," said she's hooked on foreign crime dramas and jumped at the chance to be part of one, especially one that let her shape the character.
"Well, I like that she's unfiltered and a bit of a misanthrope…There's witty friction and that's what creates drama and also…Just a chance to be freer in my acting, a chance to do it in a modern idiom because I'm pretty tired of period pieces," Lawless said. "I'm sick of corsets, and stuff, you know, it's a drag, man. So, really it was elastic and zippers that drew me to the role. [Laughs.] And the fact that she's just highly irreverent and lots of ways of me to ad-lib. I think she's close to me than any other role I've ever played."
Lawless joined the series before there were scripts, so she was able to mold Alexa to her liking, including making the character very sure of herself.
"Yeah, it's really fun not to be burdened with a conscience or people who are worried about what other people think of them," Lawless said. "I think that's also the gift of being over 50, to be honest with you. So, I do draw strength from that [Laughs.] and also, I think it's part of my own trajectory as I get less interested in my own business and feel more interested in the rest of the world."
The new character is quite different from the one Lawless shot to fame for, despite both Alexa and Xena possessing a hunger for justice.
Xena: Warrior Princess, which also starred Renee O'Connor, debuted in 1995 and ran for six seasons concluding with a controversial series finale in 2001. There's been plenty of reboot talk, including a script developed by NBC in 2015, but there's still only been one Xena, and the woman who brought her to life would like one last crack at her.
"I just realized when I saw Linda Hamilton doing the Terminator thing the other day where she was basically just handing over the baton to a new, young woman, I felt so jealous. I was like, 'Ugh, good for them!' They did what I wish somebody here had the courage to do, which is Renee and I could come back and do it the ages that we are now. 'Cause it's interesting to hand the baton over to the next warrior princess. I don't know, it seems kind of a no-brainer to me, but evidently, it's a brainer for everybody else," Lawless said with a laugh.
Bringing O'Connor and Lawless back in their iconic roles would also give them the chance to rewrite Xena: Warrior Princess' ending. The series wrapped up by killing Xena—she was shot full of arrows and beheaded—and despite the chance to bring her back, she remained dead, a spirit for Gabrielle to commune with.
When asked if she still thought that was still a good ending for the show, Lawless immediately said, "No!"
"Of course I don't," she laughed. "At the time, we were like, 'Oh, that's a really strong choice.' We didn't realize how real the characters are to other people. And I watched…that movie the Perfect Storm and thought George Clooney being left with a bloody life-saving ring or something at the end and I was so scandalized. [Laughs.] I invested two hours of my life and they basically left him for dead on the high seas and I hated that. And yet all these fans had spent six years watching and rewatching every episode and we cut her bloody head off. That is awful. I just think we thought of her as a storytelling mechanism and that was really, really offensive to all those fans and I do very much regret it.
Universal International Television
Xena inspired legions of fans to both too good in the world and to improve themselves, the show's impact is still felt nearly 25 years later. The series made "subtext" a household name as fans embraced the relationship between Lawless' Xena and O'Connor's Gabrielle. At the time, Lawless said she wasn't aware of the show's growing impact in the LGBTQ community.
"That was kind of a surprise to Renee and I. But I realize now that Rob, who later became my husband, and Liz Friedman and RJ Stewart, the writers, knew from the start, because Liz is a gay woman, and she wrote this iconic line in the community which is, 'I'm not the little girl my parents wanted me to be.' And it just went over Renee's head and my own. So, when The Village Voice heralded it as the new feminist and gay icon, we were like, 'Really?! That's so funny.' And we were quite impressed with it, we thought, 'That's cool.' Anyway, I don't think any of it was an accident," she said.
My Life Is Murder begins streaming in the United States on Monday, Aug. 5 on Acorn TV.