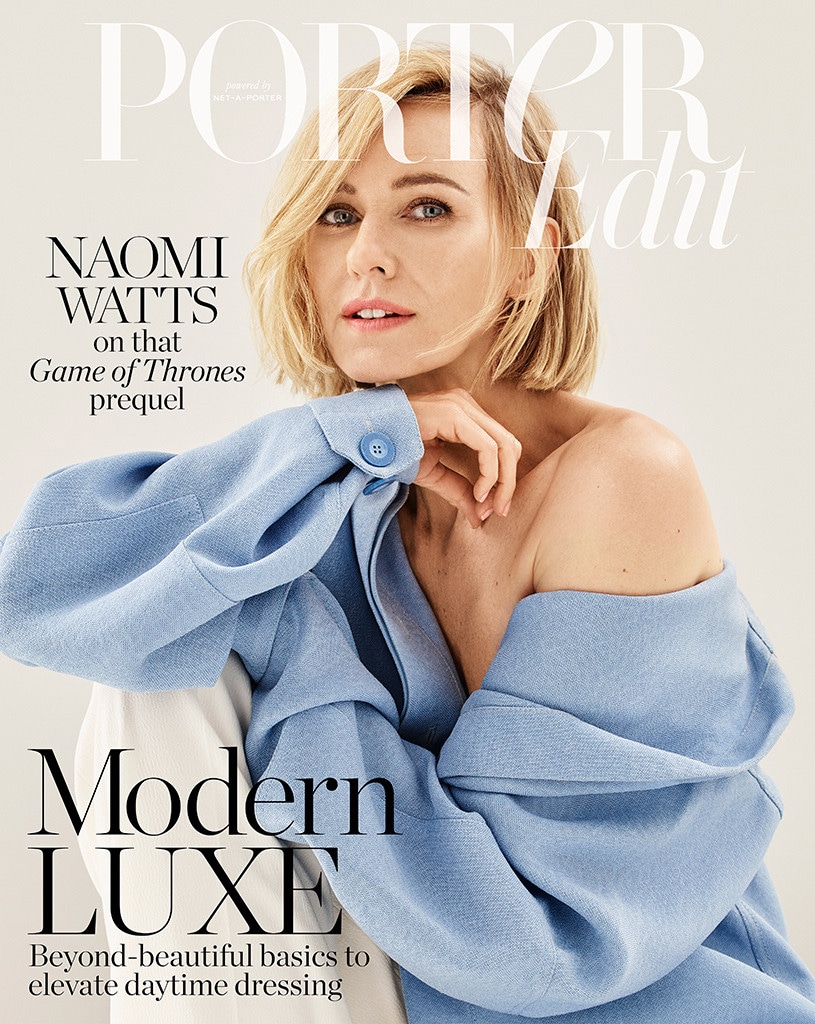 Jason Kibbler/PorterEdit/NET-A-PORTER.COM
When Naomi Watts was approached about starring in the upcoming Game of Thrones prequel, she knew nothing, Jon Snow.
It was revealed in October that the 50-year-old Oscar-nominated actress was cast as a lead in the new project, which is rumored to be titled Bloodmoon, and is set to play a "charismatic socialite hiding a dark secret." The prequel takes place thousands of years before the events of Game of Thrones, which ended its eight-season run in May to mixed reviews.
"I didn't start watching until I was approached about this job," Watts told NET-A-PORTER's digital magazine, PorterEdit, in a cover interview posted on Friday. "But my brother [photographer Ben Watts], who is heavily into it, told me, 'Under no circumstances are you going to turn this down.'"
Watts said she tore through the first seven seasons in three months and "was in—hook, line and sinker." She knows that the show will boost her public profile, and told PorterEdit, "I still have fears about that. I don't really know what to prepare for."
The actress just finished filming the Game of Thrones prequel's pilot episode, the outlet reported. The project is based on a story by George R. R. Martin, whose A Song of Ice and Fire novels inspired Game of Thrones, and fellow writer Jane Goldman. None of the characters in the books and original series will appear in the new project. However, Martin has said that the Starks, the White Walkers and direwolves and mammoths will be featured.
Watts also talked to PorterEdit more about her career. The English-born, Australian-raised actress began acting onscreen in the mid-80s. Her breakout role came in 2001, when she starred in the film Mulholland Drive. She went on to appear in movies such as The Ring, a King Kong reboot, and 21 Grams and The Impossible. The latter two films earned her Oscar nominations.
Jason Kibbler/PorterEdit/NET-A-PORTER.COM
In recent years, Watts has starred in movies such as Birdman or (The Unexpected Virtue of Ignorance), Insurgent and Allegiant, as well as the Twin Peaks reboot series, and most recently, Showtime's The Loudest Voice, in which she plays former Fox News personality Gretchen Carlson opposite Russell Crowe's Roger Ailes.
"At the beginning of my career, in my mid-twenties, everyone told me that I should expect it all to be over at 40," Watts told PorterEdit. "And to be honest, it was kind of looking that way. At that time, there were only a few people who seemed to scrape through and have careers beyond that."
The actress also opened up to the publication about co-parenting with her ex Liev Schreiber, star of Ray Donovan, with whom she shares two sons, Sasha, 12, and Samuel Kai, 10. The former couple announced in 2016 they had split after 11 years together.
"I'm pretty proud of us, corny as that may sound," Watts said. "We've made it our absolute priority to be good and kind to each other and we're absolutely committed to that."