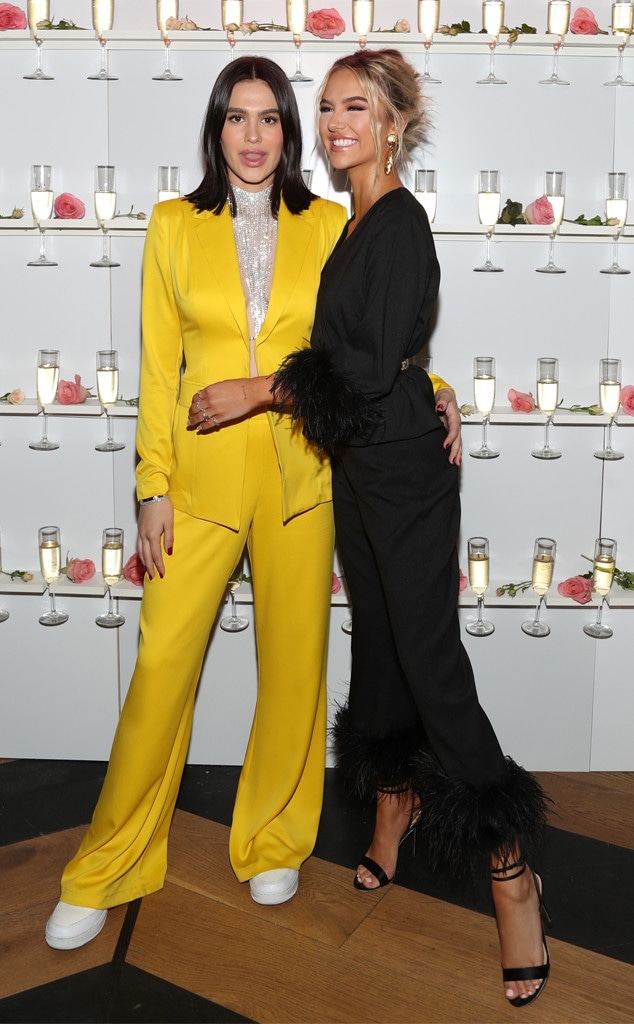 Jerritt Clark/Getty Images for boohoo
In the world of fashion, things look so glamorous from the outside looking in.
There's the fabulous hair, makeup and glam at every model's disposal before the runway. And it's hard to ignore the fabulous trips, locations and perks that come with photoshoots and campaigns.
Ultimately, the industry is one that remains exclusive for only a few lucky ladies.
Fortunately for sisters Amelia Gray Hamlin and Delilah Belle Hamlin, they've been able to find their way and succeed on their own terms.
While many first viewed the models as Lisa Rinna and Harry Hamlin's daughters, both young ladies have earned success individually and as a pair. At the same time, they haven't lost sight on what's most important: Health, school and family!
In between booking runway shows at New York Fashion Week, participating in campaigns for What Goes Around Comes Around or posing for prestigious publications like Vogue, both girls remained in school.
Rodin Eckenroth/Getty Images
Delilah Belle calls New York University home while Amelia Gray recently documented her high school prom and graduation on social media.
And regardless of where the sisters traveled, Lisa always kept close eyes on her daughters—even if she tried not to be a "momager."
"I tried to get out of it. But here's the thing: If I don't do it, nothing gets done," Lisa shared on Busy Tonight. "I oversee everything. I look at every e-mail. Yeah, you have to! I totally understand Kris Jenner now in a way that I never—I look up to Kris Jenner...because she has done it better than everyone. If I could, I'd call Kris Jenner every day."
Ultimately, there's no denying the positive influence Lisa has had on her daughters. For someone who once repeated "don't hustle the hustler" for her Real Housewives of Beverly Hills tagline, the QVC fashion designer has demonstrated that hard work does pay off.
And yes, she also passed along a few fashionable tips along to her daughters from a very young age.
"When I was little, I used to put my mom's heels on and go play in the backyard. It was my favorite thing to do. I always loved playing in her closet—I still do," Amelia Gray shared when appearing in a What Goes Around Comes Around campaign with her mom for Mother's Day. "Her accessories are always on point and she has really taught me how to elevate my style."
Delilah Belle added, "I love borrowing my mom's clothing because I'm always inspired and learned from her simple, chic wardrobe. She taught me the best way to mix vintage pieces with current trends!"
Watch:
Lisa Rinna & Harry Hamlin Support Daughter Walking in First Fashion Show
And although the fancy clothes, glam squads and social media followers are nice—the sisters have a combined following of 1.5 million on Instagram alone—Delilah Belle and Amelia Gray are the first to be transparent with fans about their reality.
In other words, just because you're a supermodel doesn't make you immune to the roller coaster that is life.
One year after signing with a top modeling agency, Amelia Gray revealed a past battle with anorexia.
"Last year at this time there was no doubt that I was not okay. Not only physically but also mentally. I feel like sometimes people forget that just because your job involves being in front of the camera, doesn't mean you can't have bad days. We're human. All of us," she wrote to her Instagram followers. "I am SO beyond humbled and grateful to have the platform that I do at such a young age, and to wake up every morning with a little girl reaching out to me and telling me I am her inspiration, really makes me feel like I have a purpose. I went through this journey not for attention, not for people to pitty me, but to help. I am on this earth to help people, and I know that."
Rich Fury/Getty Images for Race To Erase MS
And for those wondering why she chose to open up about her health so publicly, Amelia Gray wanted to be authentic with her fans and followers.
"All these young girls were following me and commenting on my posts, and I realized I didn't want them to be following a lie. I couldn't allow little girls, or little boys, or whoever, to look at the changes in my body and think I'd just hit puberty—that the really skinny photos of me from the year before were just a normal prepubescent body," she shared with Glamour. "I couldn't stop thinking about the message those comments about my body sent."
More recently, Delilah Belle shared her mental health journey, which included multiple rehab stints over the course of 2018.
"Do things that make you happy and make you feel good about yourself. Don't let another individual take over your life and tell you who you are or how to be. Take control of your own life and get rid of all negative people and energy that may surround you," she shared on Instagram Stories. "And I guarantee this will lead to a happier life even if it's hard in the moment."
Gregory Pace/REX/Shutterstock
Ultimately, both ladies are just beginning their careers in the fashion industry. In the past year alone, Delilah Belle has collaborated with boohoo on a fashion collection.
She also continues to support charities like Race to Erase MS where she walked in the annual gala's runway show.
As for Amelia Gray, she became the face of Too Faced's newest Damn Girl! 24 Hour Mascara while also securing a deal with Levi's.
"I didn't do anything to help them do anything, to be honest," Lisa once shared with Entertainment Tonight. "They've done everything on their own. They work very hard." On this National Sister's Day, we say bravo to the Hamlin sisters. We'll see you on the runway soon.