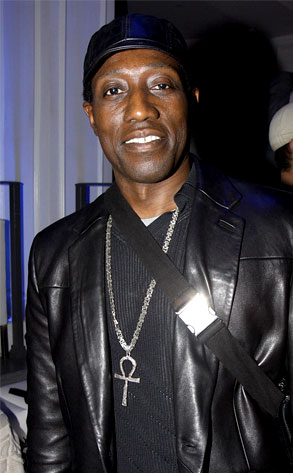 Johnny Nunez/Getty Images
Wesley Snipes may still have a hangover from a party he went to in November.
Federal prosecutors are disinclined to allow the actor to travel overseas again for work after learning that, the last time he was allowed to do so, Snipes took a sojourn to the United Arab Emirates for the gala opening of the $1.5 billion Atlantis the Palm hotel in Dubai.
Snipes—who was sentenced to three years in prison for income-tax evasion but is free on a $1 million bond pending appeal—was photographed mixing it up with the other VIP guests, which included Denzel Washington, Michael Jordan, Charlize Theron and Janet Jackson.
Last summer, a judge signed off on trips to Vancouver, London and Bangkok to work on film projects, but Snipes' "unauthorized" stop in Dubai should preclude other trips, according to documents filed Tuesday in U.S. District Court in Ocala, Fla., by Assistant U.S. Attorney Robert E. O'Neill.
Snipes wants permission to go to Namibia to reshoot scenes for the horror film Gallowwalker and then to Torino, Italy, to shoot the action flick Game of Death.