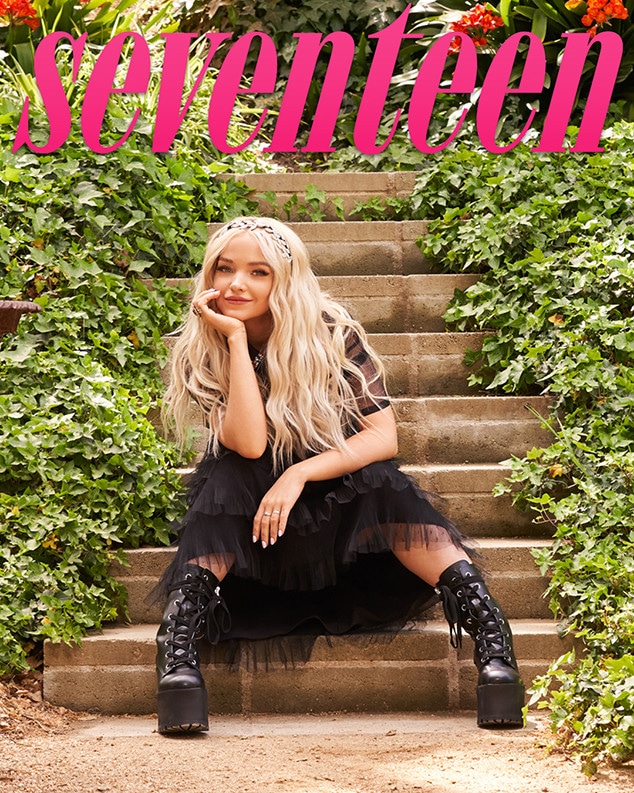 It's a phone call no one ever wants to receive.
In early July, Dove Cameron woke up to her phone ringing off the hook—and news the tragic news that her Descendants 3 co-star Cameron Boyce had died. (His official autopsy later revealed that he suffered a "sudden unexpected death in epilepsy.") "I was nervous about why I could be getting so many texts and calls, so I only looked at my mother's text," she recalled to Seventeen for their digital cover. "I knew she would be the gentlest, and the most concise, whatever it was."
After hanging up, she immediately dialed her fellow Disney castmate Boo Boo Stewart.  "We just sobbed without speaking," Cameron shared. "If there was a word stronger than devastated that could describe the depth of pain that I was feeling, I would use it."
The shocking, heartbreaking news rocked the cast, which also includes their pal Sofia Carson. But, at the same time, it brought them closer than ever before.
Their text chain—which Boyce's phone remains part of—has become an active gathering point for group, which Cameron hails as the core four.
"It's hard when there are no adequate words to express the pain we are all feeling, but the usual text is 'love you.' Or 'are you eating?' Or 'how are we all today?'" the 23-year-old said. "I think something like this horrible loss makes you realize how important you are all to each other. I am grateful for my chosen family at a time like this."
Her boyfriend Thomas Doherty—who plays Harry Hook in the Disney franchise—has also proven to be a pillar of strength.
"He's a pure soul," she gushed to the outlet. "A well-intended, completely innocent source of care and generosity, humility and never-ending patience. I've never experienced an equality like we have, a real admission of who and what we are together and the guttural knowing that this is right."
"Thomas has been my rock," she added. "Every thought or feeling I have, no matter how strange or dark or heavy, he is a safe space for me, a never-ending well of patience and generosity. He is my world."
And today, she is focusing on her late friend's legacy and the positive impact he had on her life.
After their first meeting on set of Disney's Jessie, "I had always thought, 'damn, what a charismatic, bright and brilliant kid,'" the actress admitted. "From that first day onward, Cameron was my friend and he treated me, like he treated everyone else, like they were the most important person in the room. I loved him like a brother, and I learned from him every day, how to be joyful, how to be resilient, how to be patient, no matter the circumstances. I couldn't begin to quantify the wisdom and generosity that this kid had. I still learn from him every day."
Watch:
Disney Channel's Cameron Boyce Dead at 20: Costars in "Complete Shock"
She's also learning to listen to herself and take note of her needs.
"I would call myself incredibly anxious, and I have dealt with depression," Cameron shared. "And I do have episodes of absolutely what feels like mania or something that is like I'm all of a sudden in the pits of despair. I can't get myself out. I'm on the floor and I'm crying."
"I'm incredibly sensitive and have learned that I have many, many triggers that I have to manage," she continued. "But as long as you are your own mother, healer, and best friend, you will always know what you need. Sometimes it just takes a while to become yourself."