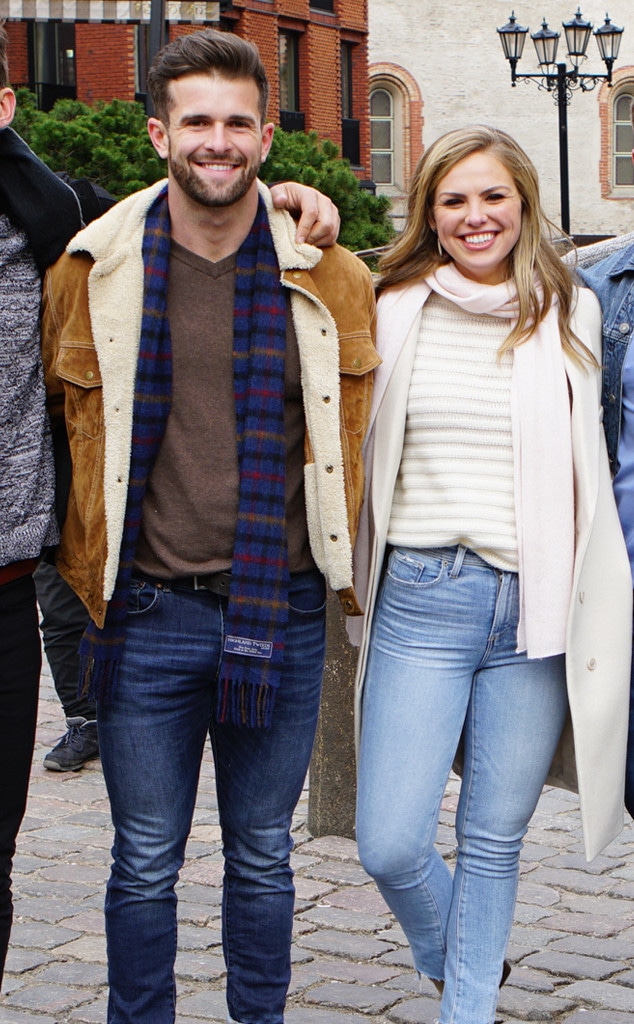 ABC/Mark Bourdillon
Every rose has its thorn!
The Bachelorette's Hannah Brown gave her final rose to Jed Wyatt on Tuesday night's two-part finale. The country singer got down on one knee and proposed to the former beauty pageant queen. And while she expected her engagement to be straight out of a fairytale, it turned out to be a nightmare after she found out about her beau's alleged cheating scandal. 
"I don't even know where to start," the Alabama native told her fiancé after confronting him about his past. "I don't even know where to start. Why did you wait until all this happened?"
For the Nashville musician he felt there was "two different views" to a story. He explained that when he met his ex-girlfriend, he was "very single." In fact, he continued to express that he wasn't "exclusive" with anyone prior to filming the ABC competition show. "I was dating around, and it never felt like a relationship to me," he said to Hannah.
However, he admitted that he and his ex vacationed alone together and that she met his parents.
Making things even more heartbreaking on Tuesday night's episode, The Bachelorette star told the country singer that what also hurt her was the fact that she felt like he was there to boost his career. "It didn't seem like it was a dating show to you," she said. "It was just for your career."
She added, "I know what I want. I've been doing all the things to be prepared for this. I was in the right place for it, and so it sucks. And now to know this, it's like..."
Wyatt interjected, "You feel betrayed?"
"Betrayed, and like, how would you ever be ready to be engaged," she responded. "There's just a lot that does feel like it's [for your] career and [to] be noticed and it feels like [you're] using me, our relationship for that."
Of course, Bachelor Nation had some thoughts on the whole ordeal.
"So Jed's big defense is basically he's a f--kboy??," Nick Viall tweeted on Tuesday night. "Ironically, Jed finally chooses not to bring the guitar out of the SUV as he is about to face the music."
Tia Booth chimed in and said what we were all thinking. "The fact that  @AlabamaHannah can logically respond and have GOOD responses is incredible to me. I'd be throwing shit and making no sense." She added, "My heart is racing I feel like I need to put my Fitbit back on and get some more active minutes."
Amanda Stanton also shared her thoughts and asked her viewers to put themselves in Hannah's shoes. "Side note: be mindful what you're tweeting about Hannah! She put herself out there and just because she didn't make the same decisions you'd make as a viewer, doesn't give you a reason to be unkind. The heart wants what it wants."
"My heart breaks for Hannah," Ali Fedotowski-Manno tweeted. "I cannot imagine going through an entire season and having it end like it did for her. We're all here for you
After having a long talk with her fiancé, Hannah took her ring off and made her decision. She told host Chris Harrison she called off the engagement to Jed.