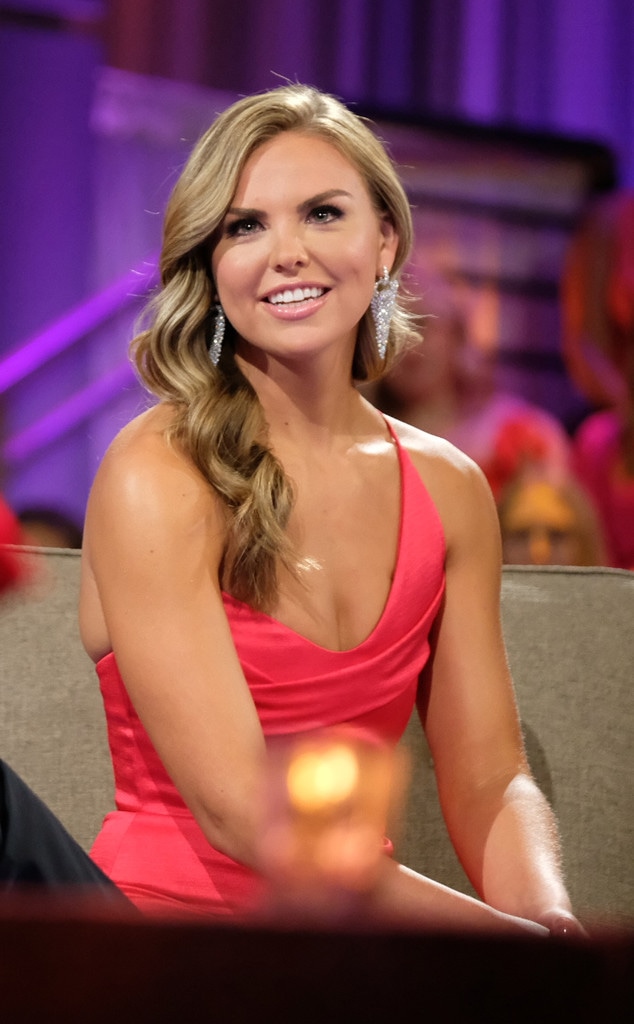 ABC/John Fleenor
There were no pretenses at the top of tonight's finale of The Bachelorette.
Chris Harrison didn't even dare to pretend that things were going to end well for Hannah, and straight up told us that we were in for "the massive destructive forces of lies and betrayal" and "a proposal that, in retrospect, can only be described as cringeworthy." 
If you ask us, the proposal was cringeworthy at the time, because it's hard to pull off an intimate concert that's not at least a little cringeworthy, and that's obviously what musician Jed Wyatt chose to do for Hannah Brown when he went to propose to her, still unsure at that point if she had said goodbye to Tyler Cameron or not. Unfortunately for all of us, she had said goodbye to Tyler, and it was Jed she had chosen. 
After all that you've been through and those times that you wish you knew
Who's on the other side of all those restless nights
We always knew it's me and you
Time stands still for us
It's happened more than once and every time we're holding hands and dancing in the sun
Baby, time stands still for us
Sure to be a classic love song, right? 
To quote Chris Harrison, "unfortunately, that's not where this journey ends." 
FOR MORE BREAKING NEWS COVERAGE DOWNLOAD THE E! NEWS APP
"What happens next is a story of broken promises and broken hearts," Chris continued. "Let me say it this way: Jed is about to face the music." 
Of course we all know which music Chris is referring to this time. 
Back in June, People first broke the news that Jed had headed off to film The Bachelorette with a serious girlfriend named Haley Stevens, intending only to go on the show to promote his music career. Stevens provided texts, pictures, even a love letter he wrote to her the night before he left. 
"Haley, you're truly an amazing person," the letter read. "Someday we will be thankful for all of this. You know where my heart will be. See you at the dock, J." 
Stevens also did an interview with E! News and further detailed how Jed cut off contact with her after he returned from filming, and never really ended the relationship 
We saw one quick video of Hannah and Jed enjoying their engagement before Hannah explained how she learned about Jed's betrayal. 
"The first thought that went through my head was, this is it. He is so real with me and I'm so real with him, and that's what I wanted from the very start," she said, showing a few videos of them playing games and having dance parties. "With Jed, I was so happy because I thought I was getting this person that I can spend my life with who was sweet and sincere and honest, and that's not been the case." 
Hannah revealed that the second night after the engagement, Jed had told her he had been dating a girl up until a week before the show, and she asked if he broke it off. He claimed he did, and that the relationship was "nothing." 
"It was hard to hear, but I tried to let that go," Hannah said. "And then a few weeks later I get news that there is a People magazine article that was out, and I start reading it, and it was not the same story that I was told. The article said that he didn't really end the relationship before he came here. The extent of that and what was withheld from me after I've already said yes is not OK. Jed has muddied the waters of our future together, and it's not what I thought I said yes to."
That was right before Jed was coming over to talk about the news, and Hannah said "I love the person I got engaged to. I don't know how I feel about this person." 
Jed then arrived, complete with a goofy knock on the door, and after a moment of silence, Hannah started with, "why did you wait so long to tell me, or not even to tell me, to let me find out what actually happened?" 
Jed claimed he started hanging out with Stevens in October 2018, but he "didn't feel like it was an exclusive thing" because he was "dating around" and just "going out with [his] friends." 
They went out to dinner together, watched a movie, slept together, took a trip together to stay just the two of them in a cabin that Jed got for free (not sure why that was an important detail, but OK Jed. He claimed they had no label, and she was not his girlfriend, but on the way back from the cabin, they stopped by and met his parents. 
She threw him a surprise birthday party, and her parents gifted them a trip to the Bahamas. 
"Three days before we leave, I got asked if I'd be interested in the show," he said. "She's obviously sad but also like, excited, and I was thrown off because I think it's kind of like not logical to hang out with somebody who is considering doing a dating show." 
But of course, as Jed had said already, he was only going on the show "for a music thing," which he told Haley. 
ABC/Ed Herrera, Instagram
Then he did a little drinking and said "I love you," and slept with Haley the night before he left for The Bachelorette without ever ending the relationship. 
"To me, I ended it in my heart and not verbally," he said. 
Then, to top it all off, Hannah learned that the night after Hannah had been with him in Nashville, there were two girls in Jed's apartment who he claims he didn't know, but he still threw them in the pool and never mentioned it to her. 
"I know what I want. I've been doing all the things to be prepared for this. I was so, like, in the right place for it, and so it sucks. And now to know this, it's like...how could you ever be ready to be engaged? Like, what? I've been doing all the freaking steps and like, know what I wanted. There's just a lot that does feel like it's like career, and being noticed, and it feels like it's like using me, our relationship, for that." 
Hannah then went outside, for a minute, then returned to find Jed begging her to tell him what he needed to change. 
"What you could do and what I would need is 100% honesty," she said, then asked him what crossed his mind on night one when he heard that she had thrown Scott out for talking to a girl on Monday. 
"I didn't have a girlfriend though. Like to me, that didn't feel like a relationship," Jed claimed. "But now when I look back, yeah, it was a s--ty thing to do, and I should have walked up and said something right then and there, and I didn't. I should have said something at the fantasy suite, but once that started happening and I started seeing how I was feeling about you, I couldn't think of anything else. You were it. The reason I held back details that I did is because I was scared that if I told you, you would walk away from me. And that's the most coward thing to hear, but that's just the truth. And I'm so not proud of it. In turns, me pulling it back has now put me in this position." 
"Us," Hannah corrected him. "It's not just you." 
Hannah also didn't like how he told his friends that he "won" instead of saying he was happily engaged, and eventually said that she had said yes to him, but since then, it hadn't been good. He even asked for grace and patience, which led Hannah to say this: 
"I can be mad and I can be upset but I do have grace for you. But also this… doesn't mean the same thing. That's not what I said yes to."
She took off her gigantic Neil Lane ring, laid it on the table, and wondered if she even wanted this. 
AND IT'S NOT EVEN OVER YET. 
We've never felt this energized. Can we bottle this and turn it into an energy drink?!
Stay tuned for more from The Bachelorette!