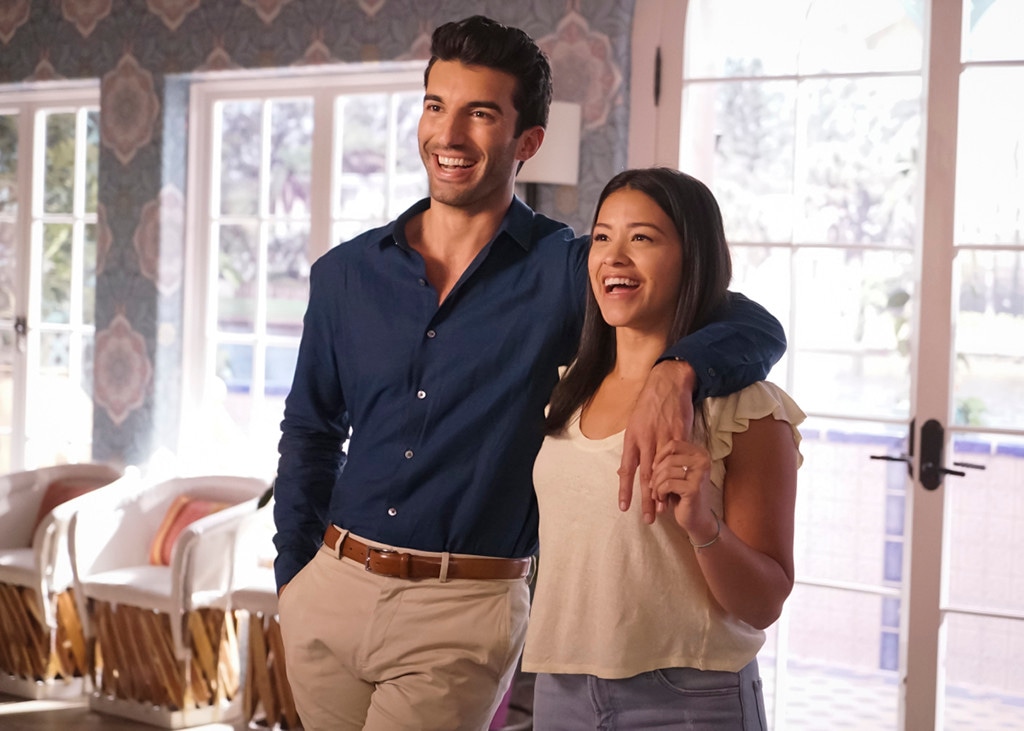 The CW
Once upon a time, a little show premiered about a young woman who got artificially inseminated by a tired gynecologist. 
Back in 2014, it sounded ridiculous, and it was, but that was the genius thing about Jane the Virgin—it took the ridiculous and made it real. The mixture of telenovela plot twists, magical realism, Latinx culture, and the realities of womanhood and motherhood made for a show where absolutely anything could believably happen, and it could probably also make you cry. 
Tonight, Jane the Virgin takes its final bow, and showrunner Jennie Snyder Urman and her writers were tasked with finding the perfect end to what often was a perfect show, and if you ask us, that's exactly what they managed to do...but we're getting ahead of ourselves. 
First, there were crime lords to vanquish and ex-husbands to find closure with. 
Before the actual series finale, last week's penultimate episode was packed to the brim with all the dramatic ends left to be tied up. We saw how Michael (Brett Dier) had moved on since Jane (Gina Rodriguez) had broken up with him after she learned he had never actually died and had actually lost his memory and spent four years becoming a rancher in Montana named Jason, and thought maybe they could resume their marriage before they realized they were no longer the same people, and we also saw the end of Rose (Bridget Regan), the crime boss who also went by the name of Sin Rostro, whose exploits with the disgraced gynecologist Luisa (Yara Martinez) caused the insemination slip-up in the first place, and whose exploits with general evilness and a continued love for Luisa caused a thousand bad things to happen to Jane and her loved ones in the years since, like that time her newborn baby was kidnapped! Plus, after years and years of struggling with her writing and finally realizing her destiny was to write a novel about her own story, Jane got an extremely good book deal, just ahead of her long-awaited wedding to Rafael (Justin Baldoni), her inadvertent baby daddy and secret crush and former boss and current soulmate. (Phew!) 
For everyone except for the evil Rose, it was a happy ending, and it sets up a finale free of actual drama and ready for all the wedding shenanigans and tear-filled goodbyes. 
"The final episode is a lot about saying goodbye, and it's a lot about the family, and it's a lot about reaching the point that we've been aiming towards for a while, and I wanted that to have moments to breathe and to be warm and to be a celebration of how far the characters have come, without really having the extra amplified drama of the telenovela twists and turns," showrunner Jennie Urman told E! News. "So we tried to resolve those in the episode before, so that the episode was exciting and brought certain things to a close, but also to set the table for the so long, which is the last episode, and really clear out space for people to have a whole range of emotional responses and to live in that without adding extra drama on top of that."
The finale will be "dramatic in and of itself," Urman promises, even without the threat of crime lords and cowboy ex-husbands, with Jane's wedding, her parents moving, and all that new money she's got now, thanks to a $500,000 book deal. 
"I felt like there was enough drama in that without going to our bigger telenovela twists and turns," she said. 
Michael was probably the most important ending to get right, before the actual ending, since he was Jane's love for so long, and one of the central figures on the show. He ended up happily engaged to his pregnant fiancee, Charlie, the rival rancher we met when Jane visited Michael's home in Montana, and she was even played by Brett Dier's real-life fiancee, Haley Lu Richardson. 
"It was a lot of discussions in the writers' room, about our writers' connection to him, and what we as writers and as fans of the character wanted for him and what the audience would want for him at the end—not that they're going to want that specifically, but just the feeling that he's happy and he's moved on," Urman says. "We certainly couldn't get there at the beginning of the season because she had to make a choice and leave him and he was heartbroken, but I think that left open this character that so many people attached to and loved and were invested in." 
Michael and Charlie took a little trip to Miami at the same time that Jane discovered Michael hadn't signed off on his life rights for her book, which was all about him. It turned out that it was Charlie who didn't want Michael to sign, because she feared he and Jane still had a connection. Once she saw they had both fully moved on, she relented. 
"I think it was nice to see that what he and Jane had was amazing, but they had both moved and grown and changed, and now he has that with someone else, as she does. So they'll be connected, but he's happy too, and that just meant a lot to us in the writers' room. We wanted to see MichaelJason be happy."
At some points during this final season, it was hard to imagine a time when all three points of the love triangle would be happy. Michael still loved Jane, but Jane loved Rafael, but Rafael didn't want to be with someone who didn't immediately choose him. Of course, who can blame any of them?
"It was an impossible situation, and they had to feel their way through all these different possibilities, and like, there was no right answer," Urman says. "There's just choices. And you know, when there's choices, hearts are going to be broken and hearts are going to be soaring." 
Michael's happy ending went right along with Jane's book deal, a whopping $500,000 deal that is positively life-changing for the frugal Jane, and a return to the lifestyle Rafael used to be accustomed to. 
"That's always been built into the initial pitch that eventually she'd be the one that made a ton of money and the roles would be reversed," Urman said. "When she first met Rafael, he was going to be this rich guy and was working class, and by the end, they were going to flip, and she was going to have made her own dreams come true through hard work and dedication and imagination." 
It was particularly important to Urman to have that moment when Jane realized everything she'd been through had been worth it. 
"All that life that she's led, she's able to capture it into something that is obviously going to move people, and she's made her own dreams come true. Nobody rescued Jane. She made her destiny herself, and that's been really moving to me as a writer that all of a sudden people love what you do, and you get celebrated, and I wanted her to have that after getting kicked around so many times."
All that said, Jane did, in the end, need just a little bit of rescuing, because after years of Rose/Sin Rostro kind of tormenting Jane and her family from afar, last week's episode brought them together, as Rose held Jane hostage at Rogelio's show premiere party in an effort to get Luisa back. Rafael and Luisa both had to come to Jane's aid on the roof of the party venue, leading to Rose's death, skewered on the tail of a large statue of Rogelio's newest character. 
"That was a trip, because I never had Rose and Jane in the same scene once we realized who Sin Rostro was. Jane was certainly affected by all of her devious, crazy, horrible plans, but she hasn't been directly threatened. And I was really wary to bring those two together because of the crossing of the worlds, but the room, my brilliant writers, that confrontation is something that they were wanting and that they felt would be satisfying, and I'm so glad that I listened to them and we went down that path, 'cause I think it was rewarding to build up to that, where the villain and the hero face each other."
Not only was it rewarding, but it put Rose to bed once and for all, taking away that last bit of major drama and leaving just a wedding and an emotional family goodbye to get to in the last hour. Of course not everything will go exactly as smoothly as anyone hopes because it is still a telenovela, and trust us—the tears will still be flowing in those final moments. 
Now friends, don't forget to come back to E! News after the finale airs (tonight at 9 p.m. on The CW) to cry those tears together.