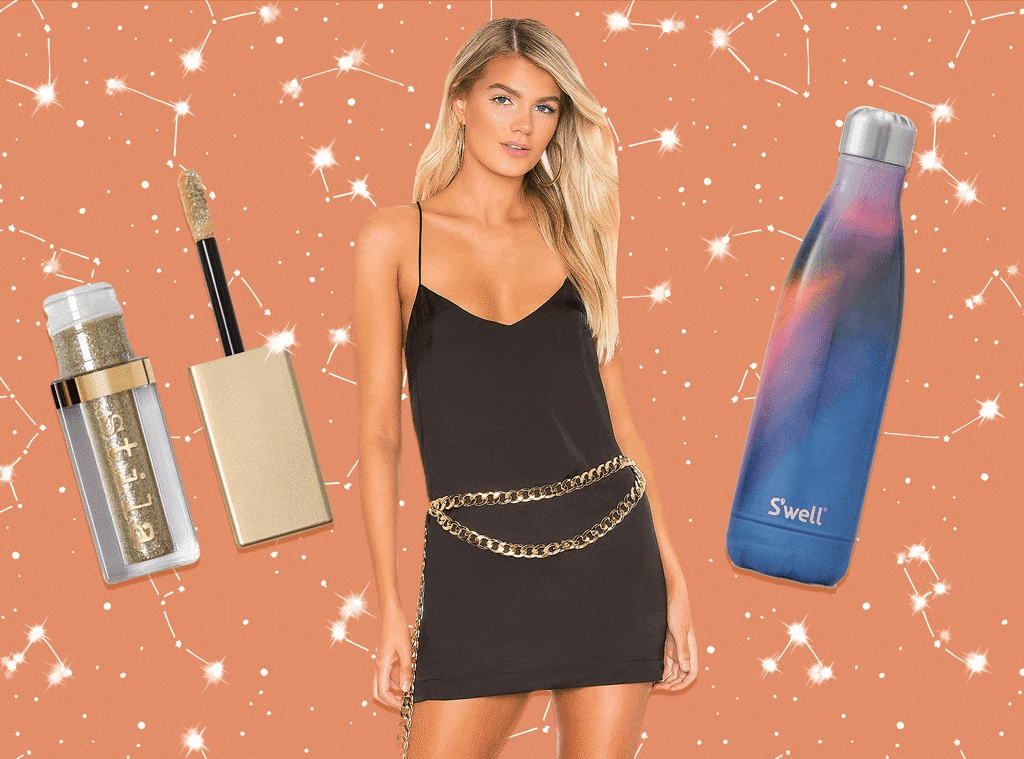 Melissa Herwitt/E! Illustration
We love these products, and we hope you do too. E! has affiliate relationships, so we may get a small share of the revenue from your purchases. Items are sold by the retailer, not E!.
Hello, August. When has the time gone?! And with a new month comes a new monthly horoscope!
August holds transformation flavor front and center, forecasts our resident spiritual advisor Lisa Greenfield. 
"Much of the old structures continue to come down, not as destruction but rather as reassembly time. You get to decide what you keep, what needs a makeover and what just needs to go," Lisa explains. "You have the power to create more of what you want to see and be, no matter what gets served up. So shape your world, one (fashion) choice at a time."
Leo
When you do what you've always done, you get what you always got. Time to break the chain this month, with a great chain link belt to remind you that you can take off those locks any time you want to be free of unhealthy old habits. Do it differently and watch what happens...
Virgo
With Mercury giving you a helping hand, you can get to the heart of things and tidy them up beautifully. Try a lighted magnifying mirror to show what needs fixing and what just needs loving "as it is." You've got the magic touch for both when you take a good look.
Libra
Perfection is the enemy of good for you this month, my Libran friend. You do well in a good pair of distressed jeans to remind you how good those imperfections can look when you let them be part of the whole. You are no different than those jeans. Your ragged spots add to your charm.
Scorpio
Your words have surgical precision this month, so choose wisely where to use them. Use them like a pair of sharp tweezers that pull out the unwanted or poke holes in you if you rush. Shape your world with the same precision you give your tweezing and the results are beautiful.
Sagittarius
Your need to practice saying "no" wisely this month, archer. There are more opportunities than you can possibly say yes to and still be standing by month's end. You need a good relaxation eye mask as a reminder to take a rest now and then. The world wind will still be there when you're done, and you'll be rested and ready for it.
Capricorn
You get the benefits of good effort this month, my sure-footed one. Where you've tended your garden wisely your rewards are waiting. Invest in a beautiful floral kimono to remind that what you care for blooms and enjoy the beauty you created with your time and hard work.
Aquarius
Well, this month you must face your human desires as part of the whole package, my high-minded Aquarian. Time to indulge in a decadent chocolate or dessert to put you back in touch with your senses. Your mind needs a break from running the show, so indulge a little so you don't wind up indulging a lot.
Pisces
Something new begins this month, and it's got a glow to it coming from you. Time to shine, shine, shine. Get some gold shimmer eyeshadow going and let the world see the sparkle to add to anything you do the next few weeks.
Aries
When you want to go fast, go alone; when you want to go far, go together. If you slow down this month, real partnership is there for you, ram. Grab a two-finger ring to remind you of the beauty of working in tandem, even if it does hamper your speed just a touch.
Taurus
Change is upon you and doesn't that feel uncomfortable to you. Watch for judgement as a way to protect yourself from the unknown. Time to get curious, and blue-light blocking glasses could be just the right thing to remind you to look closer before you a close door that might hide treasure when you inspect it properly.
Gemini
The right attitude is your ace in the hole this month, Gemini. It's effortless for you to put together a good story, so make sure it's one that has a broad view. Throw on a statement T-shirt that doesn't settle for a sound bite, and you tell that story looking oh so fashionably chic.
Cancer
An emotional high tide hits you this month, tender crab, and you need pool accessories to pamper you in the swim of it all. Let an insulated bottle keep you hydrated in style and feed your sense of beauty as familiar landmarks disappear under all that water.