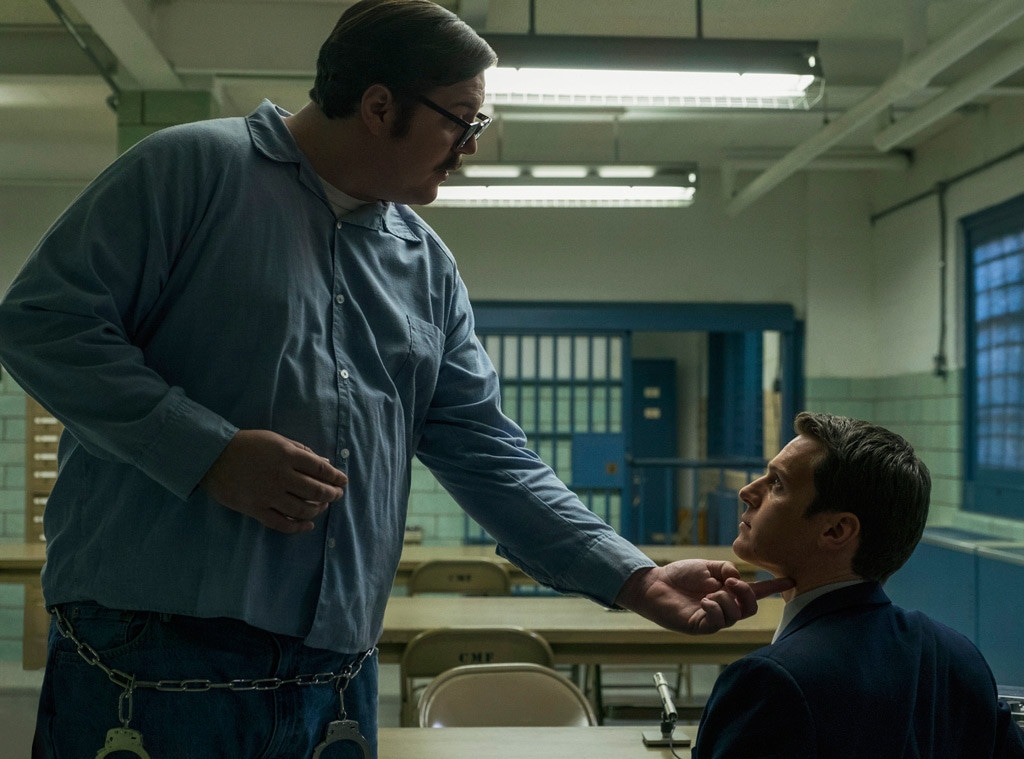 Netflix
Mindhunter season two is finally on its way. 
The Netflix drama returns in just a couple of weeks to continue terrifying us all with stories of serial killers from before they were even called serial killers, and based on the new trailer, it looks like there are some new ones the team gets to explore this time around, including Charles Manson and the Son of Sam. 
You'd be forgiven if you had kind of forgotten about this show, which follows two FBI profilers (Jonathan Groff and Holt McCallany) who travel around interviewing serial killers, since it debuted in October 2017, was renewed in November 2017, and then was hardly talked about until right now. Season two will specifically cover the Atlanta child murders of 1979-1981, but the terrifying Ed Kemper (Cameron Britton) will also return, as well as those little glimpses of the guy who would come to be known as the BTK killer. 
The Atlanta Murders refers to a sequence of at least 28 murders of primarily children and young adults, which took place between 1979 and 1981 in Atlanta, Georgia. Wayne Williams was eventually convicted of two of the adult murders, but he hasn't been charged in any of the other cases. The case was even reopened in March 2019 as Williams still claims to be innocent. 
Back in October 2017, the cast of Mindhunter, which also includes Anna Torv, had no idea about the future of the show, but McCallany did talk about what might just make the BTK killer a perfect throughline for however long the series ends up going.
"The thing to remember about the BTK killer from Wichita is that his career as a serial killer spanned thirty years, so he wasn't arrested until I think like 2005," McCallany told us. "We're in 1978 when we start our show, so it's a really interesting thing that I don't think you would see on another show where we're introducing a criminal who we might be chasing for the entire length of the series."
Season one ended with Holden (Groff) having multiple mental breakdowns and having a panic attack on the floor of a hospital after being summoned there by Ed. The team had sort of fallen apart at that point due to Holden's obsession with the killers they were profiling (and his occasional psychopathic tendencies), but Groff told us they would likely be able to get over their issues with that discomforting behavior in time for a season two. 
"Ultimately, it's a quality we share as actors, but that our characters also share, is that we're there for the work at the end of the day. So inevitably, the desire to continue the work that they equally find incredibly important hopefully will allow them to overcome their personal dissonance," he said. 
Mindhunter finally returns on August 16 on Netflix.