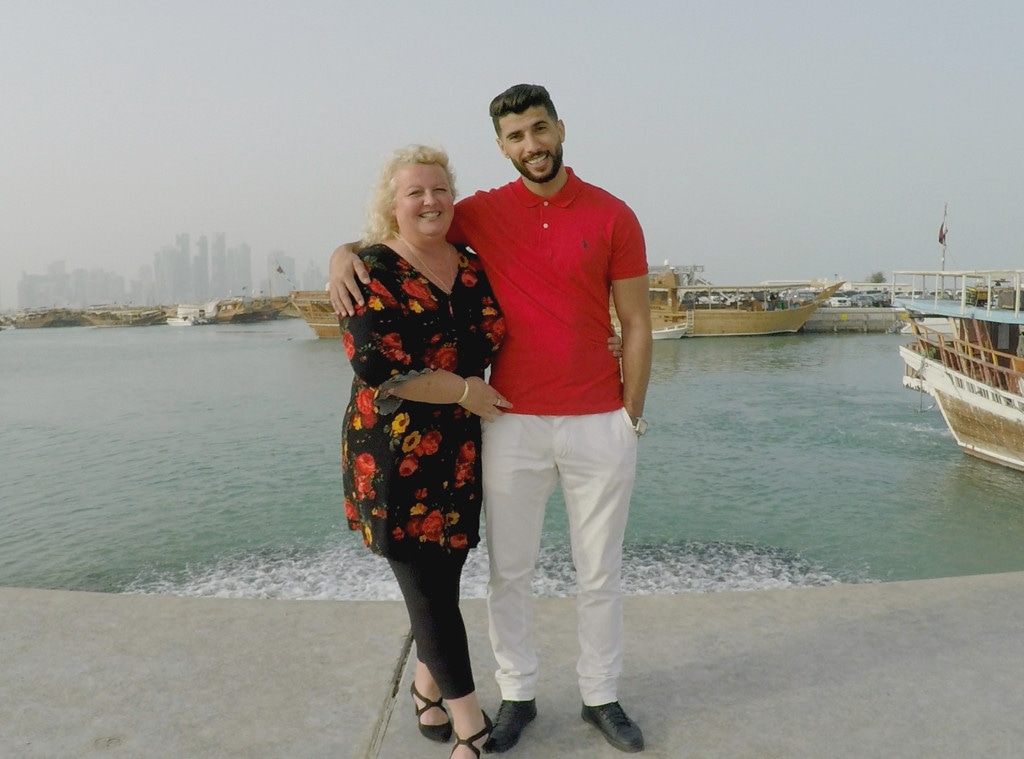 TLC
There have been many fights sparked by random happenings on 90 Day Fiancé—never forget the fight Jesse and Darcey had over cutting steak—but things reached another level on 90 Day Fiancé: The Other Way when Laura and Aladin started squabbling over her vibrator.
Oh yes, you read that right.
Laura said she hadn't been sleeping well in Qatar because of jetlag, but she was very happy to be there because she didn't realize just how much she missed her husband (remember they got married after spending nine days together). The two wasted no time in getting down to the "jiggy-jiggy."
"It was done in two minutes," she said.
"No, she said, 'Come on,'" Aladin countered. To that, Laura said, "Yes, that is what she did say…he's just not rocking my world like I thought he would."
That's when Laura introduced the vibrator she brought from home. She told Aladin many women in America have one. "What the f—k? F—k you. Are you for real? You know I will throw this one," he said, meaning in the garbage. And he did. Aladin said the introduction of the sex toy was disrespectful.
"I'm Tunisian and I am man, I can be enough for her," he told cameras.
Laura apologized for offending him and said she didn't mean any disrespect, but the tension lingered. While on their way to enjoy their first night out, the two fought over the vibrator and social media again. Laura wanted Aladin to unfollow a person, but she found him following not one, but two of her accounts. Aladin said it was because she gave simple tips on cleaning. It was their second big fight in 24 hours.
Meanwhile…
Paul and Karine
The duo made their trip down to Karine's hometown in the middle of the Amazon. Karine's mom, who isn't the biggest fan of Paul, called him a jerk behind his back and her parents were shocked when he finally came clean about potentially having to leave Brazil because of a translation error that has deemed him a terrorist.
Tiffany and Ronald
In South Africa, Tiffany's sister Laura arrived for the wedding. She sat down with her sister and her sister's fiancé and quizzed him about his addiction. In an emotional moment, Ronald said Tiffany and Daniel will keep him motivated to stay clean and Laura gave him her family's blessing. Meanwhile, Tiffany's father, who doesn't know about the addiction issue, arrived and asked for Ronald to pick him up at hotel with a casino.
Corey and Evelin
In Ecuador, the couple started prepping their cocktail bar for reopening. Evelin said she wants Corey to make more effort and take responsibility if he has any desire to marry her. Meanwhile, Corey worried about the finances of the bar.
Jenny and Sumit
Sumit revealed to Jenny that his parents are getting suspicious about what's really going home and he has to go back home to appease them. In doing so, he'd be leaving Jenny to fend for herself alone in a foreign country. That, of course, upset her.
90 Day Fiancé: The Other Way airs Mondays, 9 p.m. on TLC.