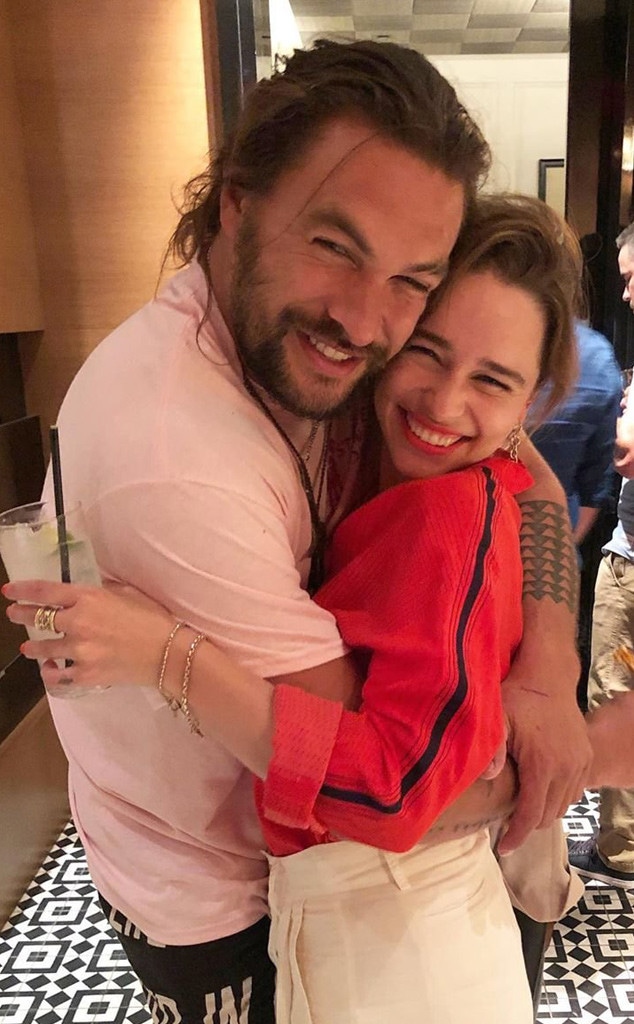 Instagram
Talk about a birthday Jason Momoa will never forget.
Over the weekend, the A-list actor took to YouTube and allowed fans to go inside his surprise 40th birthday bash.
Sure, there was a giant birthday cake from celebrity chef Aggy Dadan complete with surfers, donuts and rock climbers. Yes, there was plenty of Guinness for guests to drink. But there was also a Game of Thrones reunion that left us wanting an invitation so badly.
"With you I feel 2 feet small. X 2," Emilia Clarke shared on Instagram after celebrating at the Rosewood London. "@prideofgypsies HAPPY FREAKING BIRTHDAY BABY! An oversized bath tub of happiness for another year of you. #moonofmylifemysunandstars  #finallyabathbigenoughtobathadragonin #thenbrokecosispentallmymoneyonbubblebath."
For those wondering what went down during this b-day bash, director Damien Bray directed, shot and edited a video that features plenty of unforgettable footage.
After Jason was visibly caught off guard by the surprise, he had the chance to FaceTime with Lisa Bonet.
The actor also got a special message from close friend Ian Somerhalder. "So I just walked up to this lovely man right here and I said thank you. Thank you for putting this all on film because this man Jason Momoa's story is such a bright, positive story that should be seen," he shared when thanking Damien. "Momoa, I love you. I'm proud of you brother."
And now that some time has passed, Jason was able to put into words just how special the evening was.
"F--KING MADA. @realdealmada My piece of s--t friend knows I hate surprises but he keeps getting me and I f--king love/hate him every time he does it. Well I'm almost 40 and all my friends in London showed up to surprise me," he wrote. "I love you all. Check out what @da_bray made on our YouTube channel. He's also a f--king a--hole. Enjoy. Aloha j."
Happy birthday Jason! How are we going to top this next year?