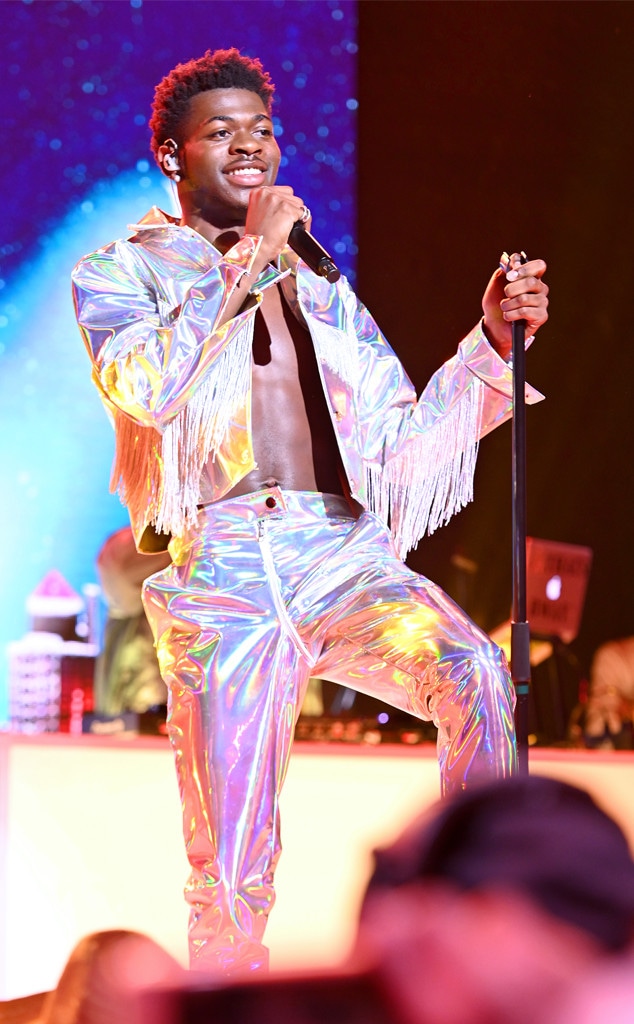 Noam Galai/Getty Images for BuzzFeed
Congratulations are in order for Lil Nas X!
The 20-year-old rapper made history on Monday after his hit "Old Town Road" featuring Billy Ray Cyrus landed the no. 1 spot on the Billboard Hot 100 chart for the 17th week in a row.
"YEEE TF HAWWW," he tweeted on Monday. 
Up until this point, Lil Nas X shared the record for the chart's longest, consecutive top-spot run with a few artists. Mariah Carey and Boyz II Men's 1995 hit "One Sweet Day" spent 16 weeks at the top of the chart. Luis Fonsi, Daddy Yankee and Justin Bieber's 2017 song "Despacito" did the same. 
Even if he hadn't reached this major milestone, it seemed like Lil Nas X was just thankful for his fans.
"Thank [you] to everybody who streamed 'Old Time Road' this week!!" he tweeted on July 25. "In a few days, we find out if we broke the record!! It's been a long journey and whether we hit it or not, I appreciate and love all of you!!"
He also reflected on his journey in an Instagram post.
"Last year in October, as a struggling artist starting to lose faith in what I could be, I went looking for beats on YouTube," he began. "I remember clicking on so many generic-sounding beats trying to find the right one for me. When suddenly I came across a country-trap sounding masterpiece. I immediately knew I would make something special out of it! My sister told me I had little time left before I had to leave her house after being there for months promoting my music online and not helping her out much. I was so upset ! I used it as motivation for the song! I jokingly/seriously saw myself as a loner cowboy needing to run away from it all! I went out on my sister's back porch and listened to the beat OVER OVER & OVER!! Then it came to me!! In my best singing voice I sung 'YEAHHH IM GONNA TAKE MY HORSE TO THE OLD TOWN ROAD IM GONNA RIDEEEE TIL I CANT NO MORE' I LOVED IT ALREADY! I started to work on it EVERY SINGLE DAY. It needed to be funny. It needed to be catchy. It needed to be hip-hop , it needed to be country, and it needed to be short!! By the time i was finished setting it up I was out of my sister's crib and at my brothers place. On December 2️nd, I went into the studio and recorded OLD TOWN ROAD and put it out the exact same day!! Did I know it would become the longest running number 1 song of all time? NO!!! But I am so thankful that this blessing has been placed upon me. This song has changed my life and the way I see the world around me in less than a year. Thank you to every single person who has been a part of this journey. As I said before, it's just the beginning!"
Lil Nas X's road to success certainly wasn't an easy one. The artist originally released the tune in December. The song's rap and country combination won fans over on the app TikTok. According to Rolling Stone, the hit then landed on Billboard's cross-genre Hot 100 chart, the Hot Country Songs chart and the Hot R&B/Hip-Hop Songs chart at the same time. However, Billboard later told the magazine that, upon further review, the song did not merit inclusion on the country chart. As a result, it was removed—causing a bit of controversy.
"I believe whenever you're trying something new, it's always going to get some kind of bad reception," Lil Nas X told Time. "For example, when rap started, or when rock and roll began. But with country trap, I in no way want to take credit for that. I believe Young Thug would be one of the biggest pioneers in that."
Soon, other artists were showing their support for Lil Nas X, including Cyrus.
"Been watching everything going on with OTR," Cyrus wrote on Instagram. "When I got thrown off the charts, Waylon Jennings said to me 'Take this as a compliment' means you're doing something great! Only Outlaws are outlawed. Welcome to the club!"
The two went on to release a remix of the popular tune in April. At the time of this writing, the song had almost 334 million views on YouTube. Lil Nas X also debuted another version of the song with BTS a few days ago.
What's more, the superstar is up for several MTV Video Music Awards this year, including Video of the Year, Song of the Year and Best New Artist.
Congratulations, Lil Nas X!