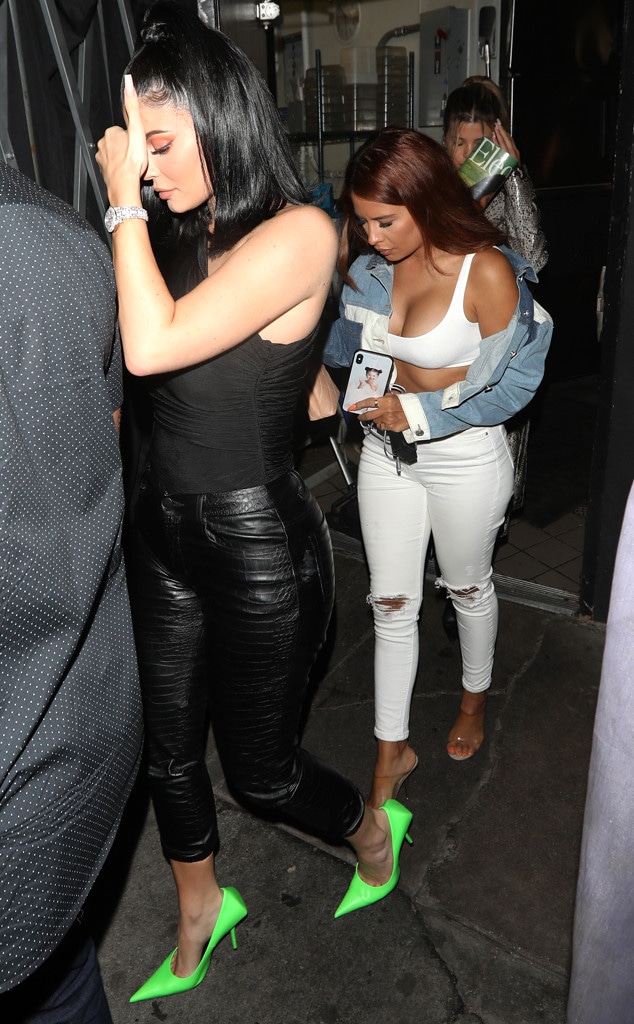 Photographer Group/MEGA
Girls only!
Kylie Jenner, Sofia Richie and their mutual friend seemed to enjoy a fun-filled girls' night out at the Nice Guy in West Hollywood on Saturday. The trio dressed to the nines for the special outing, too.
The 21-year-old Keeping Up With the Kardashians star kept things chic and upscale with an all-black ensemble. She donned crocodile-printed leather pants that she paired with an asymmetrical black top. However, giving her all-black 'fit some pop of color, she tied her lewk together with neon green pumps. For the 'gram, though, she decided to wear hot pink heels with matching sunglasses.
"last night," the beauty mogul captioned her Instagram post, alongside several snaps of her glam outfit.
Richie, on the other hand, opted for something a little more fall-ready. She arrived to the Nice Guy wearing a snakeskin trench coat with a white tee and black boots.
As for the 20-year-old's flashy accessories? She rocked a chunky gold-chain necklace and an eccentric handbag that looked like a rolled up magazine.
This isn't the first time in recent months Kylie and Sofia have had a fun girls' night out.
Last month, the two celebrated a mutual friend's birthday party. Best of all? It was a '70s-themed bash, so the pair rocked funky, fresh 'fits. Kendall Jenner also joined in on the fun.
"Wow, wow, wow!" the 21-year-old reality TV personality snapped on social media of Richie, who showed off her groovy outfit and blonde hair. They all shared selfies and videos of themselves as they got dolled up together for the party, which was at a nightclub.
As of late, the group has been hanging out a lot more. In fact, Sofia celebrated Kylie's second beauty collection of Kylie Skin recently. The beauty mogul hosted a larger-than-life event and a special three-day trip for her brand's latest goodies. A source previously told E! News the Keeping Up With the Kardashians star has "gotten closer with some of her other friends" after her and Jordyn Woods' fall-out.
"Kylie has always had girlfriends in her life, but now that Jordyn Woods is out of the picture, she has gotten closer with some of her other friends," a source shared. "They have always been a part of her life, but she is spending more time with them now and in a bigger group."
It seems like it couldn't be more true, especially after last night's hang out!