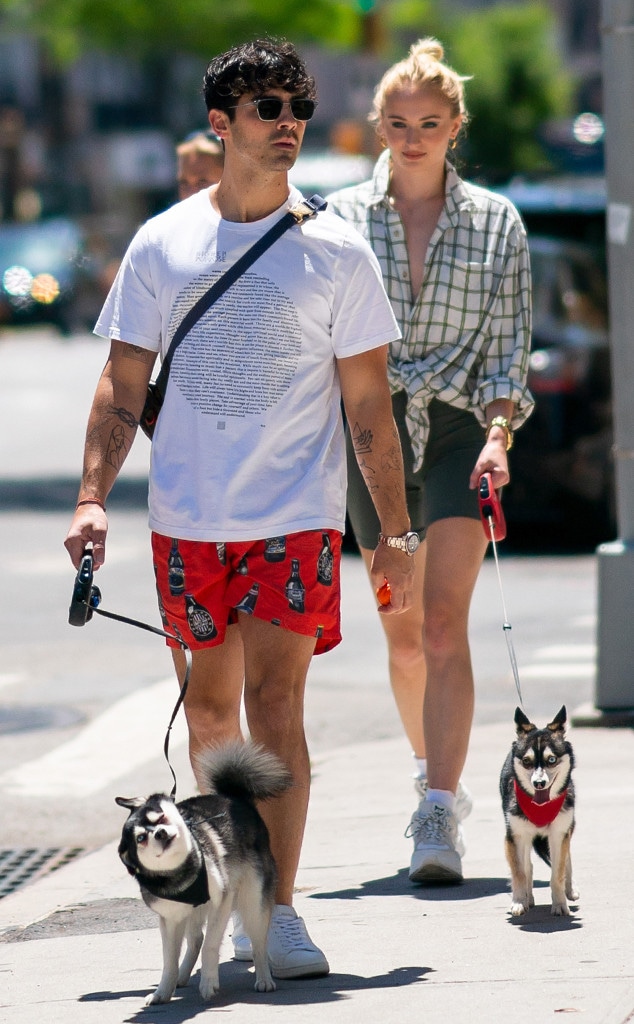 Gotham/GC Images
UPDATE: A NYPD spokesperson told E! News that a woman filed a police report on Friday saying that on Wednesday around 11:30 p.m., a vehicle did not stop and struck a dog on the street, then left the scene. She said the dog was brought to a hospital and died there. The spokesperson said the NYPD could not confirm the name of the woman or the owners of the dog.
___________________
Joe Jonas and Sophie Turner are reportedly mourning the loss of their puppy Waldo Picasso. 
TMZ reports the Alaskan Klee Kai dog was struck and killed by a car on the streets of New York City earlier this week. A rep for Jonas described the unfortunate incident as a "freak accident," with the outlet reporting that the couple's dog walker was taking Waldo for a stroll on his leash when he ran into oncoming traffic after being scared by a pedestrian. 
Joe and Sophie have yet to address their unimaginable loss publicly. E! News has reached out to their reps for comment. 
Waldo was welcomed into the Jonas-Turner family in April 2018. Their other dog, Porky Basquiat Jonas, introduced his new friend to the rest of the world with an adorable Instagram post.
He captioned the photo, "Me, my parents and I have adopted my actual brother from the same litter. Please welcome my little brother @waldopicassojonas."
The two pups recently joined Joe and Sophie in the south of France for their star-studded wedding. They both stole the show when they sported adorable tuxes in honor of the occasion, but that's par for the course when it comes to these dogs.
Joe previously joked, "They are the bougiest dogs I've ever met."
In the same interview, he revealed that Porky is the "wild" one of the brothers, while Waldo tended to be "shy." Despite the contrast in personalities, Joe said they are a perfect fit for him and his wife. "I think I knew they were definitely part of the family when my parents met them and my mom was buying them gifts and treats and hoping that she could babysit when I travel," he shared. "That's when you know they are definitely a family dog."
And Porky and Waldo even took part in Joe's "Sexiest Man" photo shoot for People, which was one of the "best" work days for the musician. 
Our thoughts go out to Joe and Sophie during this difficult time.
—Reporting by Spencer Lubitz
(Originally published on Friday, July 26 at 6:56 p.m. PT)