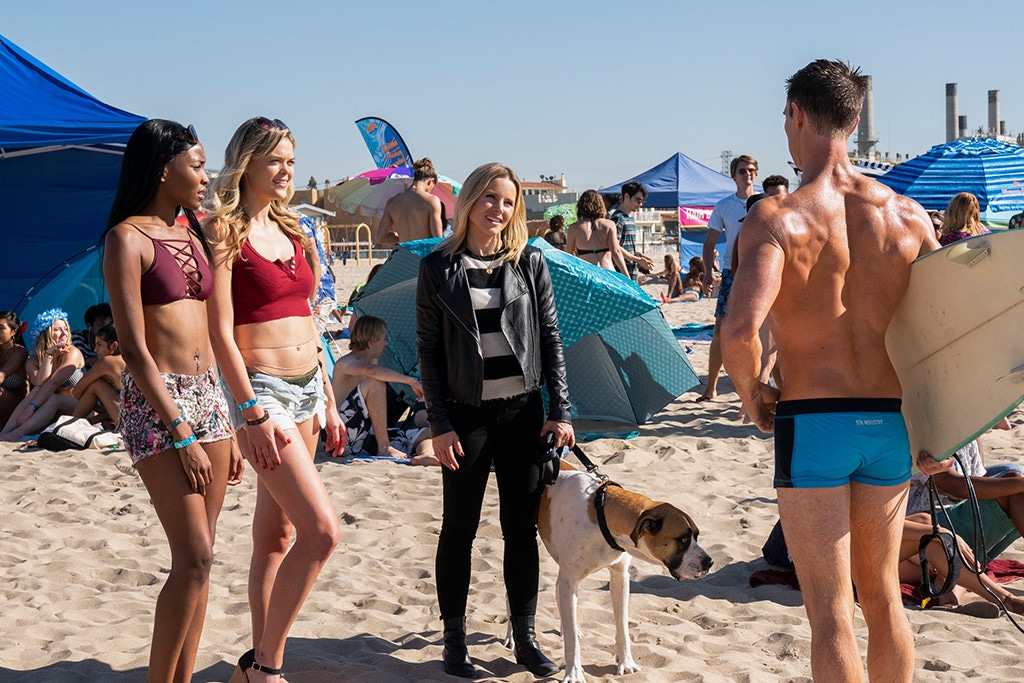 Hulu
Veronica Mars creator Rob Thomas has spent a lot more time over this past week talking about Logan Echolls than he realized he would have to. 
He knew he'd have to talk about it a little, of course, since he [SPOILER ALERT!] killed the character, played by Jason Dohring, off in the final minutes of the new and highly anticipated season of Veronica Mars, which dropped on Hulu a week early on Friday, July 19. 
For the fans who watched for the teen romance and fell in love with the incredibly complicated Logan as he fell in love with Veronica, the death was a show ruiner and maybe even a life ruiner, and Thomas is to blame. 
"A reporter I was just talking to said, 'Have you seen Twitter? People are threatening to come to your place, people are threatening to put a gun to your head to make you rewrite it,' and I hadn't seen any of that, and that's taking it to a silly place, but I knew fans were going to be upset," Thomas told E! News at the Hulu TV Critics Association summer press tour on Friday. 
"I was certainly ready to take the hurt feelings from the fans. I knew people would be angry at me, so I prepared myself for that," he said. 
Originally, the show would have come out on Friday, July 26, but Kristen Bell herself got to announce during the Comic-Con panel that, surprise, the show was out a week early. And thus so were the reactions. 
"I thought, well the show will be out, I won't actually be answering questions about the show after it's out, I'll do all my press beforehand, so I'm talking about it more than I thought I would, but I certainly girded to take the lumps for it," Thomas said. 
The reasoning for the death, a major, major shake-up in Veronica's life, was to help move the show forward into Thomas' vision for its future. 
"It was, if we're going to do more of these in the future, what do I want the show to look like?" he said. "I want it to feel like a mystery show. Like, I feel like a mystery can survive forever. A teen soap opera has a shelf life, and if we keep trying to do that teen soap opera combined with a mystery show, the teen soap is going to hold us back. It's gonna feel dated and worn. I think we can keep a mystery fresh, moving forward." 
But it's not as if killing Logan wasn't hard for Thomas to do. It definitely was. 
"I love Jason Dohring. I love the character Logan," he said. "It was not that I wanted to be done with either one of those things. That actually hurt, but moving forward with the show, I feel like this is the version of the show it needs to be." 
In Thomas' ideal future for the show, it will be "mystery-centric" and less concerned with the past, with "a lot of avenues" the show could potentially go down. Where the original show was 50 percent teen soap and 50 percent mystery, new Veronica would go full mystery. 
"Not that things won't go on in Veronica's personal life—there certainly will be things going on in her personal life, but it won't rely on things you saw in 2004," Thomas explained.
Taking Veronica out of Neptune and with nothing to tie her down allows freedom not only for Veronica, but for the show's writers, who won't be tied down by what the show was 15 years ago, when its characters were teens. Veronica couldn't just dump Logan and move away, just like Meredith Grey couldn't just dump Derek Shepherd on Grey's Anatomy. Sometimes a TV show's got to kill a love interest to take a character in a new direction, and now there's a whole world of mysteries for Veronica Mars to solve, and a whole new era of the show for us to hopefully look forward to. 
There's also the chance for a whole new generation of young women to look up to a character like Veronica, which is the reason Kristen Bell gave for returning to that world in the first place. 
"That's one of the reasons I did it. To be honest, this show is kind of a beast to shoot," she told us. "It's a lot of long nights…It was a big decision for me to go, 'Oh, I want to do Veronica Mars again, but I have babies at home.' I have little girls that are saying, 'Mommy why are you leaving?' Then it occurred to me I want to live in a world—I want my daughters to grow up in a world where Veronica Mars exists as a reference, where people still say to themselves, 'What would Veronica do? How can I find that level of self-confidence and that level of fighting for the underdog?' So, I thought it was important to miss a couple of bedtimes in order to bring her back—resurrect her—for everyone."
The return of Veronica Mars isn't about the return of a fan-favorite TV couple, but it's about bringing back a character who did so much for so many fans, and can continue to do the same for fans new and old. Logan's death won't break Veronica, but it is going to, as Bell has said, give her fuel to continue fighting for those of us who need her. 
Veronica Mars is now streaming on Hulu.