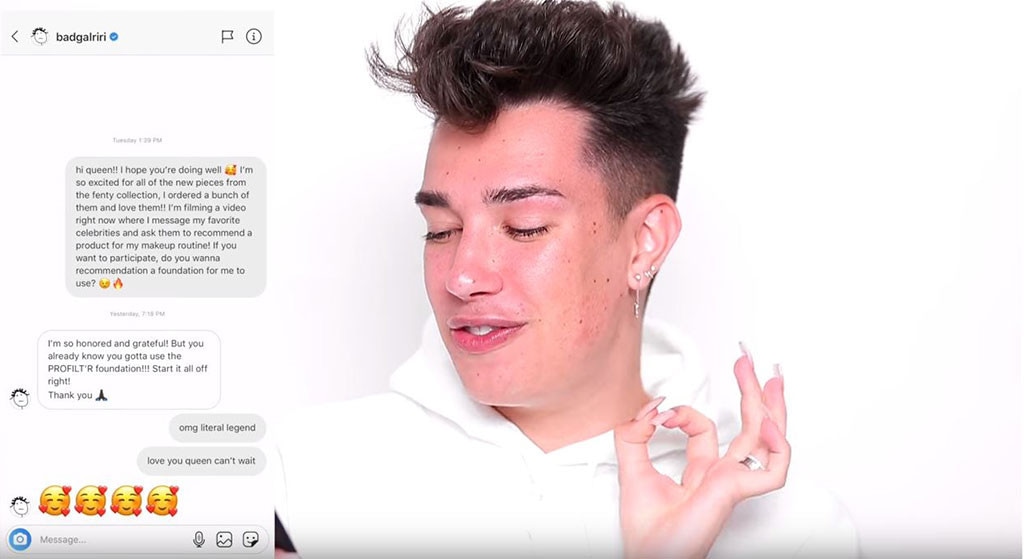 YouTube
James Charles is leveraging his A-list connections to create a makeup look that is Sooo Fire!
To pull off the creation, the YouTube creator direct messaged over a dozen stars from all parts of Hollywood to see which brands they suggested he use. It wasn't long before A-listers like Rihanna, Kim Kardashian and Jennifer Lopez had personal messages waiting in their Instagram inbox. And while some of these stars easily have thousands of DMs waiting to be read, they took the time to help out the young influencer.
Of course, James understood the A-listers have busy schedules full of photo shoots, interviews and more, so he was more than surprised to hear back from the queen herself: Ri-Ri. Even more surprising was that she said she is "honored and grateful" that the 20-year-old reached out. As the owner of the luxurious Fenty Beauty company, she then insisted that James try out her Pro Filt-r foundation. "Start it all off right," the entrepreneur texted. 
Then, with the help of Zara Larsson, who he previously feuded with, Millie Bobby Brown and musicians Kim Petras and Iggy Azalea, the MUA finished off the first steps of his routine. 
For eye shadow, he consulted with the woman he lovingly referred to as his "mom," Kim K. This collab came at the perfect time considering she just released the Sooo Fire eye shadow palette and James was lucky enough to receive the PR package that doubled as a matchbox. In other words, it was a match made in beauty heaven!
With the help of Kim K, James artfully painted a fiery combination of glitter on his lids. All that was left to give his eyes that extra pop, was a bit of lashes and mascara! 
This is where Paris Hilton comes in. It turns out the heiress has her own line of mascara and lashes, which made James remark, "I'm not even going to lie, I didn't even know Paris Hilton had a makeup line." Thankfully, Paris educated him on the extent of her business endeavors by sending an entire box of goodies to his home. 
For one of the most important steps, James turned to one well-known figure in the beauty industry! The 20-year-old messaged Kylie Jenner to get tips from the "queen of lips herself." And, boy, did she deliver. The mogul sent him a Kylie Lip Kit that ended up being a perfect compliment to the rest of his look. 
Watch:
James Charles Attends Kylie Jenner's Skincare Launch
And, last but not least, the YouTuber set out to hear about the perfect setting spray from Lil Nas X, Shawn Mendes and Shay Mitchell. Unfortunately, the "Old Town Road" rapper seemed a bit preoccupied and never responded, but Shay and Shawn came in to save the day. Or, Shay did at least.
Turns out, Shawn responded to the initial message asking to think about it, but didn't get back in time. As for Shay, she recommended a setting spray from Morphe. 
In general, the influencer has bounced back from his previous scandal in fabulous fashion, and this video is proof.