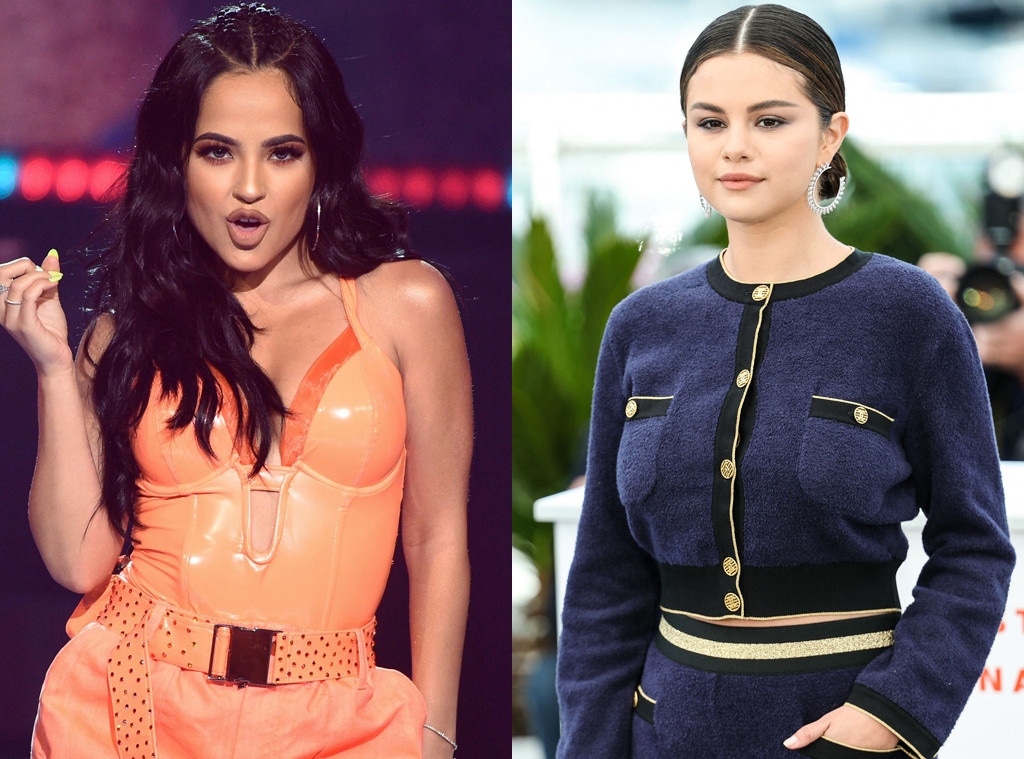 Evan Agostini/Invision/AP/Shutterstock; MediaPunch/Shutterstock
Becky G has nothing but love for Selena Gomez!
Earlier this week, a video surfaced online that featured the "Shower" singer playing Seventeen's Latino legends lyric challenge.
When Selena, Cardi B, Ozuna and DJ Snake's hit track "Taki Taki" came on, Becky G shared her reaction to the song.
"Oh I know this one. I'll never forget this one because when I heard it, I was a little confused because it says, 'Come in the party, have a fiesta, blow out the candles and have a siesta' but I don't want to have a siesta in the middle of the fiesta," she joked. "Like, I want to party. I wouldn't take a nap you know what I'm saying? But of course I know this one."
Some fans took that as Becky G "dragging" Selena. Not so fast!
"I have always loved & supported a true queen like Sel. To cut a snippet of a video & take it completely out of context is what is so wrong about this 'Stan' culture," Becky G shared on Twitter. "Sad to see yet another 'fan' going against what their favorite artist believes in by putting other females down."
She continued, "WHO DOESNT LOVE A KIND AND PRECIOUS SOUL LIKE SELENA GOMEZ!? You got your facts wrong. I'm a Gomez myself, we don't do that here."
And if there was any doubt that the short video clip doesn't tell the whole story, Becky G responded to one more user about the situation.
"MAY I ADD THAT THIS VIDEO WAS TAKEN FROM A GAME I PLAYED WHERE I WAS CONFUSED ABOUT MY OWN LYRICS EVEN," she admitted. "The industry breaks us apart & pits us against each other enough, sad that 'stans' have to do it too. Someone will always have something to say I guess. Ok. I'm done now."
Most followers quickly moved on from any and all drama. In fact, several expressed their wishes for a Selena and Becky G collaboration.
Until then, Selena is living her best life on a vacation to Italy just after celebrating her birthday. As for Becky G, she is celebrating her ColourPop Cosmetics collection called VIVA being released tomorrow. 
Just two talented ladies killing it in the industry.