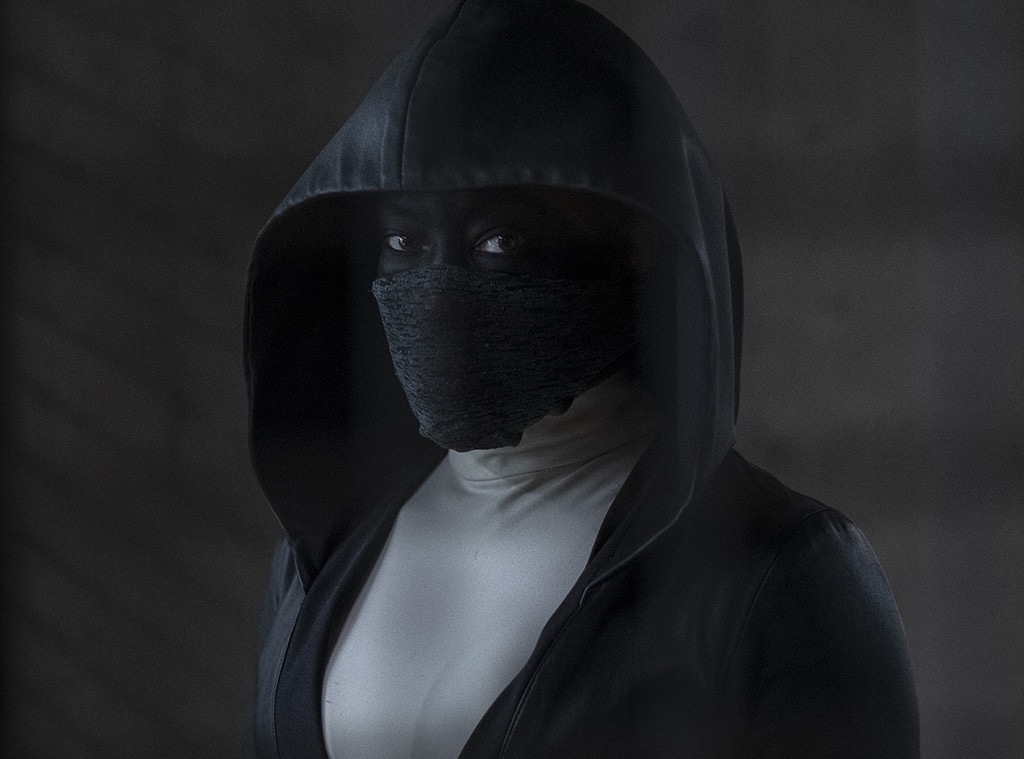 HBO
HBO is gearing up to give us two new epic series based on beloved books, now that Game of Thrones has said goodbye. 
Watchmen and His Dark Materials are debuting this fall on the network, two very different but equally ambitious fantasy/sci-fi series. Watchmen is a story set in the world of Alan Moore's comic books, though years after the events that actually take place in the comics, where masked vigilantes have been outlawed and police have to go undercover out of fear of attack by a terrorist group, and Dr. Manhattan is living on Mars. Regina King stars as Angela, a Tulsa detective. 
His Dark Materials is an adaptation of Philip Pullman's three-book series about a young girl (Dafne Keen) from another world who uncovers a child kidnapping conspiracy, which stars Ruth Wilson, James McAvoy, and Lin-Manuel Miranda. 
The cast and crews of both shows were on hand at the 2019 TV Critics Association press tour to talk about the new series. 
For His Dark Materials, Keen was particularly excited to be the young female star of a show, and play such a "strong and determined" character with Lyra. 
Ruth Wilson plays the villainous Mrs. Coulter, the part played by Nicole Kidman in the 2007 movie The Golden Compass. Wilson said her favorite book description of the character is "the cesspit of moral filth," and Miranda was thrilled to play absolutely anybody in the show, because he's a "super fan" of the series. 
"I would have played James' snow leopard," he said, referring to the snow leopard demon kept by James McAvoy's character, Lord Asriel, since all characters have animal companions that represent their personalities. 
McAvoy, participating via satellite, said the His Dark Materials books are his favorite books of all time, though he never exactly saw himself as Lord Asriel, a member of the aristocracy. 
Executive producer Jack Thorne said the show will follow the books pretty generally, will be "largely" one book per season, but there are "a few treats" that they've taken from other books. Thorne wouldn't say what they were, however, because they're part of big secrets he wasn't ready to spoil. He said they looked at all three books as a whole and asked how they could celebrate all three in the best possible way.
HBO's Watchmen, on the other hand, is not like the Watchmen you might have seen before, and not a direct adaptation of the comics. 
It's also not like any Damon Lindelof show you've seen before, or any show before, and while it's designed to take on very real and current themes, Lindelof says "it is definitely not supposed to be a world that you recognize." 
Lindelof, EP Nicolle Kassell and star Regina King were on hand at the TV Critics Association press tour on Wednesday to talk about the series, which stars King as a Tulsa detective in a world where police have to go undercover out of fear of attack, while masked vigilantes have been outlawed in the years after the events of Alan Moore's Watchmen series, and the big blue Dr. Manhattan is chilling on Mars. 
Lindelof reunited with Leftovers star King, who plays a mother and bakery owner by day, superhero detective by night. 
She got to reunite with the stunt team from The Leftovers and a brand new 26 year-old stunt double, which King joked will allow her to keep doing stunts well into her 60s. 
The show isn't a direct adaptation of the Watchmen story, but it does reference it and appropriate various elements (like the Rorschach mask) from the superhero story into the new story, and Lindelof said the show gets very "meta." 
Both shows make their debut later this fall, giving us two new epic series to obsess over in the wake of the end of Game of Thrones, which just nabbed 32 Emmy nominations for its controversial final season. 
Whether these two series can become the next Game of Thrones has yet to be seen, but if they can't, then we've still got the Game of Thrones prequel to look forward to!