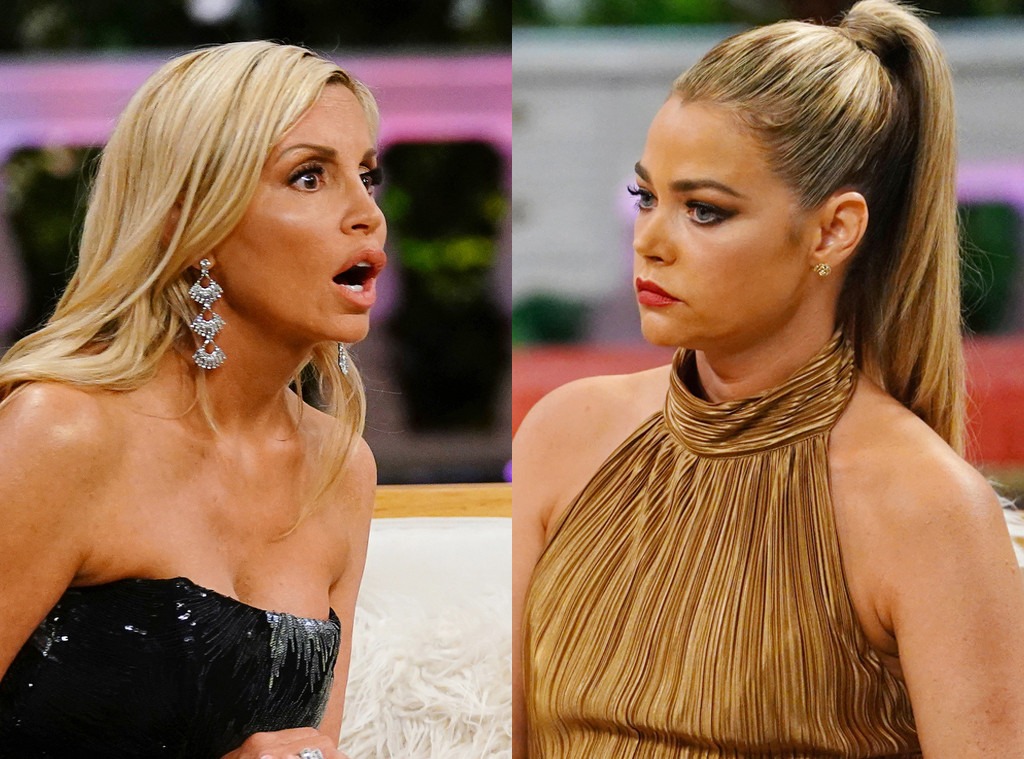 Bravo
Exactly what happened between Camille Grammer and Denise Richards on The Real Housewives of Beverly Hills?
In part two of the reunion, Denise told Camille to calm down, and then Camille went after Denise. Camille said she doesn't like Denise, misinterpreted events from the finale and kind of insulted Denise's parenting. Denise said Camille was acting strangely and asked if she was on something, and then Camille stormed off the stage, removing her dress as she walked off.
"Denise's broadsides are easier to deal with as they are far less sophisticated. I do find her instructions on how I should behave both presumptuous and obnoxious. Less offensive to me are her on-camera musings about whether I am 'on something,'" Camille wrote in her blog.
"I take this as a left-handed compliment from someone who clearly enjoys her tequila. Beyond that, this innuendo is extremely insensitive given the fact that I am a cancer survivor and grateful for my relative good health. I am open to suggestions on how to deal with her scowls, snarls, frowns, eye rolls, and negative body language," Camille continued.
In a preview for part three of the reunion, Camille asked Andy Cohen, "I can't figure out what Denise's issue with me is. It's so weird, right?"
"I don't know, but you just said that you didn't like her, and she was boring," Andy said in the clip above.
Camille's reaction to that? "Well, she was kind of a 'womp womp' this year."
In the preview, Kyle Richards said, "This is season one Camille times 10."
Click play to see Camille's return to the stage above.
The Real Housewives of Beverly Hills airs Tuesdays, 9 p.m. on Bravo.
(E! and Bravo are both part of the NBCUniversal family.)