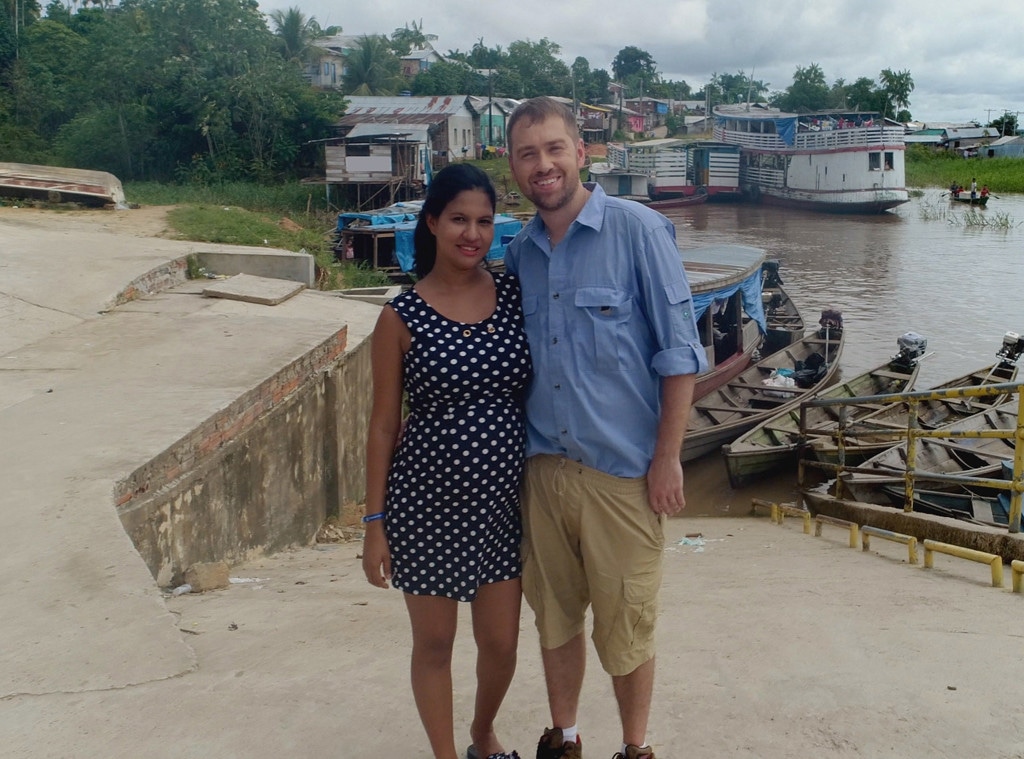 TLC
Only on 90 Day Fiancé: The Other Way could a there be a storyline where a man might be deported from a country because of translation issue has mistakenly labeled him a terrorist. That's what's happening to Paul and Karine.
In the Monday, July 22 episode of the TLC series, Paul finally told Karine what's happening with his application for permanent citizenship. He told her he has a lawyer who has filed an appeal, but that could take time.
"They think I'm an actual terrorist," Paul said. "There's a good chance I'll have to go."
For now, Paul's sticking by his wife's side as she battles a bladder infection and makes the five or six day boat trip back to her hometown to be closer to her family as her pregnancy draws to an end. Paul was charged with terroristic threatening in the United States (he said he caught an ex-girlfriend with another man and threatened to slash car tires), but when those charges were translated to Portuguese, the government classified him as, well, a terrorist.
On the boat to Karine's family, Paul decided to splurge for a room as opposed to the general population hammocks. And in their room, he was horrified by the number of mosquitoes and water situation.
"There's poop water all over the floor," he yelled.
Meanwhile…
Tiffany and Ronald
In South Africa, Tiffany and Ronald moved forward after his bachelor party and stripper time, but not everyone was happy. Tiffany's 8-year-old son Daniel said he didn't want to stay in South Africa, he wanted to go home because he doesn't feel comfortable. Tiffany said this was causing her to get cold feet. The bride-to-be also questioned Ronald about all of his charges, including ones for drug possession and burglary and how they related to his gambling addiction.
Deavan and Jihoon
Despite all his nerves—and broken glasses—Jihoon popped the question to Deavan and she accepted, they'll be married…soon. Jihoon returned to Korea, but would be by Deavan's side in two months for the birth of their baby. "I feel tremendous remorse," he said about not being by her side during the pregnancy.
Jenny and Sumit
The two were still reeling from the news that an intent to marry would be sent to Sumit's parents. Jenny said she's afraid he won't fight for her this time (he previously didn't), but Sumit promised, "I'm not going to back down. I'm going to do it." Sumit's father called and demanded he share his current location and/or come home for a visit, and it seems like he'll do so next week. The strangest part of the episode? Sumit cutting Jenny's toenails for her. Why?
Corey and Evelin
In Ecuador, Corey and Evelin left her grandmother's house for their own apartment, but Corey's complaints were getting to Evelin. Corey also admitted that he somehow spent $7,000 on a car that looks like it's been on its last legs for years.
90 Day Fiancé: The Other Way airs Mondays, 9 p.m. on TLC.