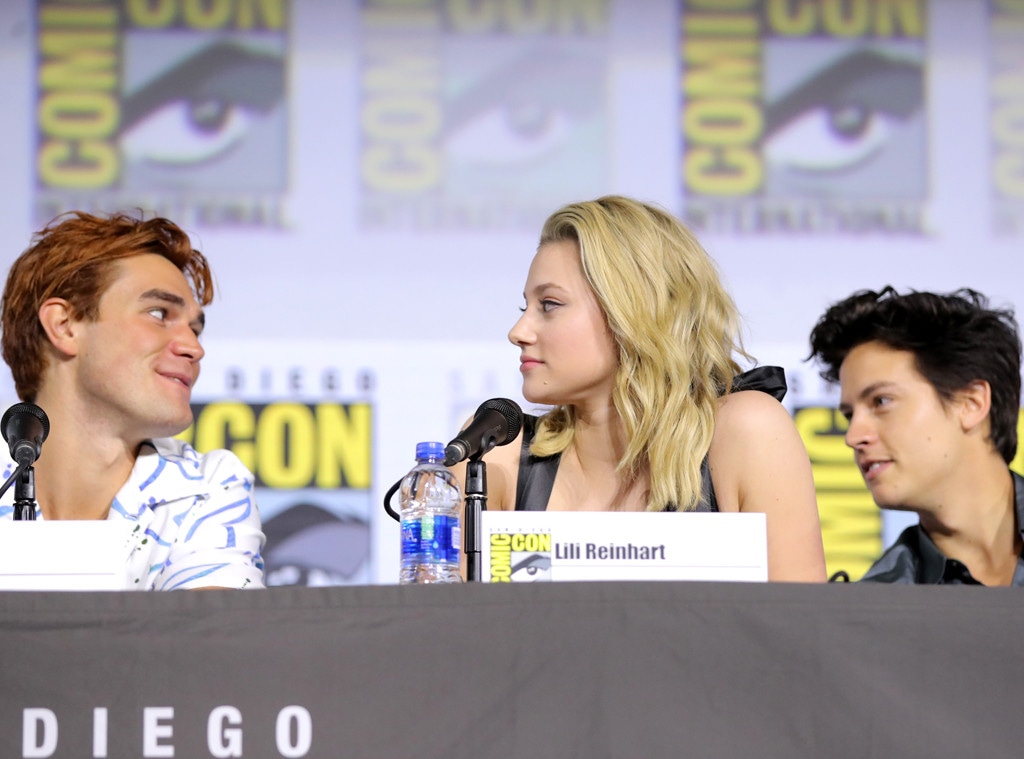 Chelsea Lauren/Variety/Shutterstock
Lili Reinhart and Cole Sprouse are going to have to take the acting up a notch this season.
The Riverdale pair, who play onscreen couple Betty and Jughead, have ended their real-life relationship after two years—and as it turns out, it's been over since before the cast appeared at Comic-Con on Sunday.
Now, of course, a photo that Lili posted of herself sitting between Cole and K.J. Apa in which she's giving Cole a nice view of the back of her head—captioned "Please don't put me between these two ever again"—takes on a whole new meaning. A joke...but with a hint of spice.
Otherwise, Reinhart and Sprouse sat next to each other with seeming ease—after a "very messy breakup" they're "currently on much better terms" now than they were at the beginning of the summer, a source tells E! News—during the show's panel in cavernous Hall H. But according to Us Weekly, which first reported the split, they kept their distance during Entertainment Weekly's Comic-Con party on Saturday night (the same party where romance seemed to blossom between Apa and Britt Robertson).
It was the same story at a Warner Bros. mixer on Friday, where we hear that Reinhart hung out mostly with Camila Mendes and Madelaine Petsch, while Sprouse stuck close to Apa.
All might not be lost, however, because just as Betty and Jug haven't had the most drama-free of relationships, "it seems they could be heading back in the direction of getting together," the source says.
Then again, proximity has been forced upon them because they're back on set shooting Riverdale's fourth season (in which, incidentally, Betty and Jughead will have to deal with the revelation that they're kinda related).
In May, Reinhart and Cole attended their second straight Met Gala together, fashion's biggest night having served as their red carpet debut as a couple in 2018. 
But in June, Cole took off for Italy, meeting up with twin brother Dylan Sprouse and Dylan's girlfriend, Barbara Palvin, in Florence. Reinhart was busy working in New Jersey, filming the adaptation of the YA novel Our Chemical Hearts (titled just Chemical Hearts for cinematic purposes) with Austin Abrams. She's also serving as an executive producer on the Amazon Studios production, another first for her. 
And this September, Reinhart is in the ripped-from-the-headlines strip club drama Hustlers with Jennifer Lopez and Constance Wu, so her summer is only going to heat up on the career front.
But at least it was explainable as to why Sprouse was MIA from her Instagram for awhile, and vice versa. It wasn't until just a few days ago he made his return in a slow-motion video of Riverdale's core foursome jumping on a trampoline. Then Reinhart added pics of them signing autographs together at Comic-Con to her Instagram Story, a series that first showed them together and steadily zoomed in on Cole's "are we done yet?" smile.
Overall, Lili and Cole have been a fairly demonstrative duo, definitely not shying away from showing their feelings in public (be it in Paris or on the red carpet), but at the same time wary of sharing too much information. 
"I keep my relationship private because it's just between two people, and that's the way it should be," Reinhart told Teen Vogue last fall. "It's not like I'm trying to dangle my relationship in front of people's faces like, 'you don't know anything about us.' It's just, you don't need to know. People feel like they're owed that, and you're absolutely not owed anything by me."
Still, the social media game can be a never-ending struggle, as Reinhart—who has dealt with body-shamers and all sorts of online trolls—knows all too well.
"It's very much a constant balance of what do I share? What do I not share?" she continued. "I want to be authentic, but I also don't want to give everyone parts of myself that they don't need to know about."
She expanded on that theme talking to Who What Wear in October, saying about her reluctance to shout her status from the rooftops: "I think it's just that I'm so protective over it. It's not something the world needs to know about, because if you give them anything, they are just going to want more.
"I'm not going to hide away from my relationship or hide away from what's going on in my life, but what does happen in my relationship is so private, and I cherish it a lot," Reinhart said. "He does as well. A relationship is a very intimate thing, and I want it to be between me and him, not me, him, and the world."
Instagram / Lili Reinhart
What she did share was that she liked to go on "adventures" with Cole, who is also an accomplished photographer.
"Truly, adventures," Reinhart said. "He takes me to places where I'm like, 'How did you find this?' He's made me see these things that I would have never seen otherwise. It's escapism, which is so beautiful and wonderful."
"I really like the road trip date," Sprouse concurred, talking to Glamour in February at the premiere of his romantic tearjerker Five Feet Apart. "I took my girlfriend on a date where we drove to this location deep into Canada, and I surprised her with a big hot-air balloon adventure, which was quite a bit of fun. I like traveling quite a bit. I like road-tripping. Those grand experiences always end up yielding the greatest memories—and the greatest romances."
"My language of love is quality time," he explained. "I'm not really the type of person that likes going to a movie and sitting in silence [for a date]. Maybe a little breaking and entering! Some photography! Who knows?"
The 26-year-old also revealed the surprising song that can't help but remind him of heartbreak: Debussy's "Clair de Lune."
"That was a song that meant a lot to me in my first love," Sprouse divulged. "During that breakup, I ended up having so many unreconciled emotions I put into that song. It always still gets me to that place."
Madison McGaw, Angela Pham, & Joe Schildhorn/BFA.com
Glamour caught him in a gregarious mood, though (movie premiere excitement certainly helps), because Sprouse tersely described his relationship with Reinhart in GQ's March 2019 issue as "not something that we hide, or it's not something that we show off. It's just something that exists."
So, understandably, the last couple of years for those two have been an exciting mix of togetherness and concern that fans were going to co-opt their courtship for themselves, which has been known to happen a few times with actors who are falling for each other on and off camera.
They have shed some light on their respective feelings about each other, albeit in a more casual group setting.
Michael Kovac/Getty Images for IMDb
Talking to Glamour last summer with their castmates, they answered questions about their first impressions of each other.
"Lili was a tough egg to crack," Sprouse recalled. "She's very shy at first, reserved, and I think it was about halfway into the first season she started letting people in truly. And she's one of those people that consistently pushes me to be better at the arts that I'm pursuing, and that's just the kind of person she is, she inspires excellence out of everybody she works with."
Added Reinhart, "Cole is, one of the smartest...the smartest person that I'm friends with. He's incredibly passionate about art, about photography, about acting, and I really admire that."
And she soon became one of his favorite subjects.
"I think he is such an incredible photographer, really," Reinhart told Who What Wear. "Sometimes he's inspired by a location, and he's like, 'I want to shoot you here.' Other times, I'm inspired by a dress, and I'm like, 'I want you to shoot me in this.' Our photo shoots are very intimate, just him and me; no one else is there ever."
It was with one of those intimate-looking photos that Sprouse first sparked romance rumors in March 2017, when he shared a photo of Reinhart lying in a field of poppies. A month later he told MTV News, looking to throw 'em off the scent, "Lili and I play characters who are dating, so just about any time she and I go out into the wilderness, it's 'Oh my god!' But truthfully, I'm a sucker for friends, fashion, and framing."
Yes, yes he was.
Countless photo shoots later, Sprouse posted one of his Lili pics this past February with the jesting caption, "'How do the people you shoot even tolerate you?' @lilireinhart on 'making her suffer for my art.'"
A few days after it was Valentine's Day, when he wrote, "Quite actually the only thing keeping me sane is @lilireinhart," then posted another pic "just for good measure." And she wrote, "You make me very happy. Happy Valentine's Day, my love."
After what turned out to be a colder summer than they once envisioned, they're back filming and, a source says, "things have thawed out."
If we know anything about young love, let alone between co-stars, it's that the script is continuously being rewritten, and some takes are more difficult to get through than others.