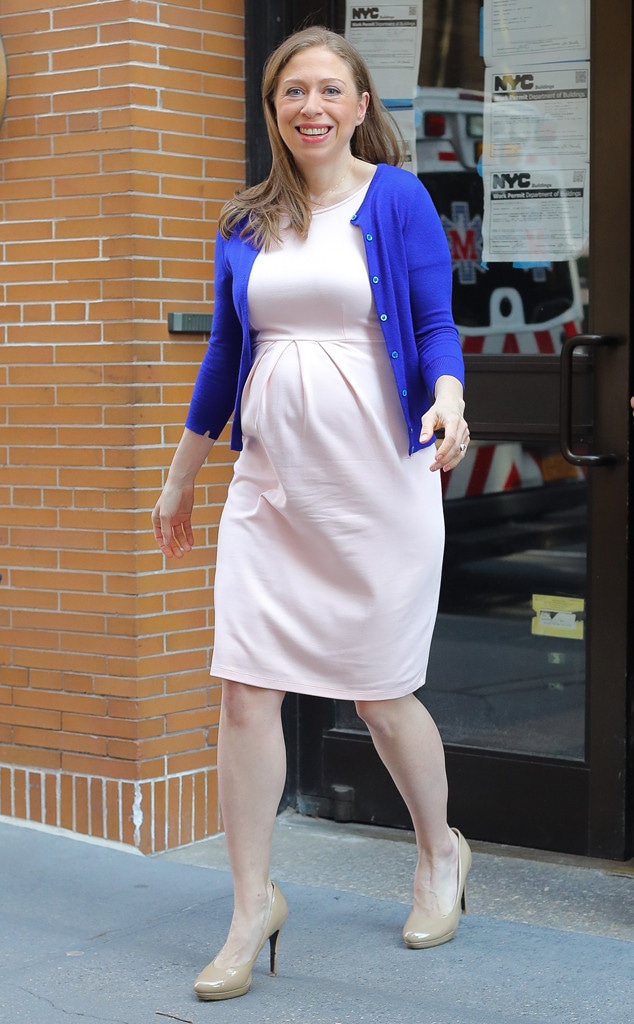 Felipe Ramales / SplashNews.com
It's officially a party of five for Chelsea Clinton. 
The former first daughter, 39, and her investment banker husband Marc Mezvinsky have welcomed their third child, she announced on Monday.
"This morning we welcomed our son, Jasper Clinton Mezvinsky," Chelsea tweeted to her 2.5 million followers. "We are overflowing with love and gratitude and can't wait to introduce him to his big sister and brother."
The happy couple—who wed in July 2010—are already parents to Charlotte, 4, and Aidan, 3. Chelsea, the daughter of Bill Clinton and Hillary Clinton, announced she was expecting another bundle of joy earlier this year.
"Marc and I have loved watching Charlotte be such a wonderful big sister and we're excited to watch Aidan become a big brother!" the author and advocate wrote on Twitter. "We cannot wait to meet our newest addition later this summer."
Already a seasoned pro, she knows motherhood is an ongoing balancing act.
"Like so many moms, I don't think I will ever feel there are enough hours in the day to do all the things with my kids I wish I could do—even on the days when I'm home," she previously told Romper in 2017. "But I know I am lucky to have control over my schedule so I can be home most weekends and in the mornings or evenings and hopefully both."
These days, their home is filled with chatter—and music. Daughter Charlotte "is now the main singer in our house," she revealed. "She loves singing her 'ABCs,' Pharrell's 'Happy,' 'Twinkle, Twinkle Little Star' and more. We love that she loves to sing and we love to sing with her. She has told us we don't have great voices so I think that is definitely karma!"
Congratulations to the family on their new arrival!