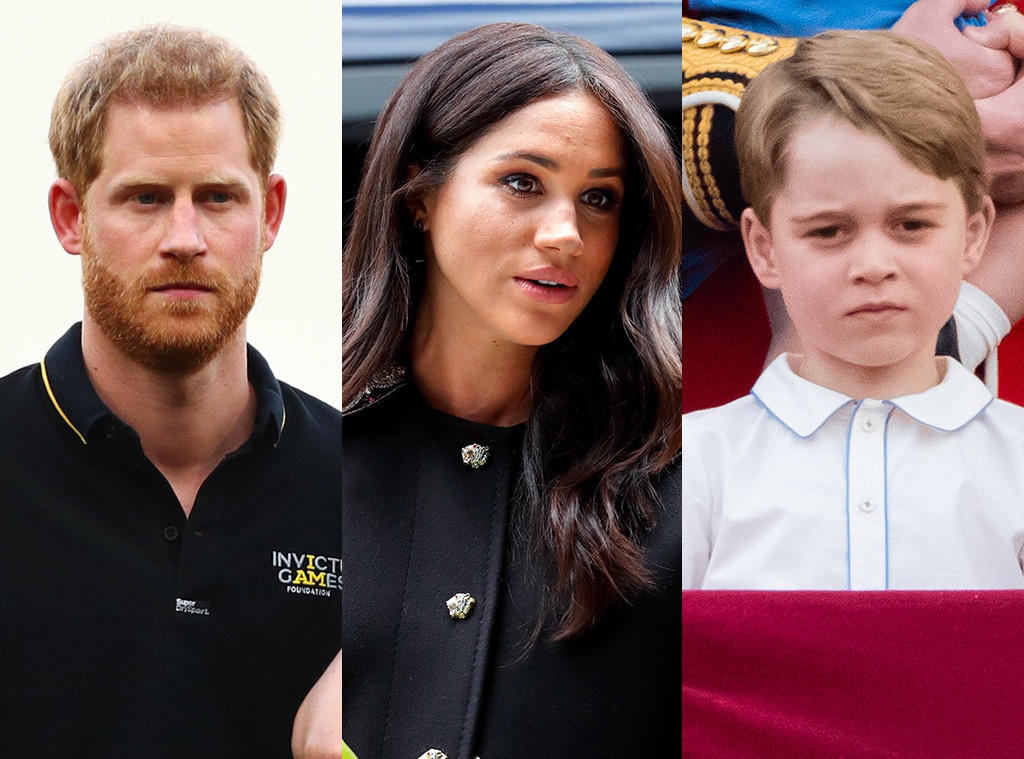 Dan Istitene - Pool/Getty Images, Max Mumby/Indigo/Getty Images, Samir Hussein/WireImage
Happy birthday, Prince George!
Prince William and Kate Middleton's eldest child turned 6 years old on Monday. While the royal received several well-wishes from fans across the globe, there was one message that stood out from the rest.
On Sunday, the Duke and Duchess of Cambridge celebrated their son's sixth trip around the sun by posting a few personal photos of their firstborn on Instagram, including a shot of their little one enjoying a family holiday. Prince Harry and Meghan Markle then commented on the photo and sent a sweet note.
"Happy birthday," the couple wrote underneath the pic. "Wishing you a very special day and lots of love!" 
However, some social media users were upset that the Duke and Duchess of Sussex didn't refer to their nephew by his name and title.
"He is the future KING. Treat him with respect," one commenter wrote. "He is HRH!!!!!!!!!" 
"He is HRH Prince George to you!!!!" another wrote. "Don't forget to mention!"
Some followers even pointed out that other royal social media accounts, including Clarence House's and The Royal Family's, included "Prince George" in their messages.
"When all the royal accounts have [used] a 'prince' except yours…so there is really something," another critic commented.
Still, there were many followers who were quick to come to the couple's defense.
"They are his uncle and aunt," wrote one commenter. "No need to write his title. Being sincere is more important." 
"Stop nitpicking [and] relax," added another. "You just want to find fault where there is none. Family is family and how they address each other in public or private is none of your concern."
Others pointed out that the critics didn't know whether Meghan or Harry left the comment or whether it was written by a member of their staff. It's also worth noting that the two called Princess Charlotte and Prince Louis by their first names in well-wishes on their big days.
Nevertheless, The Royal Family isn't going to let any drama ruin the prince's birthday. In fact, there have been reports that the Cambridges are celebrating the special occasion with a family getaway.