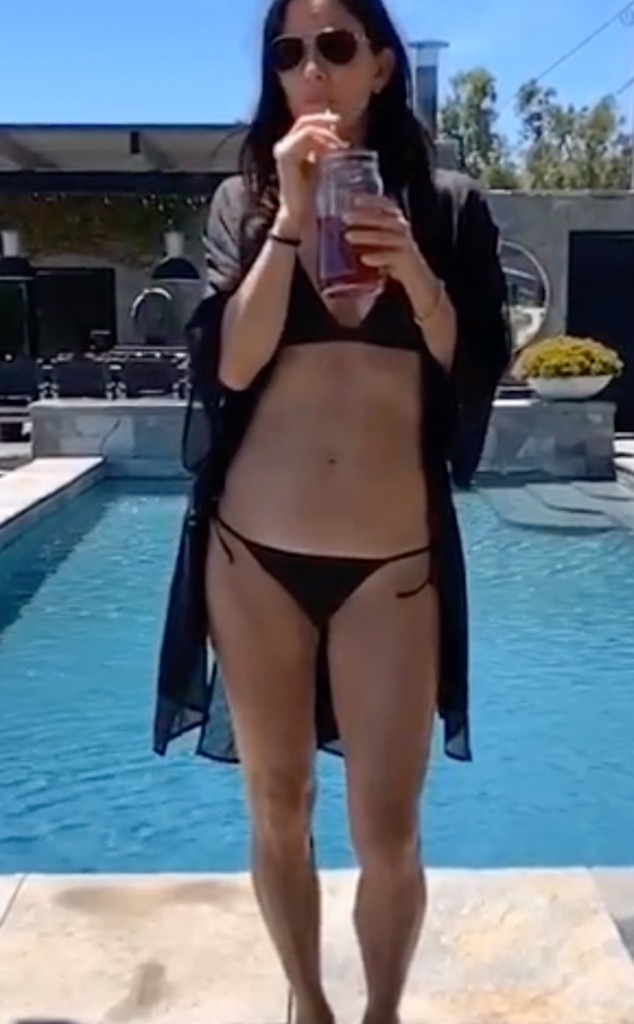 Instagram/Courteney Cox
We give this poolside performance a seven. Seven. SEVEN. SEVEN!
In an instantly iconic video posted to her Instagram last night, Courteney Cox—clad in an itsy bitsy black bikini—leaped from the crystal blue waters of her pool then summoned a bathing suit cover-up, a drink and her sunglasses. All while Missy Elliott's 2002 "Work It" blasted.
"Oh so now I finally get what @missymisdemeanorelliott meant by put your thing down, flip it, and reverse it…." the Friends alum captioned the clip, rewound to defy the odds. "Only took me ten years."
Impressive? In the best possible way, we would say it's not that common, it doesn't happen to everyone and it is a big deal. Just ask her pals, who were in awe of the video. (The clip also showed off the 55-year-old's fit physique.)
"This is epic," wrote Kaley Cuoco. Commented Erin Foster, "I don't know what's cooler, this video or how good your body looks."
Perhaps at a loss for words, Sara Foster and Isla Fisher both simply chimed in with a string of fire emojis. 
And while Sarah Paulson admitted she watched the video "18 times," Allison Janney confessed she was stunned: "I don't understand how cool you are."
Since joining the social media network earlier this year, the actress has proved life oftentimes cannot be any cooler. After all, she's usually hosting girls' night out with her BFFs Jennifer Aniston and Lisa Kudrow and teasing fans about a Friends reunion. (ICYMI, that's not happening.)
Watch the full clip above and you'll never want to take a break from her 'gram.