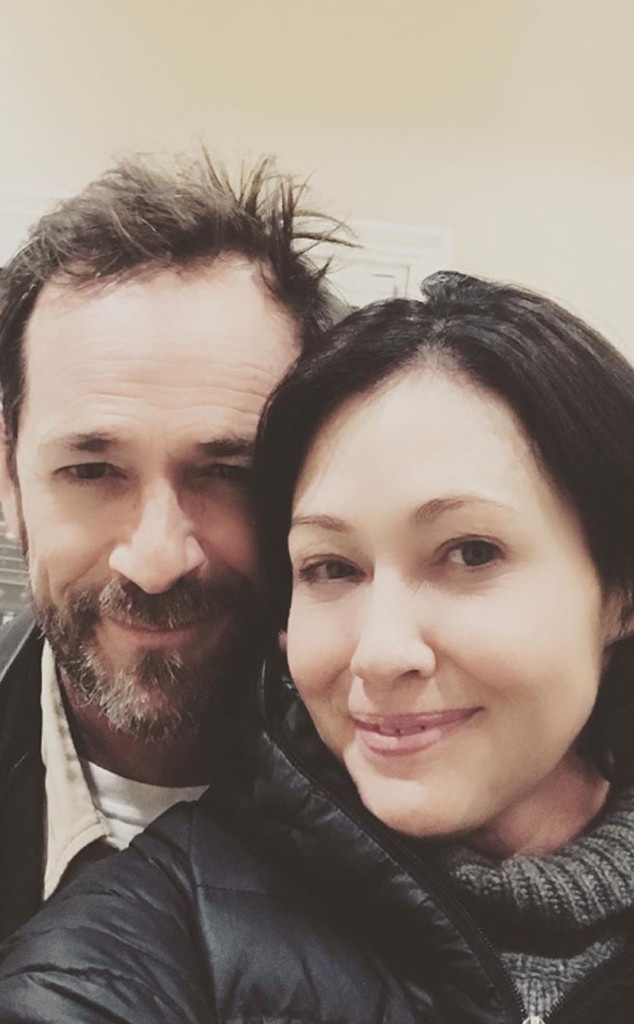 Instagram
Shannen Doherty will appear on Riverdale to help pay tribute to her late friend and former co-star Luke Perry.
In June, the creator of the CW series, Roberto Aguirre-Sacasa, revealed that the season four premiere this fall honors the late cast member, who died in March at age 52 after suffering a massive stroke. At Riverdale panel at Comic-Con 2019 on Sunday, it was announced that Doherty, who played Perry's character Dylan McKay's primary love interest Brenda Walsh on Beverly Hills, 90210 in the '90s, would guest star on the episode, which is titled "Chapter Fifty-Eight: In Memoriam."
"I am deeply honored to pay tribute to Luke on Riverdale," Doherty wrote on Instagram, alongside photos of the two. "The care in which this show takes in honoring his memory is beautiful. He is missed. Today. Tomorrow. Forever."
The actress' appearance on Riverdale "is something that Luke wanted to happen since season one," Aguirre-Sacasa said in a statement provided by the CW. "They were such good friends, and when we were putting together this tribute episode, we wanted to make it as special as possible, and so we asked Shannen to do a pivotal, super-emotional role. She read the script and immediately said, 'Yes.' It's very impactful."
The last episode of Riverdale that Perry filmed aired in April and saw his character, Fred Andrews, give some words of wisdom to his son Archie Andrews, played by KJ Apa.
During the Comic-Con panel, Aguirre-Sacasa unveiled a video of Perry's best moments on Riverdale, which was played for the cast during last season's wrap party, according to Variety.
"When Luke passed, it was toward she need of season three, and we thought rather than rush an episode in we would take our time," the showrunner said. "We really wanted to honor Luke, to honor Fred and we wanted it to be a standalone, really emotional, really focused on what this character meant to this group of people."
Cast member Cole Sprouse said Doherty's inclusion in the season four premiere "put the cherry on top of that episode and made a nice tribute."
"She was overjoyed to have the ability to share some of the burden of Luke's passing that she had gone through in a cathartic setting with the rest of us," he said.
Doherty was among several Beverly Hills, 90210 alumni who posted an online tribute to Perry after his death.
She wrote on Instagram at the time, "Yesterday morning I got a phone call that devastated me. I'm struggling with this loss and am having a hard time with my thoughts. But, my heart goes out to his family and friends who were blessed by his light in their (and mine) lives. Processing this is impossible right now."
Doherty will join her and Perry's other Beverly Hills, 90210 cast mates in the BH90210 mock reboot series, which premieres next month.
Watch:
Luke Perry's "90210" & "Riverdale" Costars React to His Sudden Death
During Riverdale's Comic-Con panel, it was also announced that Kerr Smith of Dawson's Creek and The Fosters fame will play Riverdale High's new principal, Mr. Honey, in a recurring role. He is set to make his first appearance on the second episode of season four.
Aguirre-Sacasa described Smith's character as "a bit of a hard-ass who takes a harder line with the students this year, especially with the seniors."
Season four of Riverdale will premiere on October 9 at 8/7c on the CW.