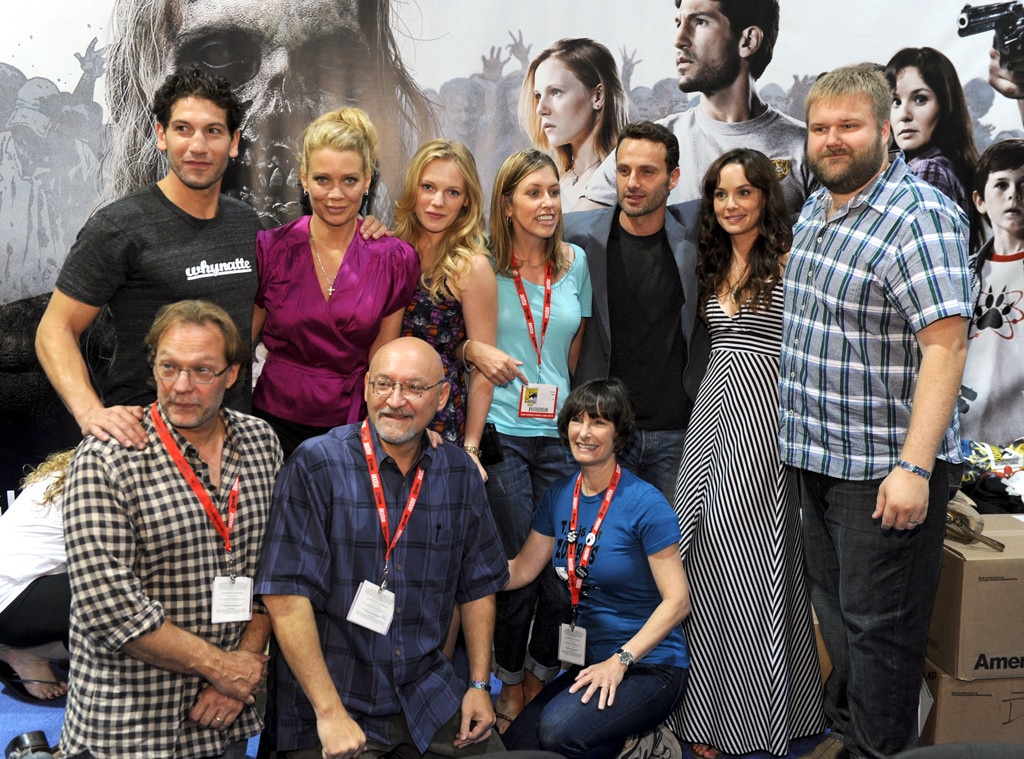 Michael Buckner/Getty Images for AMC
Back in 2010, one little zombie show descended upon San Diego Comic-Con. 
AMC's The Walking Dead was not yet the monster hit it would soon become, and at its first con appearance, the panel didn't even start with any cast members presentl. Most of the cast members weren't even really famous yet, since most people still knew Andrew Lincoln as the guy with the signs in Love Actually. (We still sometimes only think of him like this.) 
The first part of the panel featured AMC exec Joel Stillerman, EP Greg Nicotero, EP Gale Anne Hurd, EP Frank Darabont, and comic book creator Robert Kirkland, and took place just a few months before the series would premiere for the first time in October 2010. 
Kirkman described his comics as "the zombie [story] that never ends," which turned out to be pretty accurate, as we're now here nine years later on the eve of season 10. 
Nicotero described a sort of zombie school that was held in Atlanta to audition zombies, and they gave the potential zombies no instructions other than to walk, and they made sure to cast the people who would bring some personality to the undead. 
After the EPs spoke, the cast was introduced, including Andrew Lincoln, Sarah Wayne Callies, Jon Bernthal, Laurie Holden, and Emma Bell. Other main cast members in season one included Jeffrey DeMunn, Steven Yeun, and Chandler Riggs. Norman Reedus and Melissa McBride weren't even part of the main cast yet. 
The first thing the cast was asked to do on the panel was to introduce themselves and describe who they're playing, and Lincoln went first. 
"Rick is, as you all know, a sheriff's deputy, and he works in a rural district of Georgia. He's married to Laurie, and he has a son called Carl. He's a decent, honorable man and he gets shot, and he wakes up in a zombie apocalypse, as you do. And throughout the course of--it feels like a movie that we're shooting--he gets eroded and it's one of the most exciting characters to play because of that morally...he changes. And yeah I'll leave it there." 
Darabont then teased him about his British accent, and Callies discovered she had no mic, so her costars all handed theirs over until she had four. She later confessed that not only had she not read the comics, but she had never even seen a horror movie. 
"I'm a card-carrying chicken, and Greg Nicotero has ruined my life," she said. 
A new trailer for the brand new series was also shown, and it was the first time the cast had even seen footage. 
You can watch the trailer and the panel itself on Youtube. This year, on Friday, the show brought its current cast (which is almost completely different from its season one cast) to Hall H and debuted the trailer for season 10, which premieres on Sunday, October 6 on AMC. 
For more coverage of The Walking Dead universe at SDCC check out Syfy Wire.