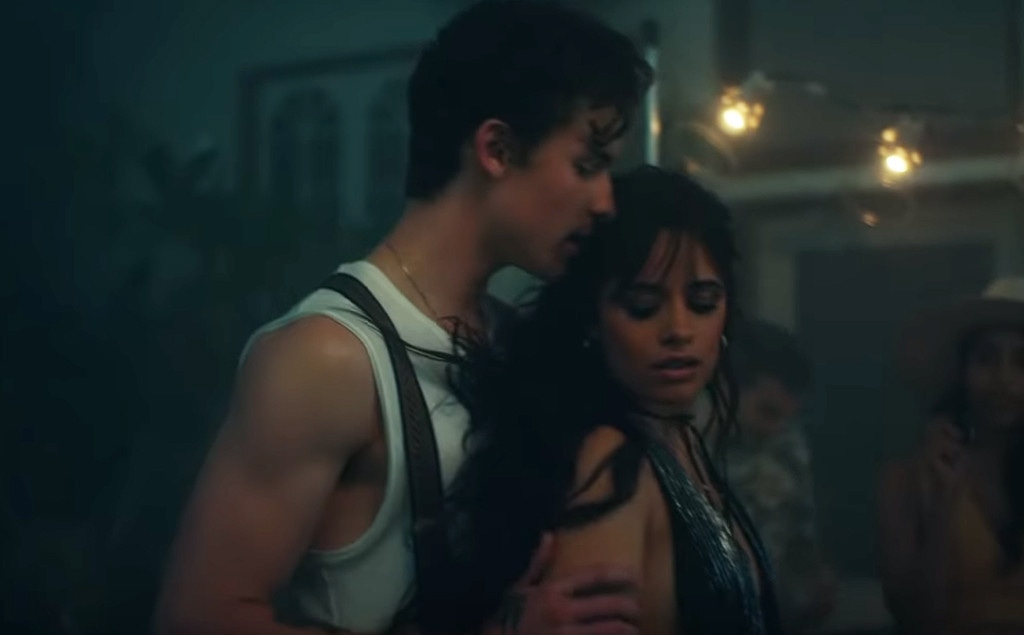 YouTube
There's nothing holding him back!
Birthday boy Shawn Mendes, who turns 21 today, is on top of the world (and at the top of our Spotify playlists) after a year that included award nominations, stadium tours and new music videos!
For the first time, the songwriter got not one but two nominations at the Grammy Awards this year for Best Song and Best Pop Vocal Album for "In My Blood" and Shawn Mendes, respectively.
The musician is still promoting the Grammy-nominated album on his world tour, Shawn Mendes: The Tour, which spans an impressive 56 dates between Europe and North America!
There was also excitement around the second musical collaboration with Camila Cabello, and oh did it not disappoint. The "Señorita" music video, released in June, was red hot and had some fans wondering if the pair were together in real life. When photos came out a few months later of the two making out off-screen, speculation went into overdrive that they are more than just friends.
The duo have yet to officially confirm they're dating but we know hearts will be breaking if the "Stitches" singer is officially off the market.
To celebrate the artist's birthday, we've rounded up some of his best music videos. While they all equally make us want to grab a tissue or conquer the world, only one can officially earn the title of his best.
Vote below on which music video is your fave!
"Señorita" 
Ooh la la la. Mendes' second collaboration with Cabello dropped this steamy video and had everyone under the sapphire moonlight wondering if what was happening on screen was an act or proof that the two are dating. Since the release of the video, the duo has been spotted holding hands and flirting, furthering speculation that the former Fifth Harmony member loves being called señorita off-camera, too.
"If I Can't Have You"
Life is a little less colorful when you're not sharing it with who you want. At least, that seems to be the message behind the black and white music video accompanying the heartthrob's first song of 2019. Written with his longtime collaborators Scott Harris, Teddy Geiger and Nate Mercreau, Mendes sings about how everything means nothing without the person stuck on his mind. We've all been there, which the singer knows, telling Beats 1's Zane Lowe that, "Every single time I play it for myself, consistently every time I was playing it for friends and family, [it gave] people that smile."
"There's Nothing Holdin' Me Back"
The feel-good song of 2017 is one of the more high-energy bops on this list and went on to claim the award for Best Song at the 2017 MTV EMAs. Set to an upbeat pop backtrack, the video intercuts between Mendes performing on stage and excitedly roaming around Europe with his love interest, played by Nocturnal Animals actress Ellie Bamber.
"Stitches"
Seriously, is there any other musician better to listen to when you're heartbroken? Stripped down and all alone, Mendes croons about an ex in this intense music video. Being treated like a literal punching bag, he takes hit after hit from the invisible force of being affected by someone who isn't there anymore. We thought we'd seen a good music video before but none of them ever left us quite this sore.
"Treat You Better"
Doubling as both a good song and important message, this music video transitions between a woman being mistreated by her boyfriend while Mendes vows he could give her the love she deserves. With the last shot being the National Domestic Violence Hotline's number (1-800-787-3224), the somber video demonstrates Mendes' using his fame to shed a light on real issues.
"Mercy"
Locked in a car that's flooding with water is never a good place to be, but it serves as a perfect visual metaphor for the 2016 hit song. The track, from the star's Illuminate album, explores the frightening feeling of someone having control over you and needing to beg for a release. The vulnerable portrayal clearly resonated with fans, as it went on to win Best Pop Video at the 2017 iHeartRadio Much Music Video Awards.
"I Know What You Did Last Summer"
Four years before their scorching collaboration on "Señorita", Mendes and Cabello worked together on this tune about being cheated on. Dark clouds loom above them as they walk toward each other, never closing the gap that has formed between them...a far cry from how we've seen the two interacting now!
"In My Blood"
Opening himself up about his battles with anxiety, Mendes released this vulnerable music video tackling his feelings. Lying on the ground as the seasons change around him, the songwriter expresses feeling closed in on as pieces of the building fall around him. As more celebrities open up about their battles with mental health, the melody struck a chord and was nominated for Song of the Year at the 2019 Grammy Awards.
"Lost in Japan"
The accompanying music video to Mendes' second official single off his self-titled third paid homage to Sofia Coppola's Oscar-winning film Lost in Translation with shot-for-shot recreations like Mendes sitting on the edge of his bed in a green robe, just like Bill Murray does from the film. Those Easter eggs had fans searching for the similarities in this video that also stars actress Alisha Boe of 13 Reasons Why.
Shawn Mendes Music Video Poll