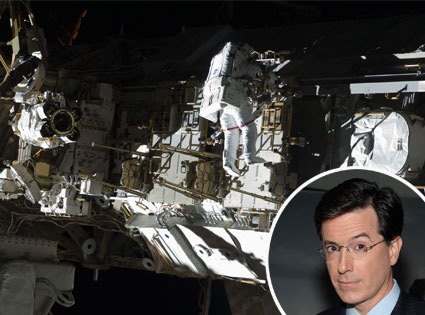 NASA via Getty Images, Simitrios Kambouris/ Getty Images
And Houston thought it had a problem before.
Proving there's no challenge the Colbert Nation won't rise to, particularly when ordered to do so by its fearless leader, Stephen Colbert has succeeded in his bid to get a new room on NASA's international space station named in his ever-humbled honor.
The most trusted name in fake news embarked on his naming campaign earlier this year after discovering that NASA had—foolishly, it turns out—allowed the public to decide on the room's name through an online poll, giving them four officially sanctioned suggestions with the added option of writing in votes.
When voting on the room, referred to for now as Node 3, ended last week, "Colbert" was by far the top vote-getter, beating its nearest competition, the NASA-approved "Serenity," by more than 40,000 votes. All told, the name raked in 230,539 votes. (It's a particularly bitter pill to swallow for Joss Whedon, who started his own campaign in support of the second-place finisher thanks to its sharing a name with a certain ship-turned-film.)
However, while the cable-subscribing people may have spoken, NASA does have the final say over the space place. While the government agency said it will take the people's choice into serious consideration, it wisely reserved the right to the ultimate decision in the naming process.
So much for truthiness in advertising.