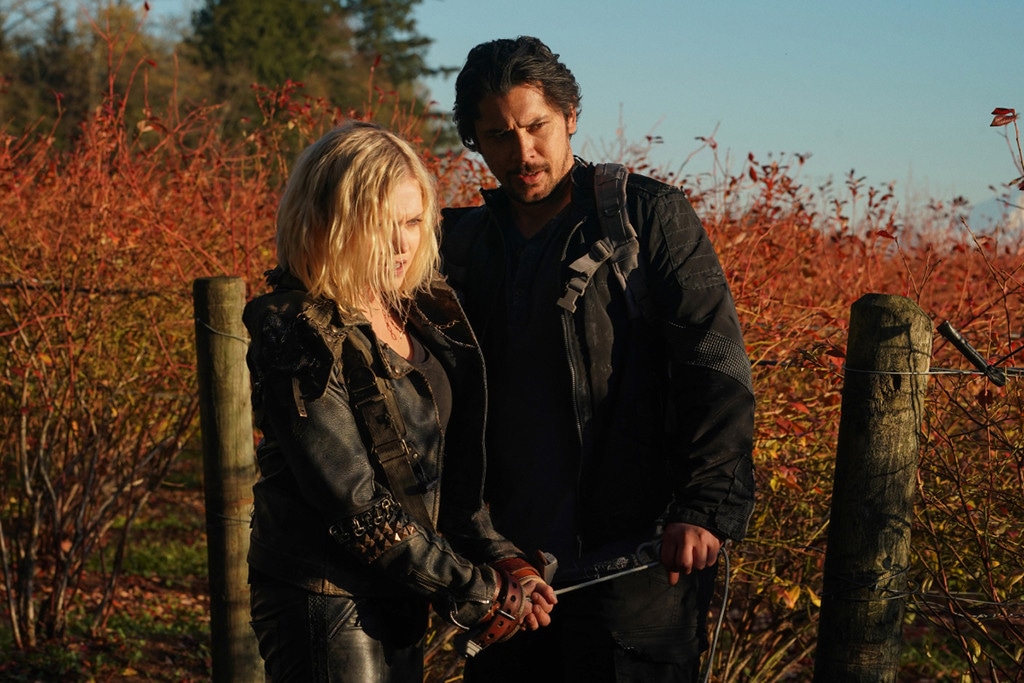 The CW
Fans of The 100 got a pretty big surprise back in June when stars Eliza Taylor and Bob Morley suddenly announced that they were not only together, but had recently gotten married. 
"Recently I married my best friend and soul mate [Bob Morley]," Taylor tweeted on June 7. "We are very happy and ask that you keep your comments kind and respect our privacy at this time." 
"It is with such a full heart that I call [Eliza Taylor] my wife," Morley said at almost the exact same time. "This is something we both cherish very deeply and are beyond happy. Please remember to be respectful and kind to one another. Be well be kind."
In one of their first joint interviews since that announcement, E! News sat down with the pair at San Diego Comic-Con, along with costar Richard Harmon, and we got so much scoop on the rest of season six that you're going to lose your mind, but Taylor and Morley also spoke about the fan response to their surprise marriage. 
"I think we just like to keep our private life private," Taylor said. 
"There's a reason it's called a private life," Morley added. "It was just for us and our family." 
"And it was lovely," Taylor said. 
"It was really, really great," Morley agreed. 
Both stars want to make it clear that while they know fans have been hoping for Bellamy and Clarke to get together and entertained by the fact that it still hasn't happened in six seasons, the real-life relationship is totally irrelevant to the relationship between the two characters. 
"The correlation between Bellamy and Clarke has nothing to do with Eliza and I," Morley said. "Fact and fiction, huge vast difference. You know, just to make that clear. But it's funny to to see some speculation and stuff, but need to be mindful that fact and fiction are two very different things." 
"It's good to care about the show, and if that's the reason you love the show is the chemistry between two people, which obviously you two have incredible chemistry..." added Harmon, and Morley jumped in with a joke. 
"No. It's terrible." 
"Snooze fest!" joked Harmon. "These two again! But yeah if that's the reason you love the show, there's a million reason to love many shows, so if that's the reason, then great. As long as you like it or care in any way, shape or form, we'll take it." 
For those fans wondering about the relationship between Clarke and Bellamy on the show, they've been through quite a bit this season. For a while there, Bellamy thought Clarke was dead, and he was forced to imagine what he thought Clarke might do when faced with the bargaining situation he was in, while also being faced with Clarke's face that was no longer Clarke's face. 
"I think it was such a good thing to have you be able to switch into a different character and then really explore your acting talent," Morley said to Taylor. "It was funny for me as Bellamy seeing it through Bellamy's eyes and then looking at Eliza playing Josephine, who's registering as a totally different person to me when I was performing with her. So especially the scenes where she was able to drop into Clarke and Josephine...that's the real kind of test to her ability, and she smashed it." 
"We've all known each other for years for years now...we know each other as two different people," Harmon added. "We know each other as us as humans, and our characters. You had to add a third one this year. Like you said, looking at her doing it, I don't know either one of those. That's not either of the people that I'm aware of."
Taylor herself was "scared s--tless" about not being able to pull it off. 
"I didn't know how it was going at the time, but I did just have a blast with it. I mean, Josephine is, let's be honest, more fun than Clarke, or at least she has more of a good time. So it was scary, but it was worth it."
"I can't imagine what it's like having a character having fun on The 100," added a slightly (jokingly) bitter Morley.
As of the most recent episode, Clarke is back in Clarke's body and it appears that Josephine is gone, and the last we saw was an incredibly emotional reunion between Bellamy and Clarke. However, that doesn't mean that relationship's getting any major exploration now that Clarke has been restored, mostly because there's way too much other stuff to do. 
"They have to survive," Morley says. "So it's more about what it takes to survive, and sometimes relationships have to be put on the backburner for that." 
For now, we do get to look forward to next week's episode, which Morley directed. He describes that experience as "incredible," and Taylor described the experience of being directed by Morley as "amazing" and "incredible," and Harmon called it "brilliant." 
"What ended up happening was watching one of my best friends seemingly have the best time," Harmon said. "He was giddy." 
So have Taylor and Morley shot any scenes yet as a married couple?"
"No...not on the show," joked Morley, to much laughter, an "oh my god" or two, and immediate regret. "How do I delete this again? This is the delete button, yes?" 
Stay tuned for so much more from these three about what's to come this season, Morley's experience with directing, and just what kind of a finale we're in for. 
The 100 airs Tuesdays at 9 p.m. on The CW.