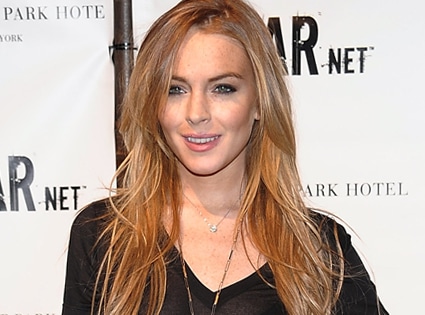 AP Photo/Evan Agostini
Make no mistake, all that time in the unsolicited spotlight hasn't left Lindsay Lohan unscathed.
The frequently hounded star has spoken out exclusively to E! News, relaying that the incessant public speculation over the status of her sobriety, the healthiness of her bank account and, perhaps most of all, her relationship with Samantha Ronson has indeed been frustrating for her to endure.
"They need to stop saying we're fighting," she said of the media's fixation on the ups and downs—though mainly downs—of her love life with Ronson.
"People telling lies about me to her and all this garbage. I'm really a good person and I have a good heart and just want to work. The only reason I go to clubs is to hear Samantha spin or be normal."
Lohan urges people not to believe everything they read.
"I don't drink, I don't do drugs and I don't lie," she said. "I love to act and write and be creative, and I want to help people by playing characters that can send a positive message out to whomever may need it."
The 22-year-old did, however, acknowledge that while her record of being in the public eye hasn't always been a pristine one, she has changed—it's the "noise" surrounding her that has not.
"My past is my past and it's been a long one, but I'm growing more and learning more day by day. I'm not the same person and I don't make the same mistakes.
"I move forward and I change. Life's too short not to. If people would just leave my personal life alone—because it's really not that interesting—then I could land a great role. But all the sicko fans and the noise is so distracting."
Nonetheless, the actress said she's doing her best to remain focused on her career and helping those less fortunate.
"I just want to live the dream that I've worked so hard for since I was 4 years old," she said. "I've been through a lot in my life. And there are many things I'd like to do to let people know that they just have to be strong."
For instance, become a multihyphenate par excellence.
"I'd like to have my own charity, do work overseas, be in Oscar-nominated films, write movies, produce movies/shows/videos, design clothes, make music, write books, etc.
"It's all possible if people would just stop judging me and accusing me and making me out to be this aloof, spoiled, ungrateful and unprofessional person that I am not and could never be."
And Lohan has not lost faith in herself.
"With everything that's gone on with my family, my parents still taught us how to have tact, class, respect for others and how to follow our dreams and never change who we are for anyone or anything.
"No. 1 is perfect, and perfect is impossible. You have to make mistakes to learn so that you can grow up and live your life the right way. Things happen, and you have to move on, be strong and believe in yourself. It would be really nice if people would believe in me."
(Originally published March 24, 2009, at 7 a.m. PT)