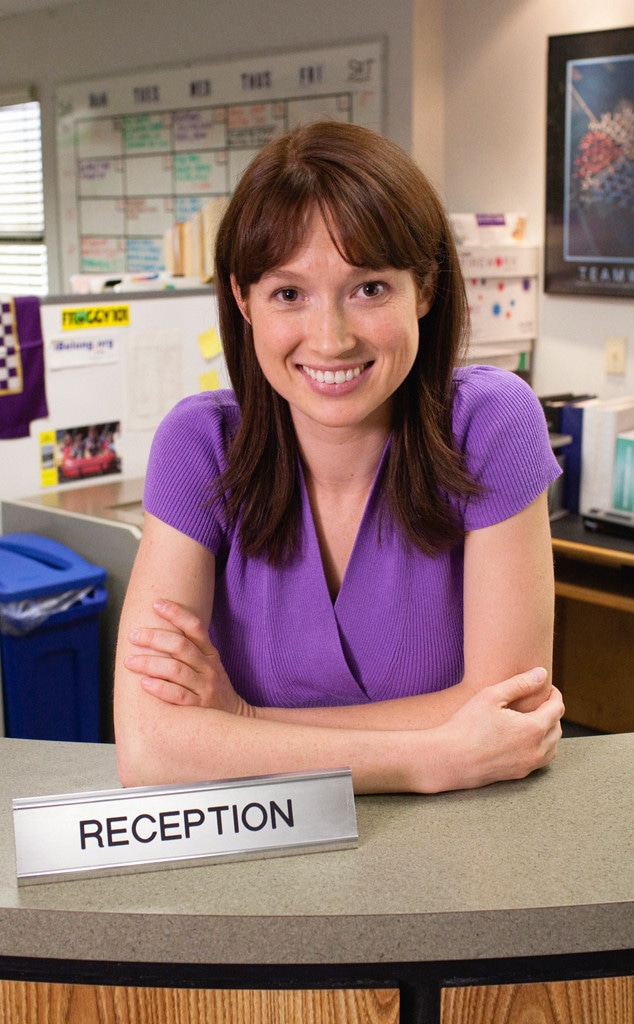 Chris Haston/NBC
You're not the only one wishing for a reboot of The Office.
Ellie Kemper weighed in on whether she thinks one could actually happen on Thursday's episode of Watch What Happens Live With Andy Cohen. 
"I would love there to be a reboot, but I don't think there will be," the Erin Hannon character said. "So, that's a sad answer. But maybe like a reunion episode? That would be fun."
She then jokingly asked host Andy Cohen if he could orchestrate one.
It looks like the cast members still have a lot of love for each other, too. When a caller asked Kemper how she feels about John Krasinski becoming a "huge action star"—and if she ever thought Jim would become "so hot"—she couldn't help but praise her former co-star.
"I love it!" she said. "He's the nicest guy there is. I think it's great that he's an action star."
Although, Cohen said Krasinski was "already pretty hot when he was Jim from The Office," and Kemper agreed.
"Absolutely! Everyone adores him," she said. "I mean, he was, like, the hunk of The Office, right? I watched the show before being on it, and that's, like, how he was known, right? He's like the heartthrob of The Office. So, I don't think it's such a great leap. He was always hunky and handsome. Why am I talking so much about John Krasinski? He's great."
Kemper isn't the only cast member who's expressed interest in getting the gang back together. Jenna Fischer, who played Pam Beesly on the show, has also suggested she'd be open to the idea.
"I think the idea of an Office revival is—I think it's a great idea," she said at the 2018 TCA winter press tour, previously noting she hadn't been approached about one. "I would be honored to come back in any way that I'm able to. I loved playing that character, and as long as Greg Daniels is the person in charge and the visionary behind it, then I would absolutely be up for. We just have to get Mindy [Kaling] to write some episodes, B.J. Novak, Gene Stupnitsky, Lee Eisenberg, Mike Schur. That show was so great because of the talent involved in the show, behind the scenes, not just on the screen."
While the stars have reunited on a few occasions—including for Steve Carell's Saturday Night Live hosting gig—the Michael Scott star has suggested the show wouldn't work as well today.
"But apart from the fact that I just don't think that's a good idea, it might be impossible to do that show today and have people accept it the way it was accepted 10 years ago," he told Esquire in 2018. "The climate's different. I mean, the whole idea of that character, Michael Scott, so much of it was predicated on inappropriate behavior. I mean, he's certainly not a model boss. A lot of what is depicted on that show is completely wrong-minded. That's the point, you know? But I just don't know how that would fly now."