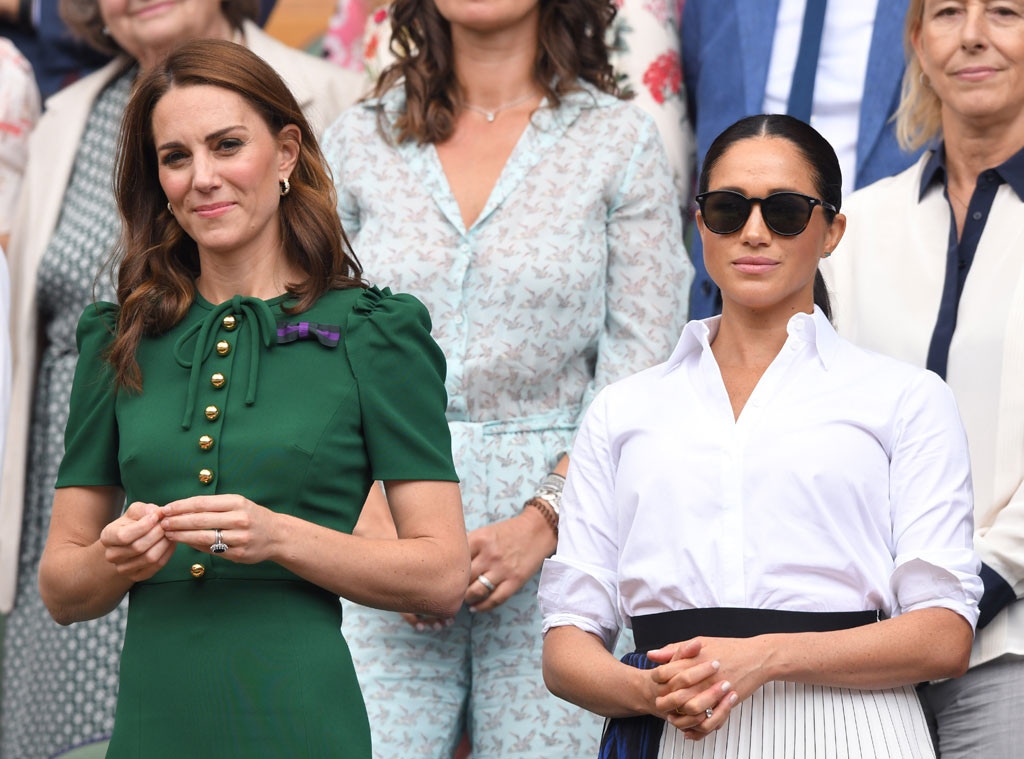 Karwai Tang/Getty Images
Though they came a decade apart, Kate Middleton and Meghan Markle's introductions to what it really means to join the royal family from the outside have striking similarities.
In January 2007, with engagement speculation in overdrive and The Spectator declaring Kate "THE NEXT PEOPLE'S PRINCESS," the palace at Prince William's behest got multiple newspapers to stop publishing paparazzi photos of Kate, the prince's longtime girlfriend having been increasingly incapable of going anywhere without someone trying to snap her picture.
It didn't end there, of course, as it's not as if all the papers got on board, and later it turned out that the couple had been targeted by hackers sicced by the since-shuttered News of the World (which, ironically, was one of the papers that agreed to not publish paparazzi pics of Kate).
In 2017, a few months into their relationship, Prince Harry had the palace put out a statement imploring the media to respect Meghan's privacy and calling out some of the more nefarious ways photographers and reporters had been trying to gain access—i.e. waiting outside her mother's front door in Los Angeles or trying to pay her ex for an inside scoop.
Basically, nothing had changed in the 37 years since Lady Diana Spencer first turned up on the scene as Prince Charles' girlfriend and the newspapers lost their minds trying to vacuum up every detail they could about the 19-year-old kindergarten aide. 
There's obviously more awareness now on the royals' part as to just how harmful relentless media coverage can be, and Kate and Meghan both have more consistent support from their husbands in that matter, Charles having been a lot more "well, let's keep a stiff upper lip about it, shall we?" back in the day.
But navigating around the potential pitfalls of a royal romance and making it to the altar was only the precursor to the beginning of the real journey. Having accepted two of the most high-profile jobs at The Firm, the young duchesses still had to work out their own approaches to living the most public of lives, working within both the parameters of the monarchy and their own personal comfort zones.
And it's understandable that Meghan, much newer to this than Kate, is still working out the kinks.
Her choices so far, however valid in the real world, have been rankling royals watchers lately. Faithful critics were still smarting from the birth plan runaround when they found reason to protest yet again when the Duke and Duchess of Sussex decided to have an especially private christening ceremony for their son Archie Harrison this month. No outside cameras were allowed to capture the before and after (news outlets never film the actual baptism), and then they released only two photos and chose not to reveal who Archie's godparents are.
Days later, however, Meghan brought Archie to the Billingbear Polo Club in Wokingham, to watch Harry and William play in a charity polo match, knowing full well photographers (albeit the respectful kind) would be there, so it's not as if the Sussexes are hiding their child from the world. Nor were they showing him off, as the sleeping baby was literally kept close to the vest. Kate was there too with her kids and it made for a most cheerful tableau—as well as an opportunity to read between the lines.
"We hadn't expected the duchesses to turn up with their children," veteran royal reporter Katie Nicholl told ET Online after the match. "The fact that they did is a wonderful treat for royal watchers, but I think those candid pictures were quite deliberately intended to snuff out those rumors of the feud between the foursome. And you saw them all very close, very happy, very comfortable with each other."
But consider the pearls clutched two weeks ago when it got out that Meghan's personal protection officers were asking fellow Wimbledon attendees to kindly not take pictures of the duchess while she was sitting with friends to watch one of Serena Williams' early-round matches.
"Would you not take photographs of the Duchess, she's here in a private capacity," one PPO told media consultant Sally Jones during the match, according to the Telegraph. Jones insisted she wasn't even trying to get a picture of Meghan and didn't even know they were in the same row.
Jones went on to write a column for the Telegraph headlined, "Team Sussex's demands for more privacy are alienating even committed monarchists like me."
It's a slippery slope. As a private person, you would probably would be creeped out by the idea of someone snapping photos of you from afar, secretly or openly, but celebrities tend to accept that they're fairer game once they're out in public. Yet then come the shades of gray when you consider what sort of public place they're at. A restaurant where you're trying to have a quiet dinner for two is one thing, while a sports stadium is another.
Wimbledon is an event steeped in tradition and decorum and goers are expected to self-police accordingly, and they usually do. But Kate goes (she and Meghan went to the ladies' final together last Saturday with Pippa Middleton, in fact) and Diana used to go before her, and no one had ever heard of this "no pictures, please!" directive.
Perhaps it was just another thing that Meghan threw at the wall to see what would stick.
One member of the All England Club also chided her for wearing jeans, while another thought it poor form that she left after Serena's match instead of sticking around to watch two-time champion Andy Murray, who in 2012 became the first player from Great Britain to win a men's singles title at Wimbledon since 1936, play mixed doubles (with Serena, incidentally).
"Andy Murray was on Court 1 afterwards and it was a massive faux pas not to watch a Brit when she is signed up to the royal family," the member told the Times of London. 
Meanwhile, a palace source told the Times, "It is not unusual for people accompanying members of the royal family at private, or public, engagements to ask members of the public not to take photographs. This is to enable members of the royal family to properly engage with people and events."
None of the above may be actions she repeats going forward, considering the optics, but at the same time... Meghan may be slammed if she does, slammed if she doesn't, no matter what.
So already this summer there was the mixed reaction to the christening, the closed-door nature of which was made more offensive to some coming in the wake of news that it cost $3 million of taxpayer money to renovate Harry and Meghan's house. Then there was the international incident Meghan effortlessly found herself in when President Trump, on a visit to the U.K., was asked about Meghan's previous criticism (as a civilian) of him several years ago and he remarked that he didn't know she'd been "nasty" to him.
Still taking it easy after giving birth and not planning on going either way, Meghan was not at the state banquet for the Trumps hosted at Buckingham Palace in June.
"Meghan has struggled with the intensity of the spotlight," a source close to the royal household shared with People recently. "Although she is a former actress, this is on a different level."
Much has been made about that fact that the duchess was an actress in her pre-royal days, and therefore used to having flashbulbs in her face all the time and wise to the ways of the 24/7 media.
But to compare her existence as the star of USA's Suits—pretty fancy to be sure, but still on the fringes of a normal life—with what it would be like as Prince Harry's other half was to deal in completely different realms of public awareness. Sure, she was famous enough to go on talk shows and be in magazines, but she could still go to yoga and Whole Foods in peace. Her necklines didn't make headlines. She could take a picture of her food and post it on Instagram. 
"I think I can very safely say as naive as it sounds now, having gone through this learning curve in the past year and a half I did not have any understanding of just what it would be like," Meghan acknowledged to the BBC after she and Harry announced their engagement in November 2017, a few weeks after Harry proposed. "I don't think either of us did that we both said that even though we knew that it would be."
"No," Harry added, "I tried to warn you as much as possible, but I think both of us were totally surprised by the reaction after the first five, six months where we had to ourselves of what actually happened from then. So I think you can you can have as many conversations as you want and try and prepare as much as possible. But we were totally unprepared for what happened after that."
"The was a misconception that because I have worked in the entertainment industry that this would be something I would be familiar with," Meghan continued. "But even though I've been on my show for I guess six years at that point and working before that I've never been part of tabloid culture. I've never been in pop culture to that degree and and lived relatively quiet life even though I focused so much on my job. So that was a really stark difference out of the gate." 
But you'd think Harry would have been a little prepared.
After all, he had experienced the press' often overzealous interest in him enough over the years to know that his particular place in the royal family—a spare heir but son of the beloved late Princess Diana and son and brother of future kings—would come with a spotlight for the foreseeable future. And when romance and weddings and babies are involved... it's the perfect storm. 
Because he's only sixth in line, Harry was born with much more leeway than William when it comes to what's expected of his public life. He has his various causes to attend to and gets the list of must-attend events in his inbox. But until he committed himself to full-time royalty, there was always a chance that Harry would choose a more removed life, one where he still had his causes and appearances, but perhaps he spent a few years based in Africa. 
Chris Allerton/SussexRoyal
"As I always say, work hard, play hard—and I'll always be enjoying my job however long that carries on for," Harry said in a 2013 interview while he was in Afghanistan stationed with the Army Air Corps. "Then obviously I've got the other job to fall back on."
By the time he met Meghan, he had accepted that "other job" and committed himself to full-time royal life accordingly.
"I feel there is just a smallish window when people are interested in me before [William's kids] take over, and I've got to make the most of it," he quipped to biographer Angela Levin in 2017.
Early on the speculation was, again tied to her profession, that no spotlight would be too big for Meghan, that she'd relish every bit of public rite of passage that Kate went through, from all the excitement of a royal wedding (unavoidable) to the regimented birth protocol that accompanied the birth of all three of Kate and William's children.
Meghan's pregnancy was the first sign that perhaps she and Harry really did want more privacy than some royals were perhaps used to getting.
Harry arranged to move them from Kensington Palace to Frogmore Cottage in Windsor, prompting speculation that Meghan might give birth closer to home—or even at home, maybe, as generations of royals before her had done regularly, up until Princess Anne decided to have her kids in a hospital.
Word eventually got out, but Meghan managed to get out of London for a baby shower hosted by her friends in New York—showers being more of an American thing—without anyone being the wiser.  
And then as her due date approached, no one on the outside knew the plan. Nowhere for the media to camp out en masse, no one sure of just how it would all go. Ultimately, at first glance, Archie's arrival followed closely in the tiny footsteps of his cousins Prince George, Princess Charlotte and Prince Louis. But there were some significant differences.
Meghan and Harry never let on where they were. An announcement came out that she was in labor...somewhere, then barely a half hour later came the announcement that Archie had been born...somewhere.
Two days later, they presented their swaddled newborn to the media in St. George's Hall in Windsor Castle. It wasn't until almost two weeks later that it was officially confirmed via the release of Archie's birth certificate that he was born at Portland Hospital in London. (Harry, William and all of William's kids were born at St. Mary's.)
Which isn't to say that Kate and William have gladly turned their lives over to the press and what's theirs is ours. As second in line to the throne, the Duke of Cambridge has a certain aura of benevolent majesty to maintain even now, and as a future queen the Duchess of Cambridge comports herself accordingly. Big media is always watching, after all.
Their courtship was more of a marathon than a sprint and having been married for eight years they've had substantially more time than Meghan and Harry to figure it out—but they too are faced daily with the juggling act of having a life just for themselves and one that the public can feast on. The trick is to make the public feel satiated without serving up too much for their own tastes.
Once upon a time, Kate was a girl thrust into the spotlight via her association—first a friendship, then a romance, then exes, and then as a serious girlfriend before becoming a fiancée in 2010—with a prince, and it started when she was barely 20. They met at the University of St Andrews in Scotland and, while the press still for the most part minded their manners while William was in school (hence no photo of their first public kiss after a rugby match in 2004), it wasn't as if they weren't interested.
"We would text William and Kate if we saw any photographers hanging out," Charlie Moretti, a former schoolmate, told Katie Nicholl for her book Kate: The Future Queen. "None of us wanted their lives to be any harder. St Andrews gave them a few years of normality, and I don't think any of us wanted to ruin that."
Once the couple graduated, however, the press couldn't get enough.
Members of Prince Charles' legal team first contacted newspaper editors on Kate's behalf to ask them to lay off as early as 2005 because reporters and photographers started following her constantly upon her return to England. A German magazine had figured out where she lived, so now the paparazzi could track her comings and goings, as well as William's. They quickly caught on to whose chauffeured Range Rover was parked outside. A panic button connecting straight to Scotland Yard was installed in the flat.
When they did go out, they took a page from Queen Elizabeth II and Prince Philip's early courtship and didn't arrive at or leave places together. Nor did they act particularly romantic. They'd spend whole evenings at parties talking to respective friends instead of each other, and heaven forbid they hold hands.
Still, sharing not a secret but rather a special quest to keep the seriousness of their relationship to themselves, the couple grew closer.
Then there was the media scrum of 2007, when 30 photographers ganged up outside Kate's Chelsea flat on her 25th birthday. The palace soon insisted that the madness stop.
"Prince William is very unhappy at the paparazzi harassment of his girlfriend," said a spokesman. "He wants more than anything for it to stop. Miss Middleton should, like any other private individual, be able to go about her everyday business without this kind of intrusion. The situation is proving unbearable for all those concerned."
"Unbearable" is a strong word, and sure enough pressures of all sorts resulted in William and Kate briefly splitting up around the Easter holiday. There were the encroaching wedding bells clanging from the covers of tabloids, but the constant paparazzi escort also must have gotten a little tiresome for Kate. William relished the relative anonymity of putting on a helmet and leather jacket and taking his motorbike on solitary rides, but it's not as if Kate could just put on a big hat and glasses and sneak by if a crowd had gathered outside her only exit.
"I'm sure they have split up for now but William's very good at manipulating the media," royal correspondent Richard Palmer wrote in the Daily Express at the time. "This may be about giving her a breather from the royal scene as well as giving him time to go off and do what he wants to do."
They got back together barely two months later, and at least by the time they really did get engaged in 2010—a month before it was officially announced, to savor the moment just for themselves—they had already been in the thick of it, "it" being the dedicated invasion of their privacy, for years.
Nowadays, to maintain their sanity, they do what a lot of deep-pocketed celebrities do to stay sane: they let other people handle their carefully curated social media accounts; they mainly keep their kids out of the media's path but then delight the world with unexpected photo and video releases; and they vacation on super-exclusive private islands that not just anyone can access.
One of Kate and William's favorite spots to go alone and with bigger groups of family is Mustique (a no-fly zone, naturally), and they're headed back there soon, according to The Sun. 
"It is incredibly private and incredibly discreet but not remote," a royal insider told the paper. "They know and trust the staff who work there and they are creatures of habit."
The source added, "It's about as close as they can come to without going to total wilderness as they did on their honeymoon when they went to an island in the middle of nowhere."
Their honeymoon location was let out of the bag when they took off, but their destination—the Seychelles—ensured that no one bothered them.
Harry and Meghan only later confirmed where they were not (Namibia), while a source confirmed to E! News that they honeymooned in eastern Africa. 
So utmost discretion is still possible.