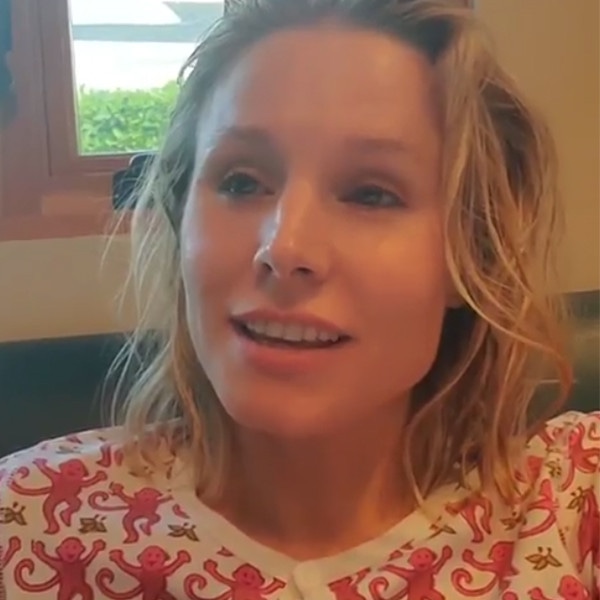 Instagram / Kristen Bell
This is a case for Veronica Mars...or the FBI!
On Thursday, Kristen Bell celebrated her 39th birthday with husband Dax Shepard and their daughters, Lincoln Shepard, 6, and Delta Bell Shepard, 4. If you ask the kids, the Veronica Mars actress is already a senior citizen.
Kristen posted on her Instagram page on Wednesday night a video of her discussing her age with the children.
"Sixty three," Delta said.
"Sixty-three," Kristen repeated. "How old do you think I'm turning, Linc?"
"Eighty-nine," she replied.
"Eighty-nine!" Kristen said. "OK, Dad, how old do you think I'm turning?"
Without missing a beat, Dax said, "I'd say about somewhere in the middle of those two guesses, so 71, is that right?"
"I'm turning 39," Kristen told their daughters.
The kids are only heard, not seen, in the video. Kristen and Dax are notoriously private and rarely share images or videos of their daughters on social media.
Watch Kristen's hilarious birthday video below:
Can't wait to see Kristen on the cover of AARP the Magazine soon!
Dax also posted on his own Instagram page a sweet birthday message to Kristen, alongside a video of them gagging and burping after appearing to take part in a hot pepper challenge.
"Happy Birthday Buddy!!!" he wrote. "I've been with you on a third of your ride, and I hope I'm lucky enough to burp/throw-up/suffer/thrive with you for all the rest. Best Mom, best wife, best friend, longest story teller. You're everything to me and more ♥️♥️♥️♥️♥️♥️♥️♥️♥️♥️♥️♥️"