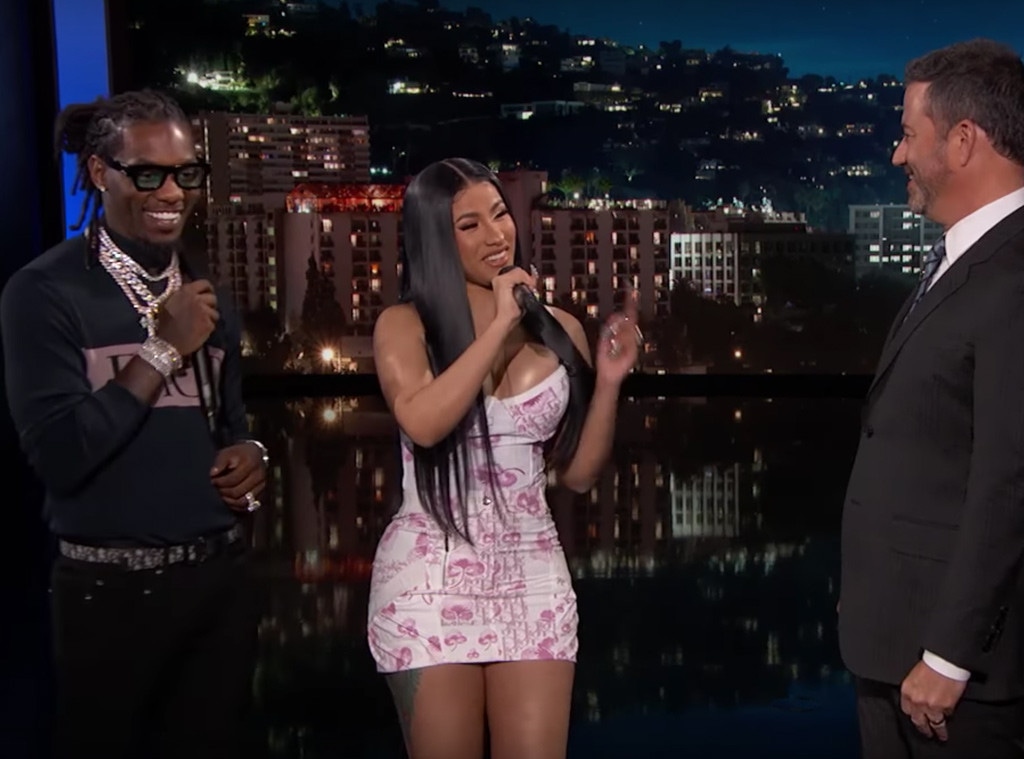 YouTube
Have some trouble understanding the true meaning behind Cardi B and Offset's songs? Jimmy Kimmel is here to help.
The late-night host broke down the lyrics of the rappers' hit "Clout" on Wednesday's episode of Jimmy Kimmel Live!.
During a segment of "New Lyrics for Old People," Kimmel invited the artists onto the stage and asked them to perform a few lyrics. He then proceeded to translate them.
For instance, when Offset rapped, "Straight out the streets to a penthouse/Miami beach/Yayo," Kimmel explained he meant, "I came from humble beginnings, but now I own a condominium in Florida. Yayo."
He was also able to shed some light on the line "Get the whip/Put it up for my seeds/No cure for the IG disease."
"Seeds are kids, right?" Kimmel asked. "So, I'm saving my money for my children, and I love Instagram—a lot."
However, he didn't get it right every time. For instance, when the Grammy winner rapped, "Mouth still say what it wants to/Vagina still wet like a fat bitch," Kimmel thought the lyrics meant, "I believe in free speech, and I am sexually aroused."
"No, it doesn't mean that," Cardi said. "You ever heard that, like, big girls have better vaginas than skinny girls?" 
"Of course, of course! My mother taught me that when I was young," Kimmel quipped.
Cardi then explained that's what she meant.
After hearing a few more lines, Kimmel was able to sum up the song.
"I think what we've learned here is that there are a lot of people who are trying really to kind of take some of your fame by taking shots at you and you guys have had enough of it, yes?" he asked.
"They do anything for clout," Offset confirmed.
In fact, Kimmel was so impressed by his translating abilities that he said he "should really be on the next song." The power couple agreed.
Watch the video to see the whole segment.