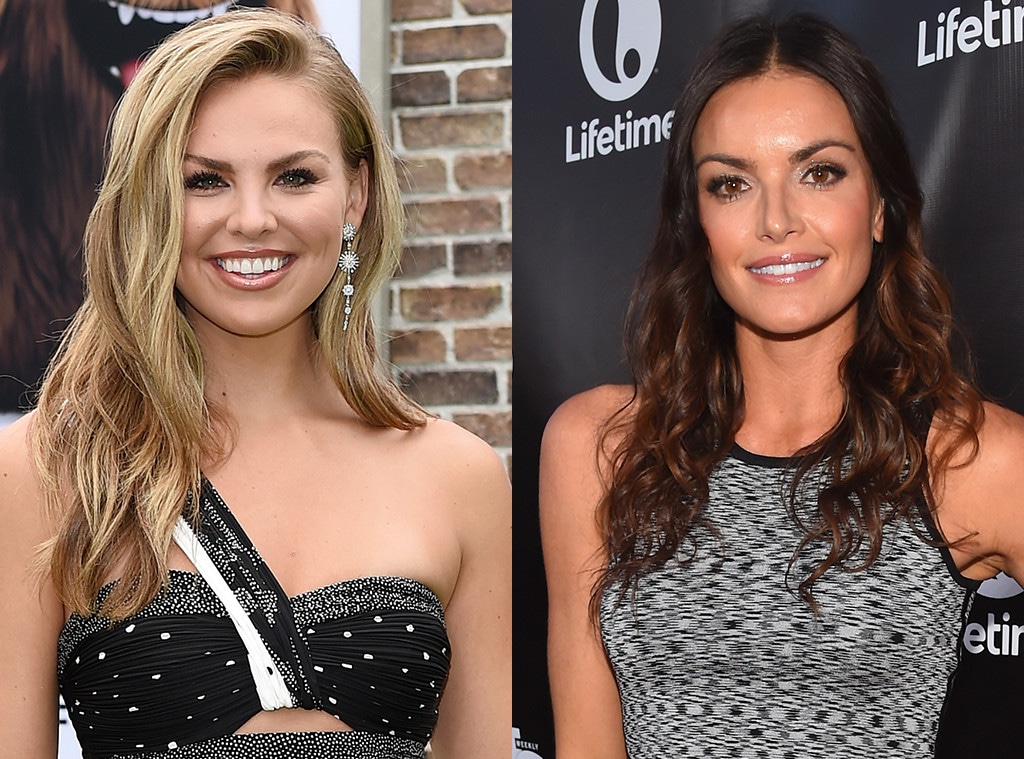 Axelle/Bauer-Griffin/FilmMagic, Alberto E. Rodriguez/Getty Images
Courtney Robertson has a few thoughts on Hannah Brown's season of The Bachelorette.
The season 16 star called into The Ben & Ashley I Almost Famous podcast on Wednesday and weighed in on the backlash the Alabama native has faced over her time on the show.
As fans will recall, Robertson made headlines after she had sex with Ben Flajnik on The Bachelor. While the reality star claimed fans didn't know how intimate the two got until the release of her book, she said she was still slut-shamed. 
"It just was wild….You hear it all," she said. "So, that never feels good. But I stand by it. I like to skinny dip. So, I still do it." 
Brown has also received backlash this season over her levels of intimacy with the contestants. While Robertson acknowledged "everybody has their own belief system," she said "it's better not to judge and [to] just watch with an open mind."
"I like people who are openminded," she said. "I tend to be a free-spirit and kind of put it all out there. It's just not for everybody. Not everybody is going to like your choices or how you live your life, but you just gotta do it. Just put it out there. I mean, it's a television show and sex is involved with multiple people. It makes for good entertainment. You can't deny that."
After host Ben Higgins admitted he didn't understand where Brown stood on her decision to have sex on the show—especially after this Instagram post—Robertson pointed out that discussing these topics isn't always easy. 
"It's hard to put that stuff out there and talk about it. It is very taboo and maybe there's a little, like, she's trying to save a little face because she's getting so much backlash," she said, referring to the post. "But that's part of this process. It's probably 50/50. I don't know."
In fact, Robertson said the way sex is discussed on the show could change in the future.
"I think it's going to be more open. I do," she said. "I do think with the whole #MeToo movement and stuff like that, people are being a little bit more open. They do need to be careful, but it will be interesting to see."
Earlier this week, fans watched Brown send Luke Parker home after the two got into an argument over his controversial comments about sex. While Parker told her he wasn't a virgin, he said he had been abstaining from sex over the past few years and was saving himself for marriage. He then said he didn't believe she should be having sex with other contestants and that he'd be wanting to go home if she had.
While Brown seemed upset by Parker's words, Robertson wondered if there were other thoughts going through her mind.
"I think she seems a little bit regretful in that moment," she said. "What if he was the first date? I felt like 'Why didn't he make that more clear earlier on?' Maybe things could have been different."
She also felt like contestant Jed Wyatt, who had enjoyed a date with Brown before Parker, had already "manipulated" her and "put the bad seed in her mind."
"I think she was super reactive," she said. "I was watching it like, 'Well, just take a minute here.'"
In addition, she said Brown seemed to be "fishing" for something right before she sent Parker home.
"I think she was still hoping that that bad communication—that he would fix it again," she said.
Although, Robertson admitted she had been "secretly rooting for Luke" this season.
"I can't help but feel a little bit bad for him," she said. "He seems a little bit naive to the whole experience….I'll be interested to see what happens with the 'Men Tell All' and see if, you know, he apologizes or how he reacts."
To hear her full interview, check out the podcast here.