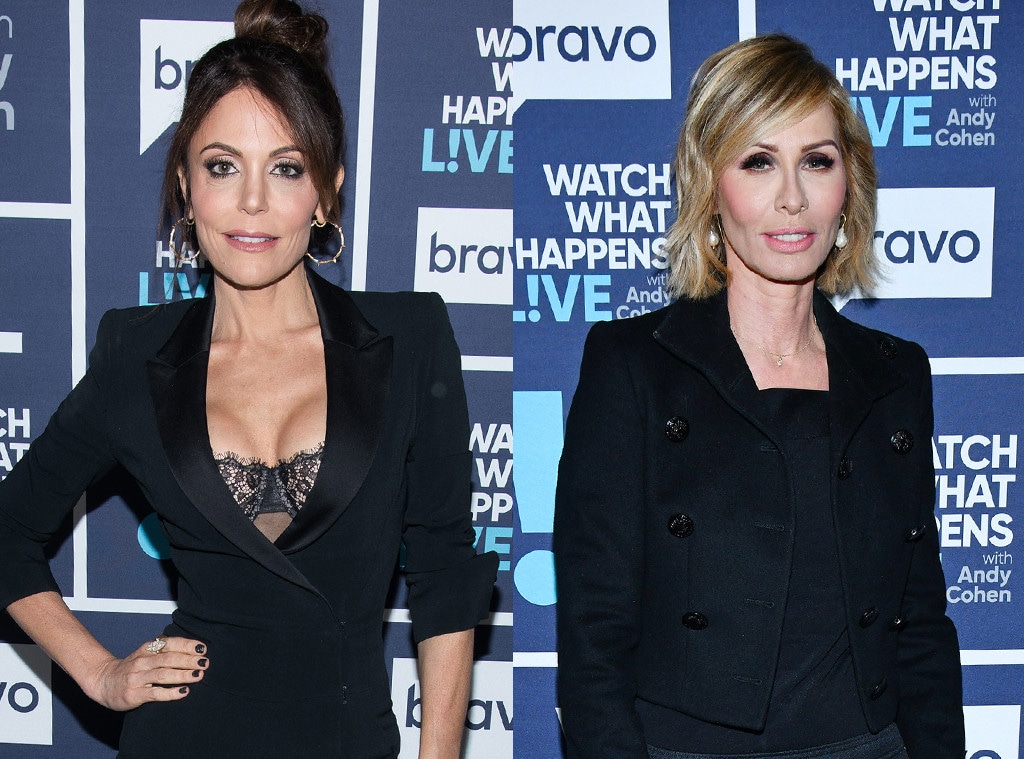 Charles Sykes/Bravo
The Real Housewives of New York City season 10 featured the demise of the friendship between Bethenny Frankel and Carole Radziwill for all the world to see. But Carole stopped by The Jenny McCarthy Show to promote Biography: JFK Jr. The Final Year and said not everything was as it seemed on RHONY.
"We were close when we met on the show...I would consider her a good friend and had up until the last season," Carole told Jenny McCarthy about Bethenny. "None of what she was saying was true...I don't know what—she was obviously constructing a storyline for herself that wasn't based in reality."
Carole said the storyline about her befriending and clicking with Tinsley Mortmier was because not many people wanted to film with Tinsley and she hasn't spoken to her since she left the show.
"I was a very good friend to [Bethenny]. That's all I'm going to say. I supported her in her charities, I gave her a lot of money…I really cared about her...I was just being a really good friend to her. I think I was trying to establish some boundaries at the end and sometimes people don't do well with that. I just wanted...it was just a little too much Bethenny and not enough Carole in the relationship. I didn't blow that relationship up," Carole said. "Even when we were filming I have text messages...It was definitely time for me to leave...I think at the end, if I'm being honest, I didn't trust the process and that made me nervous."
Carole said the ninth season, which featured the 2016 presidential election, was a turning point for her. She told the radio host that she had conversations with executives about putting the show behind her and that everyone was in agreement, especially after the season 10 reunion.
"After the reunion—It's funny because the very first thing I did after the reunion was I called my accountant 'cause I wanted to know, 'If I didn't do this, how long could I go without a big paycheck?'" Carole said. "I think that's where my head was at..."
But in her six years on the show, she said she was never forced to argue or told what to say to her costars.
"I didn't fight that much. They don't force you. I know that people do think that the producers tell us what to do or say, but they really don't. The women are just enough sort of emotionally unbalanced and wanting to get attention that it just happens naturally," Carole said. "It just happens naturally that they start arguing in a way that they wouldn't probably argue like that in their off-camera life."
During a recent visit to Watch What Happens Live with Andy Cohen, Bethenny said she did run into Carole at an event and things were good.
"I ran into her at a charity event a couple of months ago and we had a really nice time. I saw her at the bar, we had a conversation, we talked about Adam and just life, and it was nice. We actually just had a moment and it was clean. I like when things are clean," Bethenny told Andy Cohen.
While the cameras did capture some ups—like her relationship with Adam Kenworthy—with the downs, Carole's put the reality life behind her.
"I'm glad it's over," she said, noting "I still am close with [Dorinda Medley]...She's really a great woman, so smart and so clever. A really great girlfriend."
The Real Housewives of New York City season 11 reunion airs Thursdays, 9 p.m. on Bravo.
(E! and Bravo are both part of the NBCUniversal family.)