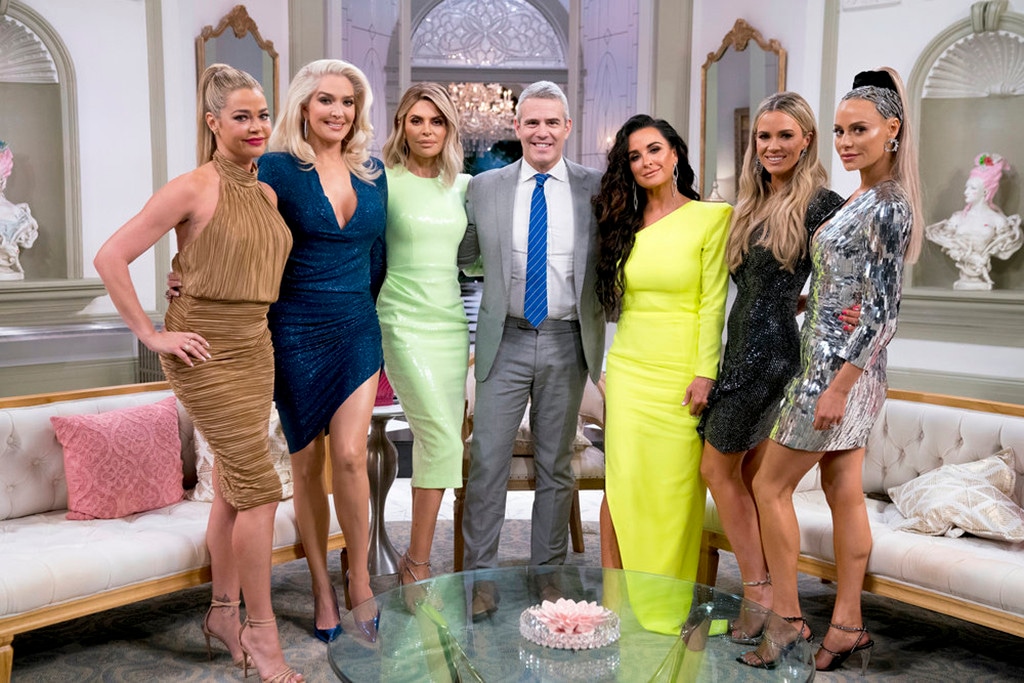 Bravo
Maybe Lisa Vanderpump should have listened to her own words about showing up to a Real Housewives reunion. 
LVP's absence from the Real Housewives of Beverly Hills reunion was a major topic at the top of tonight's episode, starting with clips of Andy Cohen's Instagram Live from the reunion taping, when he announced that Lisa hadn't shown. 
We were then treated to clips of Lisa herself commenting on times that other Housewives had decided not to attend. 
"I think if you sign up to do a reality show, you have to be prepared to open up your life," she said back in 2013 when Adrienne Maloof didn't show up. "What Brandy did wasn't to expose what many of us knew, it was to expose the fact that she consistently lied. That was the point." 
But, Andy asked, was it a mistake not to come to the reunion?
"I think it's a mistake as well, because I think she's leaked stories to the press saying that she wanted to quit, and I don't believe that," Lisa said. "I believe she wanted to stay and I think she should have come, cleared up the mess, and moved on." 
Wise words, LVP. 
The rest of the ladies were just sure Lisa would eventually walk in to make her entrance the most dramatic, but she never did, though they all claimed they wished she had. Kyle even brought Lisa's unopened birthday present. 
"I think that it was really a big mistake not to be here. If she had been here today, would have all loved to have been able to work through it, even if it meant agreeing to disagree," Kyle said. 
The other ladies agreed, though Dorit did not think Lisa was capable of agreeing to disagree.
"I think that she doesn't want to face any of us because she has been unmasked," Kyle said when asked why she thought Lisa didn't come. "The fact that she was called out, with what originally happened at Vanderpump Dogs...why would you do that to someone that you care about? That was the biggest issue. So I think that she can't face that, so she's focusing on the Radar over and over and over again so we can not talk about what actually happened at Vanderpump Dogs."
At one point, we were even fooled into thinking LVP had arrived after all, but it was just Camille. 
Later in the hour, Teddi apologized for getting involved in the whole Vanderpump Dogs/Dorit/Lisa situation, explaining that she was mad at Dorit for some situation from before filming, and takes full responsibility for her role in throwing Dorit under the bus, even if she also holds Lisa responsible. 
The reunion also discussed such important topics as mammograms with breast implants, Nicollette Sheridan and Michael Bolton, the size of Denise's husband's penis (bigger than Kyle's shoe), and the definition of a happy ending massage for women, which Erica's got some very specific ideas about. 
Next time, it looks like Camille's taking off, so maybe we won't even miss LVP. 
The Real Housewives of Beverly Hills airs Tuesdays at 9 p.m. on Bravo. 
E! and Bravo are both part of the NBC Universal family.