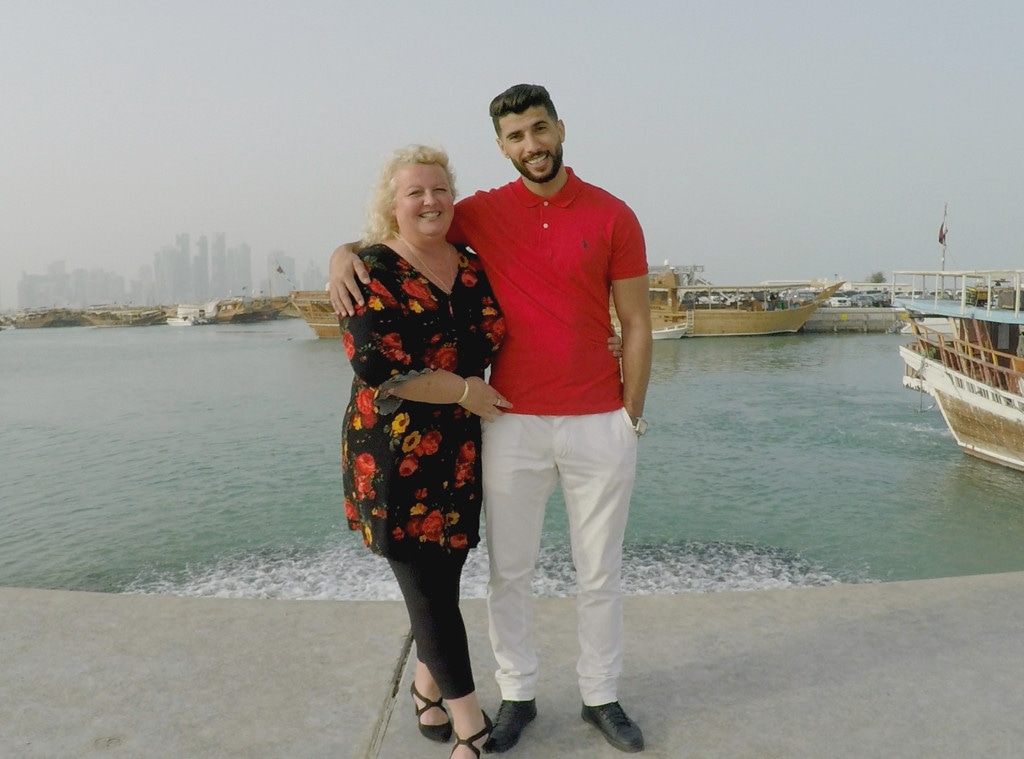 TLC
Finally, all the 90 Day Fiancé: The Other Way couples are together.
In the Monday, July 15 episode of TLC's new reality show, Laura made her way to Qatar to be with Aladin. While she wasn't sure if he'd be there to meet her after their fighting and subsequent blocking, Aladin did show up…with a group of his friends.
They quickly ditched the friends and made their way to the new home sweet home…which Laura was less than impressed with. The apartment smelled of moth balls ("It reminds me old ladies," Laura said), had a counter-top oven and just two burners for a stove.
Now together for the first time in six months, it was "jiggy-jiggy time" in the bedroom. But Laura has been quick to tell cameras that Aladin has not satisfied her completely. "God gave him an older woman for a reason," she said, vowing to teach him new tricks.
Meanwhile…
Corey and Evelin
Fresh off his journey to Ecuador, Evelin tasked Corey with picking out a chicken for her brother's birthday party. The fact that the chicken was killed and plucked in front of him did not go over well with the American.
At the party, Corey said he intended to marry Evelin, but she would be the hiccup in those plans. To impress Evelin's family, he did a magic card trick, which backfired. Evelin's sister and grandmother said he used black magic. Oops!
Deavan and Jihoon
With her daughter Drascilla sick and sent home, Deavan was able to bond more with Jihoon and his visiting parents. After a bus tour around Las Vegas and a lunch (that included pickles), Deavan asked if the visiting parents blessed their relationship so they could marry…and they did!
"We welcomes Deavan to our family. We had a good time with you," Jihoon's father said.
Tiffany and Ronald
After Ronald's rowdy bachelor party, Tiffany laid down the law and said he needs to make earning her trust a fulltime job.
"If I would lose Tiffany, I would lose everything I have…Words can't explain what she is worth to me," Ronald said.
Jenny and Sumit
Sumit introduced Jenny to his friends, and he was worried they wouldn't approve…until they did. But a table at the restaurant started heckling them, and when they did, Sumit stood up for his lady love.
Later, they met an immigration lawyer who told them the steps to marriage. Those steps include sending a letter to Sumit's permanent address, his parent's home. And then they could object, which would be a court battle.
"What a blow. What a blow we just suffered right now," Jenny said.
"Nobody can keep us apart. Whatever I need to do I'll do," Sumit told her.
90 Day Fiancé: The Other Way airs Mondays, 9 p.m. on TLC.